YG Toilet Paper Machine sold to Canada! YES!!! After more than one month of effort, we made it!
One month ago, we received an inquiry about the toilet paper manufacturing machine from James, Canada. James wanted to start his toilet paper business. So he found us YG Machinery. Our sales manager Ann is so sympathetic. She made a detailed quotation for James after confirming the requirements. Of course, we will never let our customers down. James is very satisfied with our services and price. And finally, he signed the PI and bought the machine from us.
If you want to buy the toilet paper maker, please contact us to get the factory price.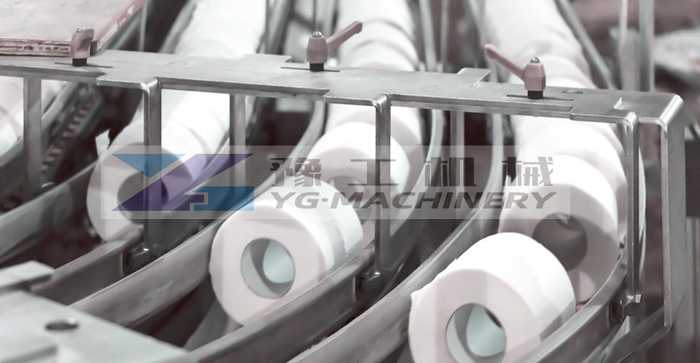 Toilet paper making machine
The whole production line of the toilet paper machine is composed of a rewinding machine, paper cutter machine, and paper packaging machine. As James has already a paper roll packaging machine, so we recommend a full automatic tissue paper rewinding and cutting machine.
Model

YG-2200
YG-3000
YG-3600
Maximum width of base paper
2200mm
3000mm
3600mm
Base paper basis weight
13-22g/m²
Number of layers
1-3
2
1-3
Expected Nissan
4t/day
8t/day
10t/day
Design speed
208m/min
260m/min
300m/min
Rewinding diameter
50-135mm
Rewinding diameter control
manual adjustment
Punching pitch
110mm
Power
5.5kw
7.5kw
11.2kw
This Paper Slitting and Rewinding Machine have a large output with a fast speed. With a PLC control system, you can easily set the number of paper rolls to be cut. Toilet paper machine for sale is a profitable machine that can help you to start and make success your business. All the machines, we can supply you at a good price. If you have any needs for paper napkin machines, do not hesitate to contact us.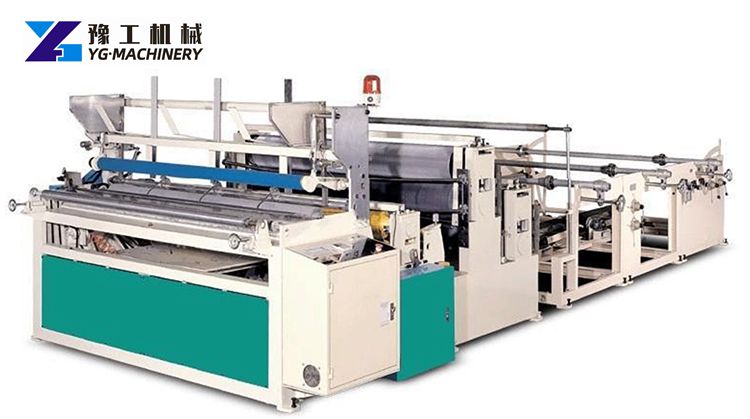 Paper rewinding machine technical parameters
The tissue paper rewinding mahine can be divided into automatic and semi-automatic toilet paper rewinders. James has chosen the automatic toilet paper rewinding machine. It adopts PLC computer programming technology. The machine uses man-machine interface operation and it can complete all the processes at one time: Automatic glue spraying, Frequency conversion speed regulation, Edge sealing, and Edge trimming.
Advantage:
It can produce many types of products: centerless, solid, and roll paper toilet paper.
Automatic trimming, gluing, sealing, and shaft pulling are completed in an instant so that there is no paper loss when the roll paper is transferred to the band saw for cutting and packaging.
Pneumatic belt feeding, rewinding shaft, and each base paper have independent tension adjustment mechanisms.
Model
High-speed tissue paper rewinding machine
Raw paper width
≤2100mm
Finished product diameter
Φ60~150mm (adjustable elasticity)
The inner diameter of the finished paper core
Φ 32

~

50mm

Diameter of base paper: Φ1100mm
Φ1100mm
Inner diameter of base paper core
3″
Punching pitch (please specify)
4 knives, mechanical adjustment 90~180mm
Rewinding speed
0-200 m/min
Punching method
pneumatic separation
Paper ejection rack
1-3 layers
Dimensions (L×W×H)
6500×3100×2600 mm
Machine weight
3500kg
Total power
4kW
Pneumatic system
3 HP air compressor, minimum pressure 5kg/cm2 Pa
Toilet paper cutting machine
The cutting machine is one important equipment for the roll paper machine production line. The rotary cutter machine is suitable for cutting core and coreless roll paper. The longitudinal slitting system can flexibly slit different sizes. The machine has a servo motor adjustment and it can be directly connected to the automatic rewinder. Overall, it has the advantage of being fast, advanced design, stable performance, and durable.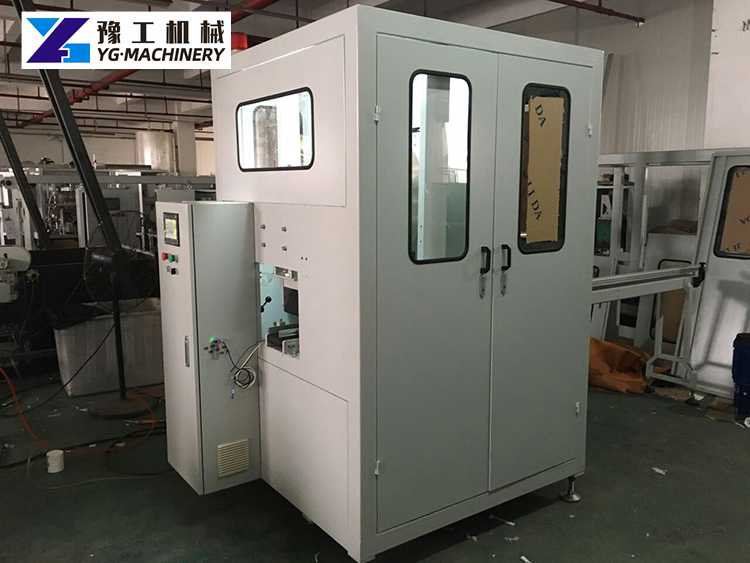 Tissue paper making machine price
What is the price of a toilet paper machine for sale? How can I get a tissue manufacturing machine? Actually, the machine price depends on the configuration. According to your requirements, our sales manager will introduce the most suitable machine for you. Click to button below and leave your inquiry to get the tissue paper manufacturing machine price.
Besides the paper napkin making machine, YG Machinery provide also the tissue paper printing machine. Any needs, just contact us. We are here to help!
Henan Yugong Machinery is a professional manufacturer and supplier of tissue paper manufacturing machines. Our tissue paper machine has been sold to many countries, such as Canada, Algeria, the United Kingdom, Pakistan, etc. All of our customers are praised for our toilet roll machine. So if you have any questions about the toilet roll making machine, please leave your messages and our sales manager will contact you as soon as possible.