Excavator is a common vehicle for the construction site. It plays an important role in infrastructure. In addition to common buckets, many manufacturers have produced excavator attachments to enhance the ability of excavators. Here are some common types of excavator attachments for sale.
Popular types of Excavator attachments for sale
The types of excavator attachments or auxiliary tools are relatively complete. There are about 20 kinds to deal with various complex working conditions. Work efficiency can be greatly improved.
Hydraulic shears for excavator
It is used for resource metal processing, scrap steel recycling and disposal, dismantling of scrap cars, dismantling of steel structure facilities, etc. 360-degree hydraulic rotation can improve the working capacity. The complex structure with huge shearing force. This equipment can shear and dismantle the steel structure of the H-steel 1-beam structure at one time. Contact us to get a free quote.
Model
SH50R
SH100R
SH130R
SH180R
SH310R
SH410R
Arm mounted model
6-9T
10-12T
13-17T
18-27T
28-39T
39-50T
Boom Mounted Model
4-6T
7-10T
8-12T
14-18T
20-28T
28-39T
Compressor
35Mpa
Length
2000mm
2200mm
2300mm
2900mm
3500mm
3900mm
Weight
650KG
1100KG
1220KG
2100KG
3300KG
4700KG
Opening
290mm
375mm
375mm
445mm
565mm
670mm
Depth
290mm
395mm
395mm
525mm
630m
720mm
Front crushing force
46T
60T
60T
85T
135T
172T
Central crushing force
115KN
150KN
150KN
221KN
351KN
464KN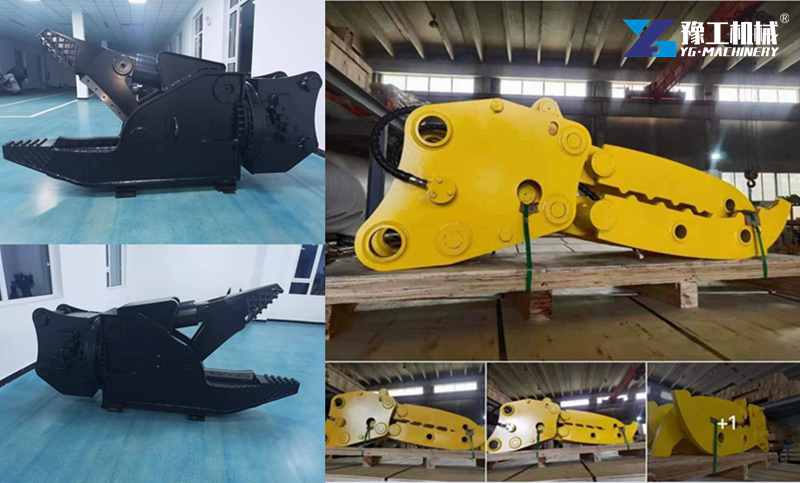 Excavator breaker
Hydraulic breaker or hydraulic hammer is mainly used for mining ore and demolition concrete. The brackets of various breakers are also different, which are specifically divided into tope type, side type, and box type. So in the face of various brackets, the owner first needs to study what kind of brackets your excavator needs to fit.
A 6t excavator is generally equipped with a breaker with a drill rod diameter of 68mm. If you are an excavator equipment owner and want to equip a breaker, it is recommended to consider the service life of the excavator. YG Hydraulic Breakers will not cause the failure of the hydraulic system of the excavator.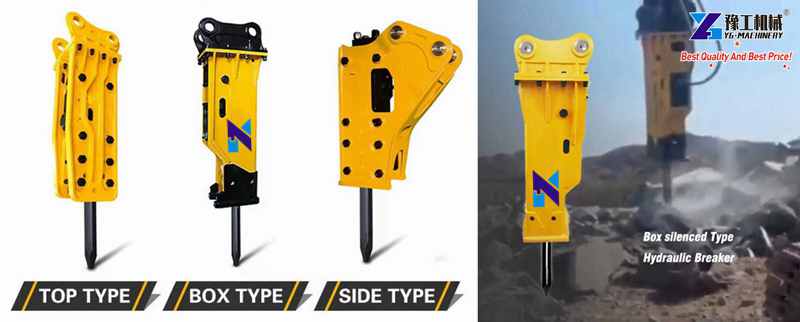 Excavator grapple / Excavator thumb
The wood grabber or the wood clamper is mainly used for grabbing wood and bamboo. We can divide the excavator grapple into a hydraulic wood grabber and a mechanical wood grabber. And the hydraulic wood grabber is divided into a hydraulic rotary wood grabber and a fixed wood grabber. After the redesign and modification of the claws, you can use the wood grabber for grabbing stones and scrap steel. Besides, the loading and unloading truck is very fast and convenient.
360 degree rotating;
Suitable for 4-9t or 12-20t excavators;
Advantages: saving labor force, driven by full hydraulic pressure.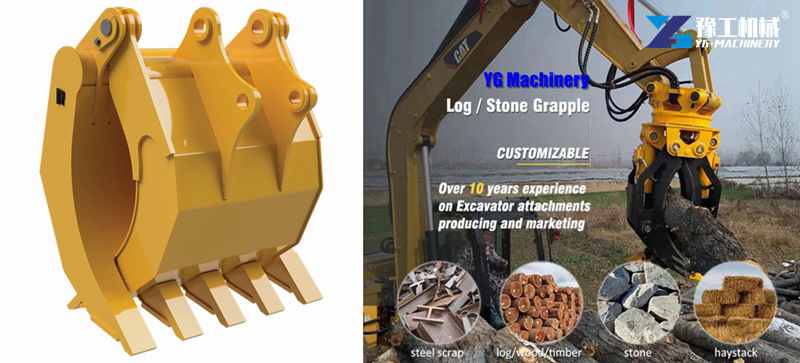 Besides these attachments, we offer also the Excavator pile driver, and more other excavator attachments for sale. If you need to buy one or some attachments for your excavator, please leave your requirements here. We will reply to you as soon as possible.
Henan YG Machinery
Located in Zhengzhou, Henan Province, Henan YG Machinery Co., Ltd. is a modern enterprise integrating professional R&D, production, and sales of small excavators, mini excavators, ultra-small excavators, agricultural excavators, new energy excavators, and attachments for excavators. We have thousands of square meters of modern production workshops and R&D technology centers with international advanced levels. At present, the company has more than 200 employees, including 30 professional engineers and technicians, 2 senior engineers, and 33 senior technicians. If you are looking for excavators and attachments for excavators, please feel free to contact us to get a free quote. 24/7 online services. High quality. Low price. WhatsApp/Phone 008613598866720.