A trailer-mounted concrete pump is one popular type of concrete pump. It is suitable for the transportation of fine stone concrete in super high-rise buildings, and it is the smallest concrete pump for sale at present.
Trailer-mounted Concrete Pump for Sale
YG Trailer-mounted concrete pump is a piece of high technology equipment designed for special projects, for example, in some construction sites, with a narrow space, a boom concrete pump is limited by the size of the equipment to pumping the concrete or cement, which makes the construction inconvenient or difficult to complete the construction schedule. In this case, the small trailer-mounted concrete pump is a good choice.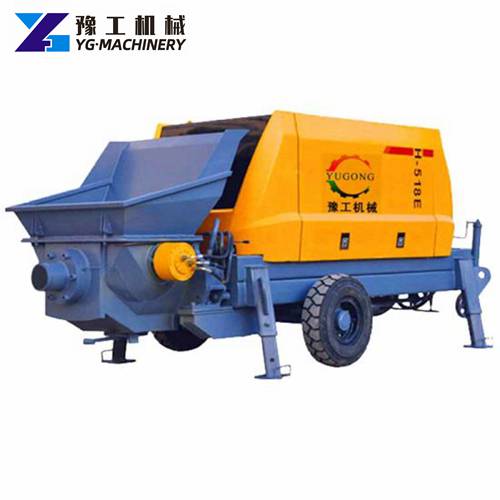 Parameters of Concrete Pump Trailer
| | | | | |
| --- | --- | --- | --- | --- |
| Model | YG-10 | YG-20 | YG-30 | YG-40 |
| Max Theoretical Concrete Output | 6m³/h | 12m³/h | 15-18m³/h | 20-22m³/h |
| Max Concrete outlet Pressure | 10Mpa/15Mpa | 15Mpa/18Mpa | 15Mpa/18Mpa | 23Mpa |
| Aggregate Size | 5-15mm | 5-20mm | ≤20mm | ≤20mm |
| Power | 15kw | 22kw | 37kw | 45kw |
| Hose Diameter | Φ80mm | Φ80mm | Φ80mm(100mm) | Φ100mm(80mm) |
| Max Theoretical Conveying Distance (Horizontal Distance/vertical Height) | 50m/20m | 80m/40m | 160m/80m | 260m/120m |
| Overall Dimension(mm) | 1800×700×1100 | 3400×1200×1600 | 3800×1500×1600 | 4000×1500×1550 |
| Total Weight | 600kg | 1600kg | 2200kg | 2400kg |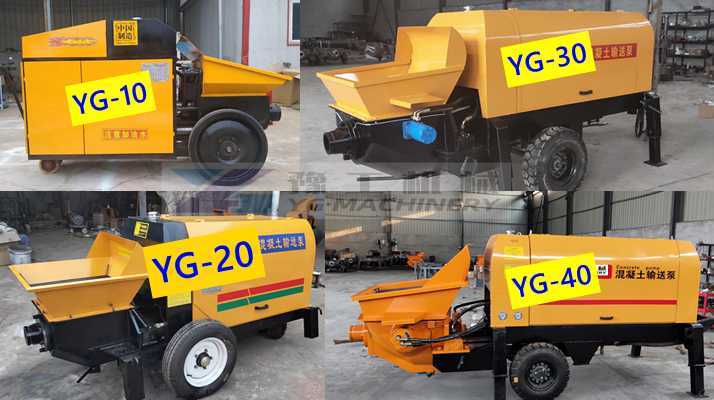 Introduction of mini trailer-mounted concrete pump
This small trailer-mounted concrete pumper is suitable for the transportation of mortar and small aggregate concrete, the transportation of heat insulation lightweight foamed cement used for floor heating, the conveyance of refractory and thermal insulation materials, and concrete transportation for various engineering constructions. The machine has advantages of high efficiency, a wide range of applications, and long life, which makes it popular for construction sites. It can convey the mortar, cement, and fine stone concrete to a very high building.
Moreover, the trailer-mounted concrete pump can be used for secondary structural column filling, various pressure grouting in reservoirs, hydropower stations, ports, and wharves, foundation treatment, weak foundations, reinforcement grouting, backfill grouting and anchor support in tunnels, subways, and mine constructions, fine-stone concrete in-floor heating projects, and large area and high efficient construction of filling layer or mortar filling layer.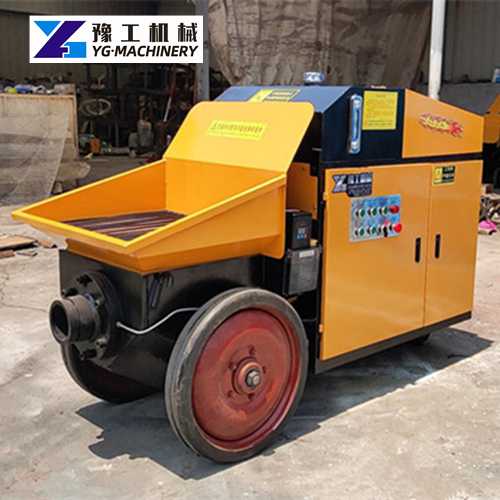 Features of Trailer-mounted concrete pump
The equipment adopts an s-tube type distribution valve, which can meet the pumping of small aggregate concrete and mortar.
The main oil pump uses a deformed plunger pump, with high efficiency and strong pressure.
Wear-resistant and Long life: the hydraulic system adopts independent three-circuit control, the glasses plate with high reliability, and the cutting ring adopts cemented carbide.
The pumping mechanism adopts a double-cylinder piston type with advanced performance and good continuity.
The control method uses electro-hydraulic control, with complete electro-hydraulic overload protection and an instrument display system. With a reverse pump operation function, it is easy to eliminate blockage failure. You can also adjust the pumping speed to meet the needs of various working conditions. The centralized lubrication system is automatically controlled by the program to start, stop and run time, which effectively prolongs the service life of rotating parts. Besides, the electrical components, such as contactors and button switches, are reliable in operation and simple in control lines. The electrical box is equipped with switches for easy operation. The main seals adopt high-quality seals to prevent internal and external leakage of the hydraulic system.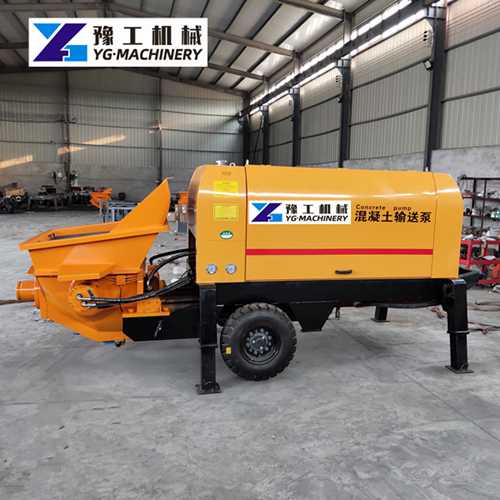 Concrete pump Price | YG Concrete Pump Manufacturer
YG Machinery is a concrete pumping machine manufacturing company. Besides the trailer-mounted concrete pump, YG Machinery provides also Concrete boom pump, concrete mixer pump, wet and dry shotcrete machine, BW mud pump, etc. Click the button below to get the latest concrete pump price.
YG Machinery(Henan Yugong Machinery co. ltd) is located in Erqi District of Zhengzhou City, Henan Province. YG Machinery constantly innovates and introduces advanced technology and equipment, adheres to the high quality of products and perfect service, which have also helped us win high praise from our customers. If you want to learn more about our equipment, do not hesitate to leave your messages here, we will reply to you as soon as possible.