Summary: How is made the baby diaper? This article will show you all about the full servo baby diaper production line.
Disposable Diapers are among the most important baby accessories. And children of different ages need diapers in different sizes. In general, a baby will use 42-63 diapers per week. So it is a great opportunity to start a diaper business. First of all, you need a semi servo or full servo baby diaper making machine. Here, you will find an efficient machine – A Full Servo Pull Up Baby Diaper Manufacturing Machine. It can manufacture kinds of diaper shapes with different raw materials. Read on!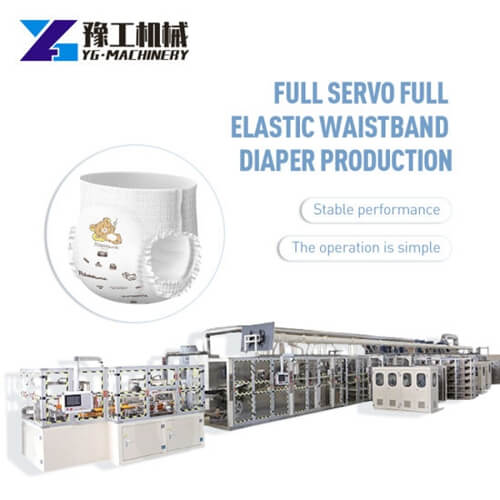 Related Article:
Presentation of Full Servo Baby Diaper Making Machine
YG Machinery is one of the best baby diaper machine manufacturers. We produce disposable hygiene products, such as baby diaper making machines, adult diaper manufacturing machines.
YG Baby Diaper Production Line can make diapers of different sizes: mini, midi, maxi. No matter what size you want to produce, you can always use this diaper machine. Easy to operate with the PLC control system, and you can set the parameters with the touch screen. Overall, the baby diaper manufacturing machine is good at making high-quality diapers for each customer. With less wastage and consumption of electricity, YG Machinery Baby Diaper Production Machine gets the favor of many clients.
Main technical parameters of Baby Diaper Production Line
| | | |
| --- | --- | --- |
| Model | I shape baby diaper production line | L shape baby diaper machine |
| Overall Size | 30*6*4m | 30*6*4m |
| Product size | 390×280 450×320 500×320 525×330 | 380×280 420×320 480×320 520×340 |
| Capacity | 600pcs/min | 450pcs/min |
| Machine capacity | about 260KW | about 270KW |
| Power source | 380V, 50HZ | 380V, 50HZ |
| Air pressure | 0.6-0.8Mpa | 0.6-0.8Mpa |
| Control system | PLC control system, Operating on the touch screen, Configure HDTV monitor | PLC control system, Operating on the touch screen, Configure HDTV monitor |
| Drive system | Three-axis or full servo | Full servo drive, Semi-servo |
| Safety system | Safety protection unit | Safety protection unit |
| Weight | 60T | 65T |
| Packing | Equipped with the stacker at the request of the client | Equipped with the stacker at the request of the client |
The baby diaper consists of:
cellulose
anhydrous crystals
cotton fabrics
bamboo/hemp
polyester/virgin wool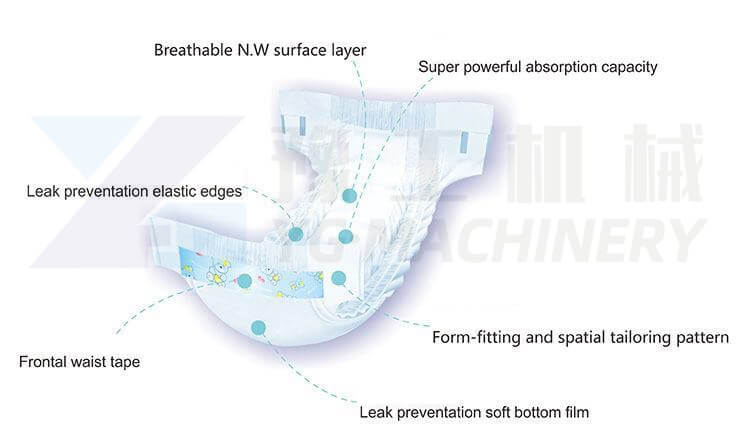 Equipment functions and advantages of semi servo baby diaper machine
1. Full servo self-control system with high automation: the machine can be upgraded according to customers' reasonable requirements.
2. Certifications: European CE standard design, CE certificate, CE or UL quality certifications.
3. Numerical control: Most of the spare parts are under numerical control with precise processing, the key mechanical parts are under CNC processing, the main outsourcing parts are the world-famous brands.
4. Control system: Easy to operate with the PLC control system, and the touch screen.
5. Monitoring system: With the camera monitoring system, you can perform online size checks, location inspection, missing inspection, spot scans, and so on.
6. Other optional functions can be chosen by customers' requirements:
Full servo stacker (automatic bagger)
Automatic bagging sealer
Remark: The Baby Diaper Machine Production Line can be customized according to your requirements. No matter what material you use, this equipment can manufacture the diapers according to your customer's requirements. For more information, you can contact us online or through WhatsApp at +8613598866720.
Conclusion
YG Machinery is a machinery manufacturing company with more than 16 years of experience. And we offer the widest range of construction machines in many countries. Our objective is manufacturing the machines with high quality and competitive price for our clients. We have the production lines to manufacture masks, diapers for children or adults, as well as latex or nitrile gloves making machines. If you have any need of purchasing machinery, please feel free to contact us to get the machine price.
In addition, YG Machinery provides also other types of equipment, such as Wet wipes manufacturing machine, Paper cup making machine, Disposable Latex Gloves Production Line, Sanitary Napkin Making Machine, Toilet paper production line, Brick making machine, Pet food production line, etc.