A vibratory pile driver for an excavator is one common attachment in construction. The excavator pile driver is mainly used for piling. The types of piles include pipe piles, steel sheet piles, steel pipe piles, prefabricated concrete piles, wood piles, and photovoltaic piles driven on water. Contact us to get the sheet pile driver for the excavator price.
Pile driver attachment for excavators
Here, I will show you our hot sale excavator vibratory hammer. In general, we install this equipment on the excavator. It uses the hydraulic power from the excavator. The YG Piling Hammers for excavators are especially suitable for short and medium pile projects such as municipal administration, bridges, cofferdams, and building foundations.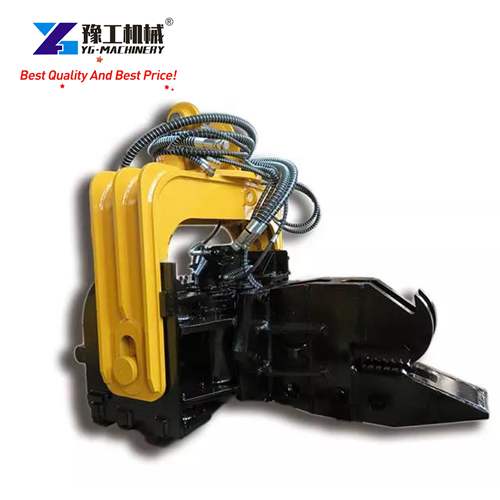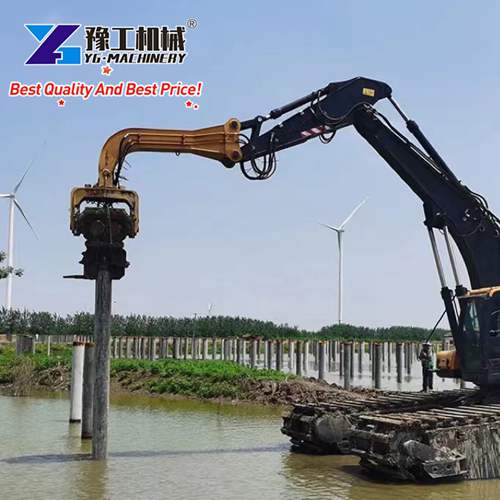 Parameters
Check the Hydraulic pile driver for mini excavator technical information below:
Model
RVH-04
RVH-06
RVH-08
RVH-10
RVH-12
RVH-14
RVH-18
RVH-20
Vibration Frequency
2500rpm
2500rpm
2800rpm
3200rpm
Operation Pressure
30 Mpa
32 Mpa
Centrifugal Force
117kn
172kn
265kn
335kn
350kn
372kn
455kn
485kn
Max.Pile Length
6m
8m
10m
12m
12m
12m
15m
18m
Arm weight
160kg
260kg
500kg
500kg
670kg
670kg
750kg
750kg
Hammer weight
850 kg
1100
1700
1900
2100
2300
2600
2700
Excavator
7-12T
12-17
20-30
20-30
30-35
33-40
40-45
45-60
Mini excavator pile driver attachment features
Stable quality and long life: The Sheet pile driver for the excavator uses high-performance imported damping rubber blocks.
The excavator sheet pile driver nozzle is made of an imported wear plate.
Hydraulic motor.
Environment-friendly product.
High quality components.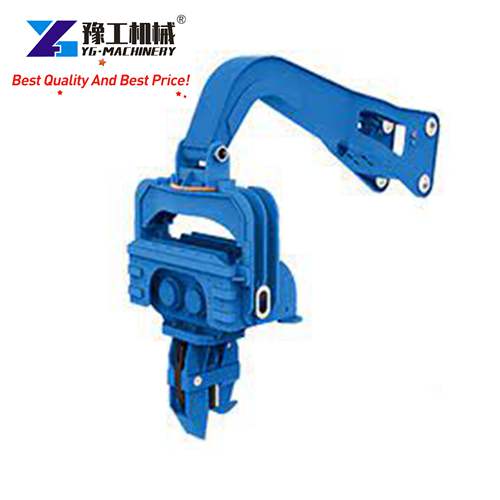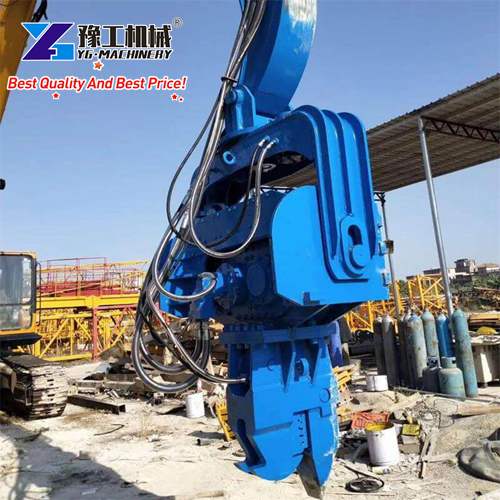 How does the sheet piling attachment for the excavator works?
The excavator vibratory pile driving equipment uses its high-frequency vibration to vibrate the pile body at high acceleration, and transmit the vertical vibration generated by the machine to the pile body, which causes the soil structure around the pile to change due to vibration and reduce its strength. The soil around the pile body is liquefied to reduce the frictional resistance between the pile side and the soil body, and then the pile is sunk into the soil by the downward pressure of the excavator, the vibration sinking hammer, and the dead weight of the pile body.
When pulling out the pile, with one side vibrating, pull up the pile with the lifting force of the excavator. The exciting force required by the piling machine should be comprehensively determined according to the soil layer, soil quality, moisture content of the site, and the type and structure of the pile. Contact us to get the latest price of the excavator-mounted vibratory pile driver.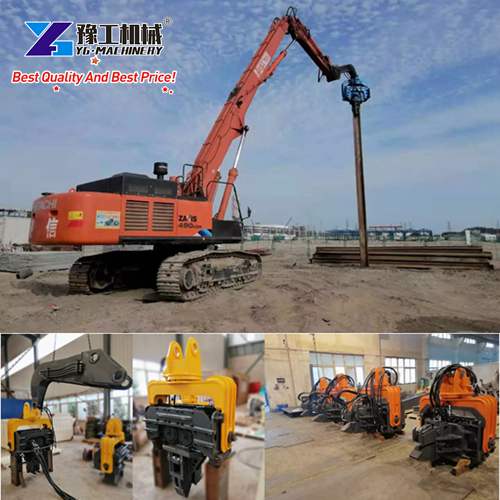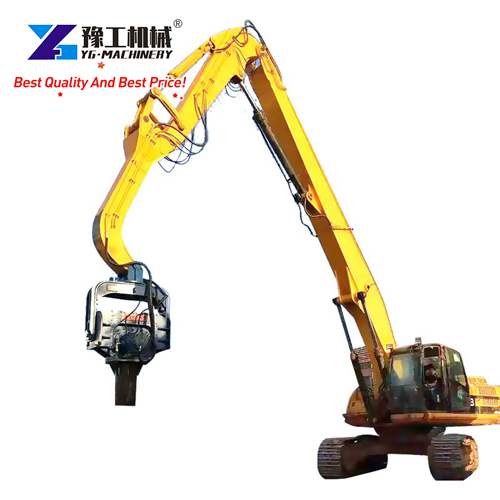 Excavator pile driver for sale
Henan Yugong Machinery provides kinds of attachments for excavators. Other machines: concrete pile breaker, Pile driver machine, etc. Vibratory Pile Driving Equipment For Sale is an excavator-mounted type sheet piling hammer. If you are looking for the Excavator Sheet Pile Hammer, please leave your messages here. Our Sales manager will contact you as soon as possible.