Steel bar straight threading machine is mainly used for rolling straight thread heads of ribbed steel bars in construction engineering. In this article, you will know the hydraulic fully automatic rebar threading machine for sale features, techniques parameters, and how to operate the machine.
Processing diameter range:Φ16-Φ40mm
Maximum thread length:80m-100m
Spindle speed:40- 60r/min
Main motor power:3 – 4KW
Rebar thread rolling machine
Fully automatic rebar threading machine
is a useful steel bar processing machine used in the construction industry. If you need to process HRB335 and HRB400 ribbed steel bars with a diameter of 14-40mm, you can choose this machine with high efficiency.
Request A Quote
Read:
What is Thread Rolling? How does it work?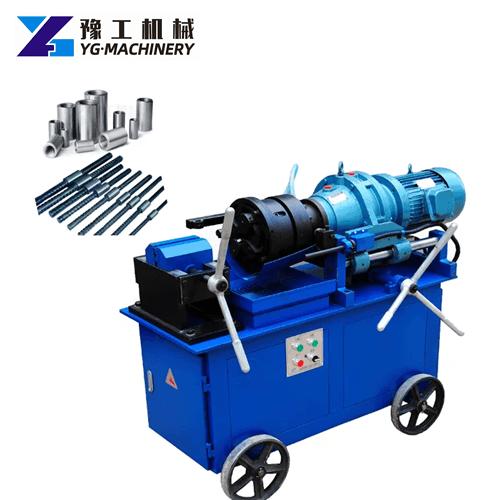 Model
YGS-40
YGT-40
YGA-40
Processing diameter range
16-40mm
Thread rolling length
0-80mm
0-80mm
0-100mm
Power voltage
4kw/380v 50hz
4kw/380v 50hz
7.5kw/380v 50hz
Working efficiency
15s/forming
8s/forming
One-touch auto forming
Machine weight
320kg
350kg
400kg
Machine size
115*50*106cm
110*60*130cm
126*70*106cm
Type
Standard type
Upgrade type
Full automatic type
The machine includes serval parts: electrical system, rolling head, cooling system, frame, clamping mechanism, feeding cart, reducer, automatic opening and closing mechanism, control system, etc.
The thread roller connection technology is suitable for industrial and civil buildings. It has a simple and fast process, no open flame operation, no environmental pollution, no explosion and fire hazards, safe and reliable, and can be constructed around the clock, saving a lot of steel and energy. Only a wrench is used to connect the steel bars, and each steel bar joint is about one minute, which shortens the construction period of the structure and realizes the industrialized and civilized construction.

YG Machinery Rebar Threading Machine uses the PLC control system with a touch screen, so that you can control the machine easily. The work speed of the nose adopts the segment control, which makes the machine efficient and appreciated by many steel bar manufacturers and suppliers.
Economic, low investment for the equipment.
High precision, high processing efficiency, stability, durability.
Easy to operate with compact structure.
Adopts cold thread rolling technology. The strength of Rolled Thread is much higher than the parent metal.
YuGong Machinery have small hydraulic thread roller machine for sale. Click the button below to get thread rolling machine for sale price.
Next, let us introduce the operating steps of the rebar threading machine.
IF you don't know how to operate the steel bar straight thread rolling machine, you can read on to learn more.
Actually, it is easy to operate.
Step 1. Connect the power and verify if the machine can work normally.
Step 2. According to the diameter of the steel bar, choose and change the rolling wheel.
Step 3. Install the threaded roller and eccentric sleeve.
Step 4. If the thread rolling machine wheel is compatible with the type of steel bar to be processed, put the steel bar into the wheel and rotate adjustment worm to make the thread rolling wheel contact the tool bar bundle, and then pull the tool bar out. You can get a steel bar processed.
Most frequent questions and answers
The machine price depends the model that you want to buy. You can send us your detailed requirements and we will send you a quote.
If you have any problem or doubts about rolling thread, knurling, tapping, etc. We will provide corresponding technical support, to help you find the best solution.
So, if you want to buy a rebar thread rolling machine, you can contact YG Machinery to get a free quote via WhatsApp +8613598866720 or email
admin@ygcivilconstruction.com
.