Diapers can almost be said to be an important must-have personal accessory for children in this era. Certain find that the diaper business is profitable. They want to start their own diaper business to make money. The most important step is to buy a quality diaper making machine. Here, I will introduce you to a full automatic diaper manufacturing machine manufactured by YG Machinery. Click the button below to get the latest price.
Baby/Adult Diaper making machine: parameters, price, supplier
YG Machinery is a certified diaper machine manufacturer and supplier. Our diaper making machine is designed in accordance with CE standards and passed CE certification. After years of updates and improvements, now we can provide two types of Diaper making machines.
I Shape Diaper Production Line
I Shape Diaper Production Line can produce diapers in the size of Mini, Midi, Maxi, Junior. The equipment can produce 600 pieces per minute. The yield rate is greater than 98%.
Configuration
Overall Size
30*6*4m
Product size
S: 390×280 M: 450×320  L: 500×320  XL: 525×330
Machine Size
22*2*3.5m
Safety system
It has a safety device on the operating side, matched with an urgent stop switch. High audio fan uses sound insulation or silencer.
Capacity
600pcs/min
Control system
PLC control system, Operating on the touch screen, Configure HDTV monitor
Stable work speed
450-500pcs/min
Materials corrective system
Germany BST automatic web guide system (optional).
Power source
380V,50HZ
Drive system
Three-axis  or full servo
Machine capacity
about 260kw
Product structure
Up&Down Tissue, Fluff core(mix with SAP), ADL, Backsheet, Front tape, Topsheet, Leg cuff N.W., Side Tape, Waistband.
Air pressure
0.6-0.8Mpa
Tension system
Up&Down Tissue ADL, Back sheet, Top sheet, Cuff N. W., are adopted A&B shaft active unwinding by inverter motor.
Machine weight
about 60T
Packing Way
Equipped with the stacker at the request of the client.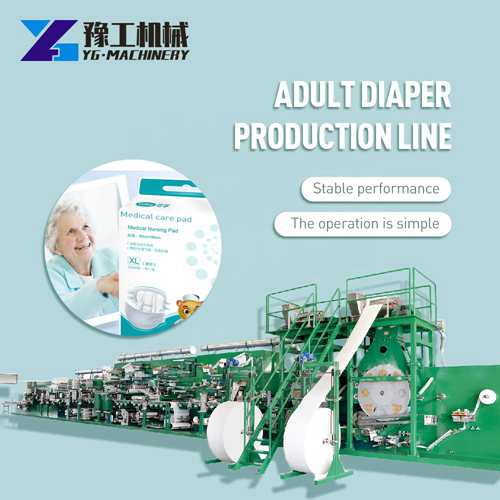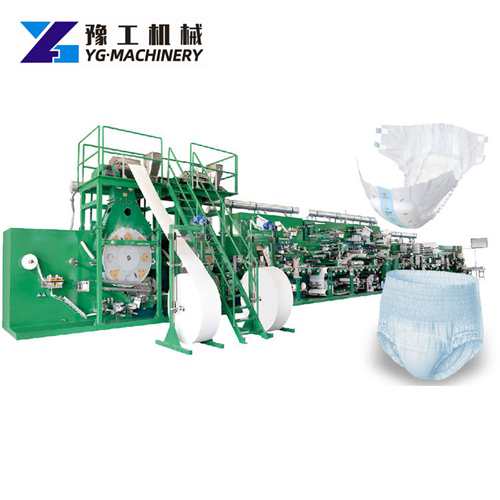 T Shape Full Automatic Diaper Production Line
T shape diaper manufacturing machine is more suitable for the European market. Basically, there are no leftover bits and pieces lost. The equipment can produce 400-500 pieces per minute. This pampers making machine is suitable for making baby diapers and adult diapers according to your requirements.
Parameters of Pampers making machine
Configuration
Product size
380×280 420×320 480×320 520×340
Safety system
Safety guard installed at the operating side, with security identifier, emergency stop switch at per segment, Driven side is equipped with the radiator system and safety wire.
Control system
PLC control system, Operating on the touch screen, Configure HDTV monitor
Materials corrective system
Germany BST automatic web guide system (optional).
Drive system
Full servo drive, digital size change, ensure, run synchronized at the full process. The frontal tape and back sheet use servo positioning cutting to ensure pattern consistent with the phase.
Product structure
Top(bottom) tissue paper, sap core, ADL, hydrophobic NW(leg cuff), topsheet NW, PE film, spandex, frontal tape, elastic nonwoven(zero-waste), S cut
Tension system
Tissue paper, cotton core (SAP),  Top sheet nonwoven, ADL, PE film, back&wing release paper, packing film A&B shaft unwinding by Inverter motor
Packing Way
Auto stacker as customized design (one push two exit.).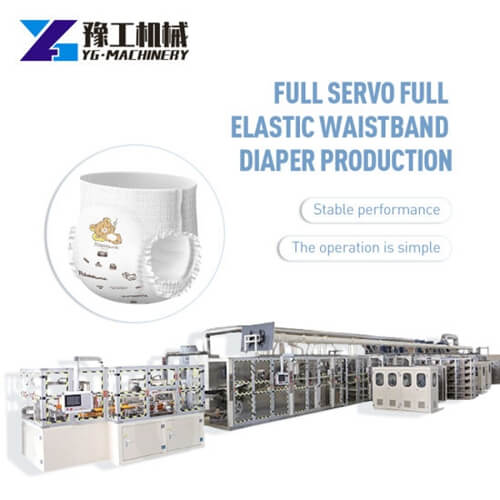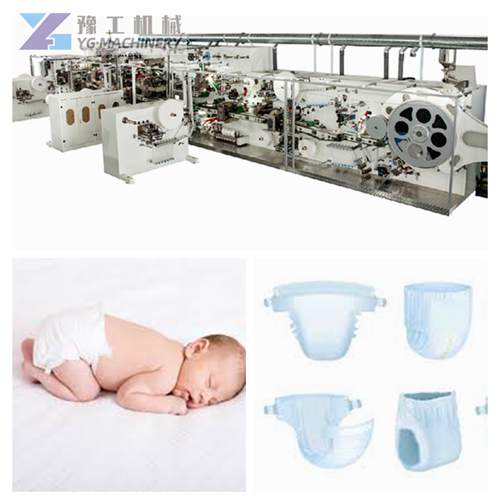 Watch the diaper production line working video on YouTube: https://youtu.be/4pAUjEVt8X4
Read also: Sanitary Pads Machine: Sanitary Napkin/Pad making machine for sale
Diaper making machine price
If you want to get a quote for a baby diaper making machine(full production line), please leave your email here. Our sales manager will contact you for the quotation as soon as possible.
Other questions related: What are the lines on a diaper for?
What is a diaper line? Usually, you will see three lines in the middle of the diapers. There is a yellow line on the new unused diaper top, and when the baby pee, it will gradually turn blue according to the amount of urine. The diaper blue line represents the baby's urine output, which indicates that the mother needs to change the baby's diapers. Sometimes the color of the line changes, depending on the depth of the color and the thickness of the diaper. If it does not reach blue, it means that the urine volume is not much, and it can not be changed temporarily.
Read also: Automatic Pocket Spring Machine
Adult diaper making machine
As the population ages, there are more and more the aged. So the demand for adult diapers is increasing day by day. Divided by product form, adult diapers can be divided into waist-attached diapers, diapers, and pants-type diapers. If you need to buy a fully automatic adult diaper production line, please feel free to get more information and a free quote here. The adult diaper making machine can be customized and designed according to customer requirements.