Roof tile making machine, as the name means, is used for making roof tiles. There are many types of roof tiles, such as concrete roof tile, Galvanized Roof Tiles, Metal Roof tiles, etc. In order to make different tiles, of course, there are also many types of machines. Here I will present you a metal roofing forming machine for sale made by YG Machinery.
What is an Automatic Roof Sheet Roll forming machine?
The tile making machine is a machine composed of feeding, forming, and post-forming cutting. Its color plate has a flat and beautiful appearance, uniform paint patterns, high strength, and durability. It is widely used in industrial and civil buildings, such as factories, warehouses, gymnasiums, Exhibition halls, theaters, and other rooms and walls. Contact us to get the Roof Sheet Roll forming machine price.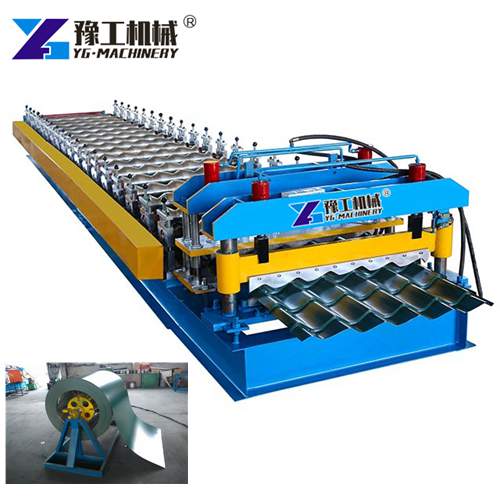 Metal Roofing Forming Machine Technical Parameters
| | |
| --- | --- |
| Equipment operation | Automatically |
| Voltage | 380V,50/60Hz, or at buyer's request |
| The thickness of the material sheet | 0.3—-1.5mm(normally) |
| Width of material sheet | As Drawing |
| Control system | By PLC |
| Cutting method | Hydraulic cutting |
| Material of roller station | Gcr12 with hard treatment |
| Formed width | As Drawing |
| Working speed | 30m/min |
| Length of the finished product | set in the computer, the machine will cut automatically |
| Transmission type | gears |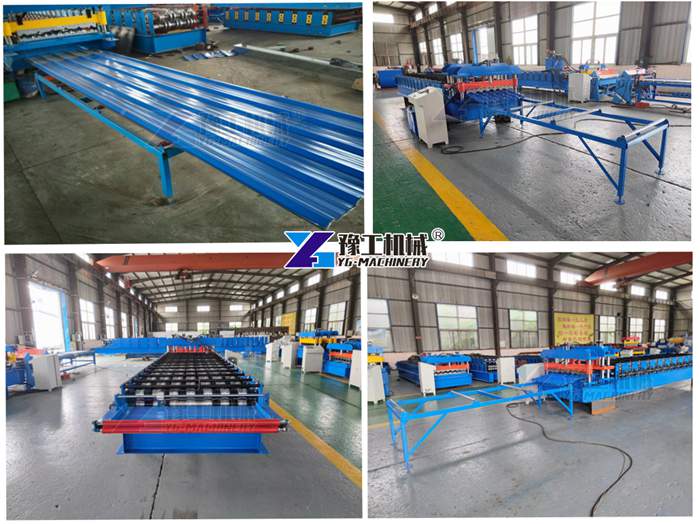 Features
Simple structure, easy to install and maintain.
High quality material for Roller and shaft.
High automatization and intellectualization, with no pollution.
Double Guide Pillar Type Cutting System with two hydro-cylinder.
Adopting advanced world famous brand components in pneumatic parts, electric parts, and operation parts.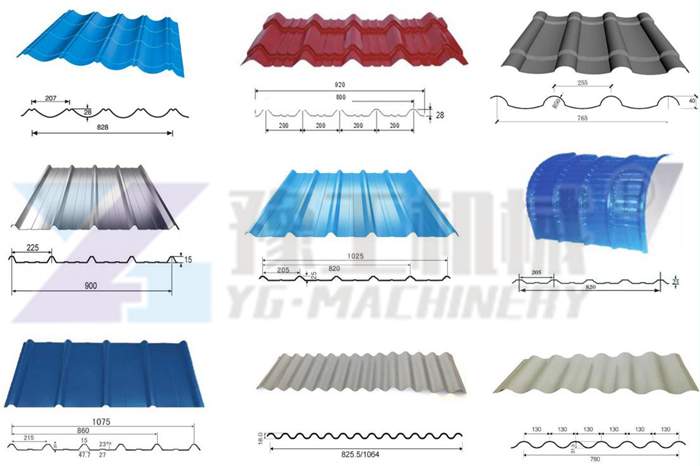 Production process
Uncoiling → Correctly feeding into the forming shaft → Measuring length → Cut to length → Finished product output
The color steel tile is a profiled plate made of color-coated steel plate, which is rolled and cold-bent into various wave shapes. It is suitable for industrial and civil buildings, special warehouse buildings, roofs, walls, and interior and exterior surfaces of long-span steel structure houses. Wall decoration, etc., has the characteristics of lightweight, high strength, rich color, convenient and quick construction, earthquake resistance, fire prevention, rain resistance, long life, maintenance-free, etc., and has been widely promoted and applied.
Are you looking for Galvanized Roof Tile Making Machine? Please contact us now. WhatsApp/WeChat: +8613598866720.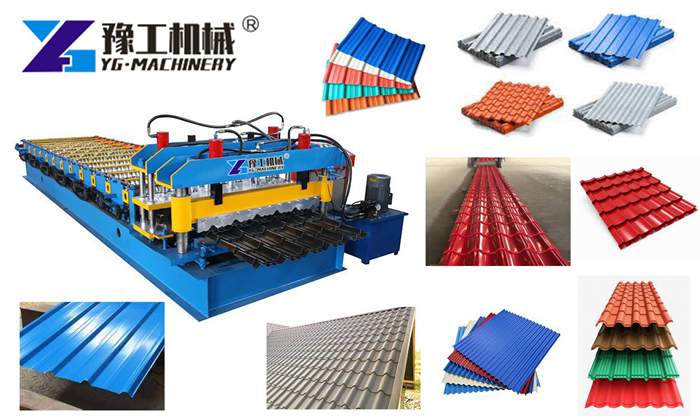 If you want to buy block making machine, please click here!
Precautions for electricity use of the roofing forming machine
The electrician must understand the wiring of the workshop and the type and performance of the equipment. If he does not understand the performance of the equipment, he cannot use it at risk.
The electrician should set the time to check the condition of the motor and the electric console, etc., and must deal with it quickly if he sees the situation during the inspection. When checking the degree of the motor, first check that there is no electricity, and then check according to the back of the hand.
In addition to the electricity and measures for temporary construction work, it is not allowed to set up temporary wires, hang lamps, tools and welding equipment, etc. to use stable sockets, and the previous wires cannot be changed arbitrarily.
Regular inspection and care of its products according to the regulations, and the electrical product lines that are not in use must be completely removed.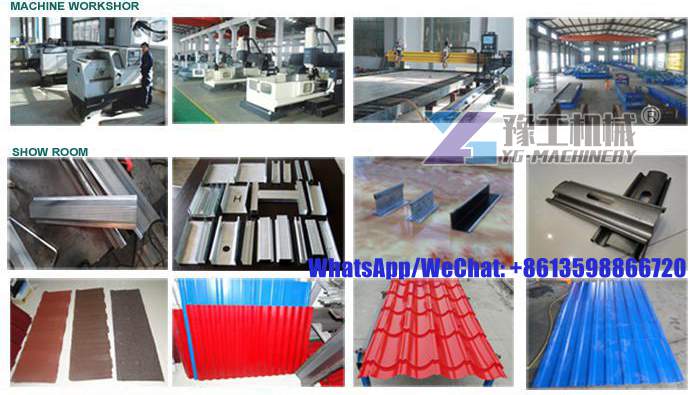 Powerful Metal Roof Tile Making Machine At Low Price
YG Machinery is a tile machine manufacturer from China. Our main products: Composite board production line, roofing tile machine, C-shaped steel machine, color steel tile machinery, and other products. The products are of high quality and low price. Besides, our equipment can be specially designed and manufactured according to user requirements. At the same time, we provide guidance, production, installation, commissioning, and maintenance for users. If you are looking for the Roof Sheet Roll forming machine, please contact us to get the price now. Leave your messages below!