Are you looking for a water well drilling rig machine? You must hear about the XY-3 series. XY-3 Portable Hydraulic Core Drilling Rig is our hot sale model. Many customers are interested in this XY-3 drilling rig. Read on to know more about this drilling rig machine here.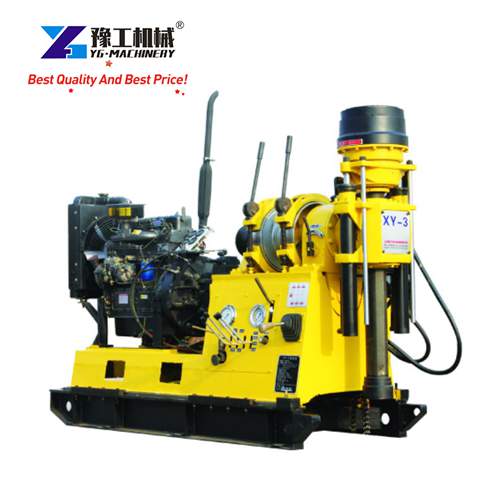 Water Well Drilling Rig XY-3 For Sale
XY-3 series drilling rig is a medium-depth core drilling machine. This machine is a spindle core drilling machine, mainly used for diamond drilling, and can meet the needs of various drilling processes. Can be matched with the corresponding electric motor or diesel engine. Simple in structure. Easy to disassemble. Easy to operate.
Drilling machine parameters:
Drilling depth: 530-600m
Drilling hole diameter: 75 mm
Drill pipe: Φ60mm
Drilling angle: 90°–65°
Diesel engine: YN27/power 39kw/2400rpm
Motor: Y180L-4/22kW/1470rpm
Weight/size: 1600kg/2500*900*1800
Vertical axis parameters:
Vertical shaft forward speed: 32-1057r/min
Vertical shaft reverse speed: 29-137r/min
Vertical axis travel: 600mm
Vertical shaft bore diameter: 96mm
Vertical shaft lifting capacity: 60kN
Hoist parameters:
Single rope lifting speed: 0.5-1.9m/s
Wire rope diameter: 12.5mm
Single rope lifting capacity: 30kN
Roll diameter: 200mm
Roll capacity: 50m
Mud pump parameters(Horizontal three-cylinder BW-250 mud pump):
Displacement: 250L/min
Working pressure: 80kgcm2
Inlet pipe diameter: 76mm
Outlet pipe diameter: 51mm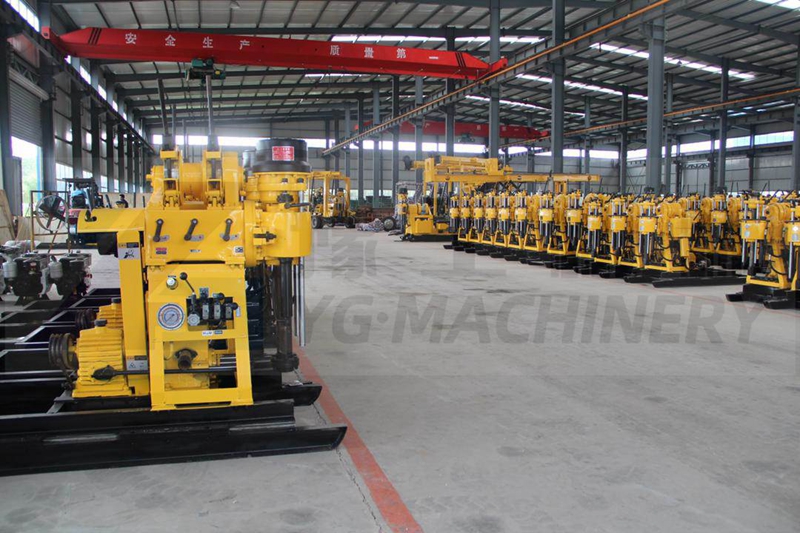 Application
XY-3 Core Drilling Rig is mainly used for the general survey and exploration of metal and non-metallic solid minerals. In addition, it is also suitable for engineering geological survey, hydrogeological survey, oil and gas field survey and exploration, and water well drilling, etc.
Features
With the latest MW525 automobile transmission assembly, which has 10 forward gears and 2 reverse gears, the gear speed design is reasonable to meet the needs of different drilling technologies.
The drilling rig has a large output torque and carrying capacity, and is easy to handle various downhole accidents. The mechanical transmission structure is compact, the diameter of the main shaft is 96mm, the distance between the bearings is large, and the rigidity of the drilling rig is good.
The hydraulic system controls the feed pressure and speed to meet the needs of drilling in various formations. The machine is equipped with a pressure indicator at the bottom of the hole, so it is easy to grasp the situation in the hole.
This drilling rig is small in size, light in weight, good in disassembly and assembly, good in layout, flexible and reliable in operation, and convenient in maintenance
Drilling Rigs Price
XY-3 Series Drilling Rig is a kind of medium and deep hole core drilling rig. It is a vertical shaft core drilling rig mainly for diamond drilling. The machine can meet the needs of various drilling processes. You can match it with a corresponding electric motor or diesel engine as power. If you are looking for this machine, please leave your messages here. We will contact you to send the machine details and price.
Manufacturer & Supplier
Henan Yugong Machinery Co., Ltd. was founded in 2005. There are more than 300 engineers engaged in geological drilling machinery manufacturing and drilling rig design.
Our experts in drilling rig design and manufacturing have jointly developed 8 series of advanced technologies in the domestic drilling industry. More than 40 drilling rig products. Mainly XY-100, XY-100A, XY-150, XY-200, XY-300, HZ-130Y, HZ-130YY, HZ-180YY, HZ-200YY, HZ-200GT, XY-3, XY-3B, XY-44A, XY-8, XY-44MP, XY-8MP, HZ-130T all aluminum alloy drilling rig, XY-3T all aluminum alloy drilling rig, XYX-200/180/130 three wheels Walking drilling rig, XYX-200/180/130 four-wheel walking drilling rig, XYX-3 six-wheel walking drilling rig, XYD-200/180/130 crawler drilling rig, XYC-200 vehicle-mounted drilling rig, XYC-3 vehicle-mounted drilling rig, XY-8B intelligent drilling platform, MDL-150 crawler anchor drilling rig, crawler static penetrating vehicle and other hydrology, geology, exploration, hydraulic, water well, core drilling rigs, mini HDD Drill rig machine.
Due to the good quality, and high reputation, this series of products have been sold to more than 20 provinces and cities in China and countries in Southeast Asia and Africa.