The chain link fence is the protective net and isolation fence made of the mesh surface, which is called the chain link fence. It is named after the mutual crochet process. It uses galvanized wire or plastic-coated wire to crochet together. The finished chain link fence can be processed into a fence net after being connected to the frame. The commonly used one is the Sports fence, used in football fields, basketball courts, sports fields, and other places. Today, I will show you a chain link fence machine for sale made by YG Machinery. Contact us to get the automatic chain link fencing machine price.
High-Speed Chain Link Fencing Machine
You can check the technical parameters of our high-speed chain link fencing machine.
| | | |
| --- | --- | --- |
| Model | YG-20-100 | YG-25-80 |
| Wire diameter | 1.3-4mm | 2-4mm |
| Mesh size | 20-100mm | 25-100mm |
| Mesh width | 0.5-4m | 0.5-4m |
| Speed | 70-80mm²/h | 120-180m²/h |
| Mesh length | 30m, adjustable freely according to your request | 30m, adjustable freely according to your request |
| Mesh side | Knuckled and twisted, or knuckle, or twisted | Knuckled and twisted, or knuckle, or twisted |
| Raw material | Galvanized wire, PVC-coated wire, etc. | Galvanized wire, PVC-coated wire, etc. |
| Machine size | 4.2*2.2*1.7m | 6.7*1.43*1.8m |
| Weight | 1800kg | 4200kg |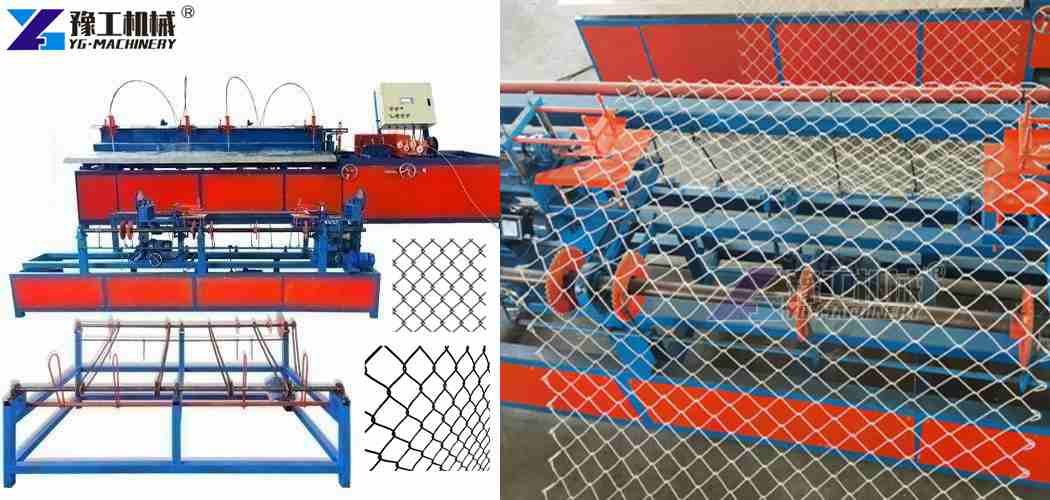 Chain Link Fencing Making Process
Upper wire part. It is complex to guide the metal wire used to the normal running track of the machine, and through the control of the limiter, the production of the entire process can be automatically stopped if there is a problem, which is more in place than a manual servo.
Pre-bending part. Pre-bend the metal wire introduced in the previous process, and select different molds according to the required mesh size to meet the production needs. After pre-bending, it is responsible for transporting to the designated position for the next step of weaving production.
Weaving part. Rely on the conveying process of the pre-bent wire and the fixed track to achieve the purpose of weaving.
Hold or twist the edge. An edge-holding or edge-twisting device is added during the conveying process of weaving. This device is very delicate and can complete the work of edge-holding or edge-twisting.
Application range and field
This fully automatic chain link fence machine can currently complete the production of diamond-shaped nets of all specifications and sizes below four meters. The products are widely used in fields such as sports fence nets, breeding fence nets, and slope protection nets.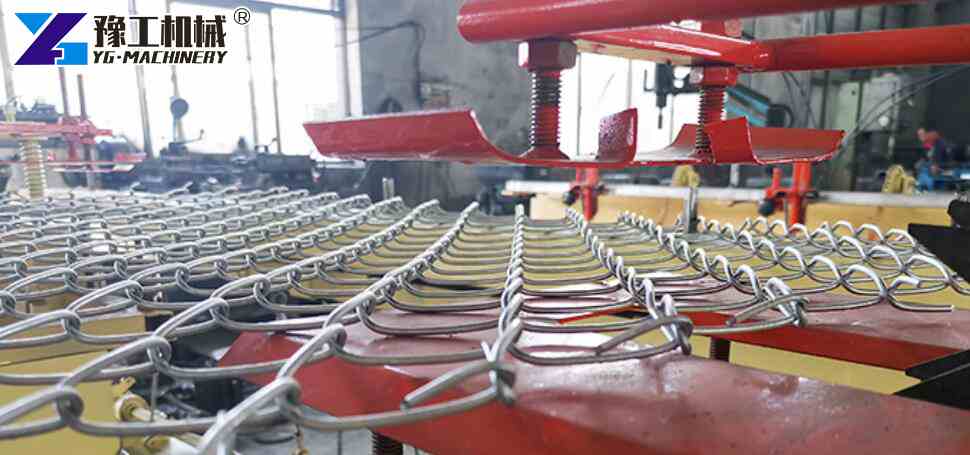 Rolled Net Shrinking Machine
The shrinking machine can reduce the size of rolled chain link. When the chain link fence is rolled flat, the diameter of the roll will be relatively large. This is inconvenient for transportation and storage. It is easy to hang the net when transport. The shrinked chain link fence is small in size and convenient for storage.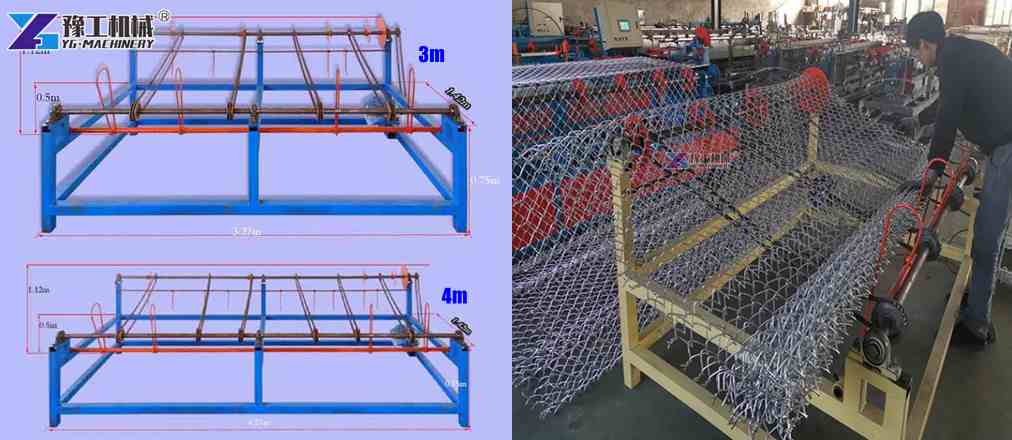 Manufacturer
If you are looking for chain link fence production equipment, stadium fence machine (plastic coated chain link fence), protective barbed wire machine (galvanized chain link fence), basketball court fence machine (we have stock), football field fence weaving equipment (We provide customized services), chain link fence machine, chain link fence equipment, chain link fence machine, chain link fence weaving equipment, then, please contact us.