Truck-mounted dust removal fog cannon (vehicle-mounted fog cannon) can be matched with different vehicles according to different models. Control dust, disinfection, and improve the air condition.
Truck Mounted Fog Cannon | Water mist cannon
Vehicle-mounted fog cannon has these features:
It can reach a wide range of area (further than the stationary fog cannon)
It has higher efficiency, time-saving and labor-saving
The atomized particles sprayed from it are fine and adjustable, to realize more efficient and accurate dust suppression or disinfection.
The whole working process is automated and the operation is simple and easy.
It can effectively suppress dust, reduce dust concentration, better protect the working environment and prevent industrial and mining accidents.
The whole truck-mounted dust suppression system, including fog cannon and tank, is installed on the sprinkler transportation vehicle. Equip with its own generator to realize better maneuverability. The simple truck-mounted method and the excellent electronic control function during work make the operation much easier. The driver can drive to any dust-falling area to work without geographical restrictions. It can move to various dust-generating areas for mobile operations, effectively suppressing various industrial and mining dust pollution, such as demolition, construction, municipal construction sites, coal storage sites, and ore storage sites.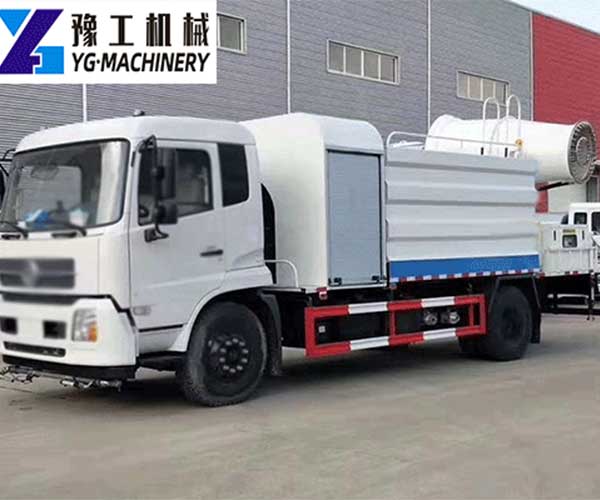 How Does Truck-mounted Fog Cannon Work?
First, the truck-mounted dust suppression fog cannon machine is based on the principle of air delivery.
Secondly, the high-pressure pump and the fine atomizing nozzle can atomize the water, and then the air volume and pressure of the fan will send the atomized water mist to a longer distance so that the water mist can reach a longer distance and cover a larger area at the same time. The water mist and dust will fall after condensation, so as to achieve the purpose of dust reduction.
At present, in many open-air stockyards and operation sites, the dust created during work and local fugitive dust are quite difficult problems in management. Many companies used water sprinkler measures in the past, but the small coverage area and large water consumption made the effect of treatment extremely unsatisfactory.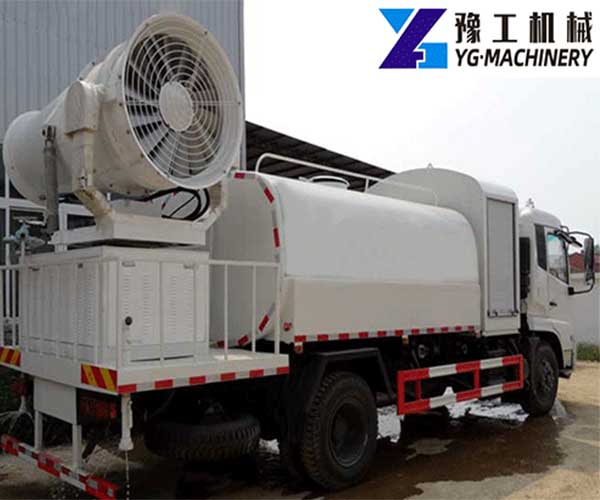 Features of YG Truck-mounted Fog Cannon:
Strong skill, long-range, wide coverage. It can achieve quantitative and timing spray, high working efficiency, and fast spraying speed.
When spraying yards that easily cause dust, the sprayed mist particles are small. When they come into contact with the floating dust, they form a kind of moist mist particles, which can quickly suppress the dust from settling.
The supporting power is flexible, which can use a 380V city power or a supporting generator set.
It can be installed on a concrete platform or a steel frame platform, or on a transport vehicle.
Reliable operation, accurate control within 100 meters of imported remote control.
Compared with other dust suppression spraying equipment, the water consumption can be reduced by 70% to 80% (spray guns, sprinkler locomotives), and the water mist coverage area is much larger than other spraying equipment.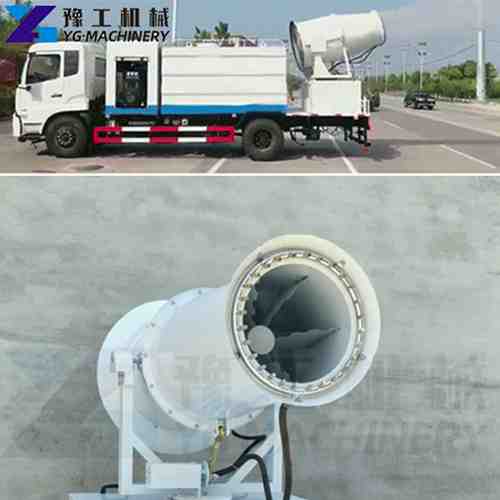 Truck Mounted Fog Cannon Supplier
Henan Yugong Machinery(also named YG Machinery) is one of the best vehicle fog cannon truck manufacturers and suppliers from China. We have exported our products to Dubai, Algeria, South Africa, India, Japan, and so on. YG Machinery can provide you with fog cannon equipment according to customer needs. At factory price.
If you are looking for a Fog Cannon machine manufacturer, YG Machinery will be your choice not to be missed.  If it is convenient for you, welcome to visit our wet wipes production machine factory. Click on the message box below to get the Fog Cannon machine price immediately.
Besides fog cannon truck, YG Machinery provides also fog cannon dust suppression, wood shredder chipper machine, rebar machinery such as rebar bending machine, rebar thread rolling machine, rebar straightening and cutting machine, pumps like concrete mixer pump, concrete boom pump, trailer-mounted concrete pump, drilling rigs like DTH drilling rig machine, small water well drilling machine, etc.
If you have any questions or concerns, please let me know. I am here to help!