Screwd Cement Grouting Pump is an anchor grouting project equipment. It is widely used for roads, railways, tunnels, urban elevations, subways, hydropower stations, underground caverns, anchoring grouting, consolidation grouting, and backfill grouting.
Screwd cement grouting pump | Screw Grouting Machine for sale
Screwd Cement Grouting Pump is a professional device for conveying mortar. YG Screwd Cement Grouting Pump is widely used in anchor grouting projects, like roads, railways, tunnels, etc. It can be used in large pressure grouting works such as curtain grouting for the soil layer when strengthening the dam slope and soft rock.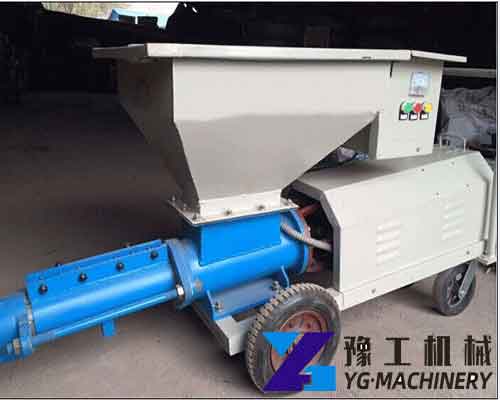 Features of Screw Grouting Machine
Continuous and stable grouting, no pulse, adjustable pressure, stable flow
Oblique vertical structure, good slurry fluidity, lightweight, wheel design, easy to move
The pump head adopts a universal joint design, which is flexible to rotate
It can be grouted liquid, with a wide range of water-cement ratios, especially suitable for thick slurry with concentration design
The wheels adopt single-head or double-head screws, and under the same rod diameter, a double-head screw grouting pump is used, which has larger displacement, smaller pulse, stable pressure, stable operation, and low energy consumption.
Technical Parameters
Electric Mortar Spraying Machine
Model
YG-311/318/712
Production Capacity
3-6m3/h
Pressure
3MPa
Applicable Material Ratio(Water, Ash, Sand)
0.7-1:1:3
Voltage
380v/220v
Main Motor Power
4kw/7.5kw
Particle Size
Below 4mm
Transmission Distance
Horizontal 30m-60m Vertical 15m-40m
Bucket Volume
50L-100L
Air Compressor Exhaust
0.3m3/min
Max Aggregate Size
Below 4mm
Feed Pipe Diameter
32mm
Weight
320kg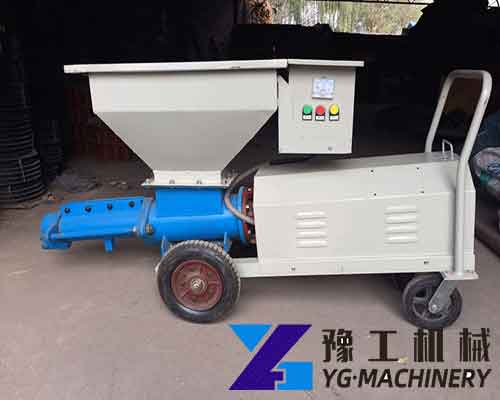 Structure and Composition of YG Screw Grouting Pump
1. Power part
The power part is composed of the motive part and the transmission device. The original moving part consists of an electric motor and a deceleration device. The motors of the grouting pumps are selected from high-quality manufacturers, and the motor has a high degree of protection, which is especially suitable for working in harsh environments. The reduction device adopts a cycloidal pinwheel reducer, which has high transmission efficiency, large output torque, long service life. All parts of the transmission device are made of high-quality and strict heat treatment, its work is reliable. The service life is long, the spiral blade is made of alloy material, and the wear resistance is high. With an advanced sealing structure, the bearing life is longer.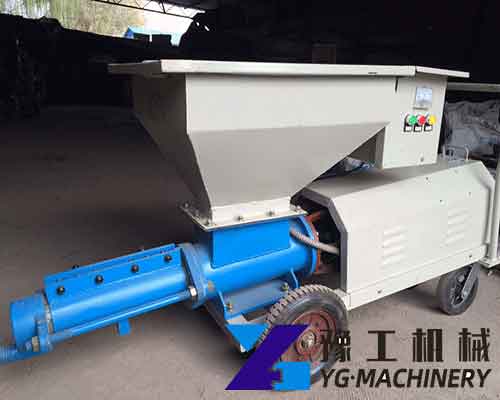 2. Supercharged screw group
The booster screw group is composed of a stator, a rotor, and an adjusting sleeve. The stator is not only made of imported high wear-resistant rubber material but also in a rubber sleeve.
There is a steel jacket on the outside, so compared with the traditional screw grouting pump, its output pressure is higher and the service life is longer; the rotor
In addition to using high-quality alloy materials, it also undergoes special surface treatment, so its wear resistance is higher and its service life is longer;
The tightness of a row of bolts on the whole set adjusts the degree to which the outer sleeve holds the stator, thereby adjusting the output pressure.
3. Electric control part
All the accessories of the electronic control part are produced by well-known domestic factories, which have the characteristics of reliable performance and long service life.
The operation is easier and simpler. An overload protection device is installed inside, so it can protect the motor from damage.
4. Frame part
The frame part is all welded by channel steel, which has higher strength and has the characteristics of not deforming for a long time; adopts wheel structure, move more conveniently.
Screw grouting machine for sale
As a powerful tool for anchoring and grouting, YG Pressure Screwd Cement Grouting Pump is a better machine to buy. More importantly, only a few investments can make your construction more comfortable and efficient because of its high cost-effectiveness. As an expert in the grouting pump manufacturing industry, YG Machinery can provide you with high-quality and low-cost machines. Our staff will also provide the most professional advice for your work needs and recommend the most suitable model for you. Please do not hesitate to send an inquiry to get the latest price.
In addition, YG Machinery provides also other types of equipment, such as Self loader concrete mixer truck, Putty spray machine, Diaper Making Machine, Hydroseeding Machine, Thread Rolling Machine, Reinforced Cage Winding Machine, Scrap Steel Cutting Machine, Concrete Spraying Machine, Glove Making Machine, Fog Cannon Dust Suppression India, etc.