Rebar Straightening And Cutting Machine is equipment that uses the curve rotation method to straighten and the hydraulic method to cut the rebar. The machine is applicable for straightening and cutting steel bars with 4-14mm diameter. But how to use a Rebar Straightener And Cutter Machine? In this article, we will explain the compositions of this machine as well as the use of this machine.
Rebar Straightener And Cutter Machine for sale
YG Rebar Cutter And Straightener Machine can help you cut and straighten steel reinforcement. It is often used for the construction of roads, bridges, or buildings.
Technical Parameters – Rebar Straightening And Cutting Machine
| | |
| --- | --- |
| Applicable rebar diameter | 4-14mm |
| Straightening motor | 7.5kw |
| Traction motor | 3kw |
| Cutting-off motor | 5.5kw |
| Traction speed | 40-55m/min |
| Hydraulic cutoff pressure | 15mpa |
| Dimension | 2900x800x1200mm |
| Weight | 1200kg |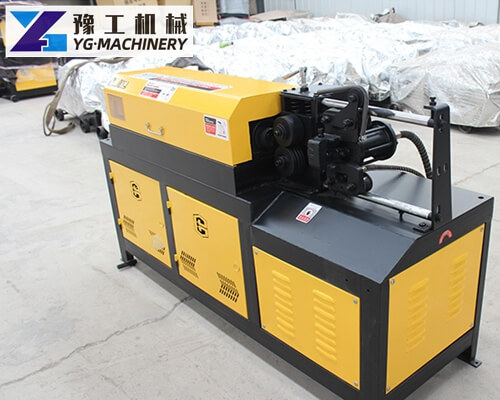 Features of Rebar Straightening And Cutting Machine
A high degree of automation
Fast traction speed
Continuous working system
Good safety performance: The equipment is equipped with an automatic counting stop device.
The surface of the wire after straightening by this machine is basically free of scratches, with little strength loss and good straightness.
It also has the characteristics of simple operation, convenient adjustment, simple blanking, and high production efficiency.
If you want to cut steel reinforcement, YG Rebar Straightener And Cutter Machine are more convenient for you. You can use the machine tool to cut and straighten the steel bar effectively. The machine is suitable for cold-rolled grade III steel bars, cold-rolled round steel bars for construction, and adjustable straight hot-rolled round steel bars.
Read also: Wire mesh welding machine for sale | Price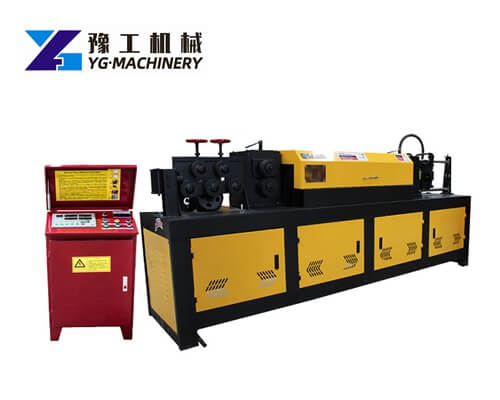 No matter the small portable cutting machine, or a machine with a platform for cutting, or rebar bender machine, you can contact us. Yugong Machinery is a construction machinery manufacturing company. We have many years of experience in the machine field. Our products are recognized by customers from France, America, Canada, Australia, Brazil, India, Pakistan, etc. Click the button below to request a quote.
If you want to buy such a machine, please contact us to request a quotation.
How does the rebar cutting and straightening machine work?
Before cutting, First of all, put the reinforcing bars into the bending machine, according to your needs, choose a point to cut or straighten, then press the button, the reinforcing bars will be straightened directly.
Attention: While using the machines, please take gloves to protect yourself.
In general, the machine has 4 parts to work:
1. Straightening part
Mainly rely on several sets of straightening wheels that are staggered with each other, plus the rotation of the straightening frame for the wire to completely eliminate the stress and push the wire to run under the action of the hyperbola. The adjustment wire of the straightening wheel can be used to adjust the wire forward and backward at will. Straightness, thus completing the straightening work of the wire.
2. Traction part
Powered by an electric motor, the main gearbox is driven by a V-belt, and the main gearbox drives the traction assembly, traction wheels, and sprocket. The traction wheel of the traction assembly is driven by the chain to complete the feeding work.
3. Cutting Part
The cut-off part is mainly composed of motor, gear pump, electromagnetic directional valve, integrated block, movable trolley, oil cylinder, balance rail, high-pressure oil pipe, oil tank, etc.
4. Unloadind Part (Manual)
5. Electrical control System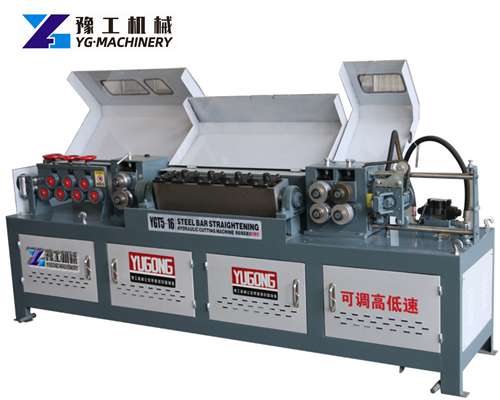 Advantages of Rebar Cutting and Straightening Machines
Easy to use: With one button you can already control the machine.
Convenient: Two simple steps, everything you need is there!
Easy maintenance: the attachments are in the delivery package, so you can change them easily.
After-sales service: When you meet the problems on the machine, please feel free to contact us to ask for help.
What is the price of the rebar cutter and straightener machine?
It depends on the model of the machine you need, often it's $ 850 to $ 1297. And machines made in different countries have different prices. But today's cheapest machines are often made in China. Reasonable price and with high quality, Yugong Machinery is absolutely a good choice for you!
At the end
In addition, YG Machinery provides also other types of equipment, such as Rebar Straightening And Cutting Machine, Diaper Making Machine, Hydroseeding Machine, Thread Rolling Machine, Reinforced Cage Winding Machine, Scrap Steel Cutting Machine, Concrete Spraying Machine, Glove Making Machine, Fog Cannon Dust Suppression India, etc.