YG Machinery offers types of trencher machine for sale, such as trench digger, ditch witch trencher, mini trencher, walk behind trencher for sale, ride-on trencher, and other types. The trencher can be used to excavate narrow and deep underground trenches in construction projects to bury underground drainage pipes, or to bury cables and pipes in railways, post and telecommunications, urban construction, and other departments. You can also use it in orchards, vegetable gardens and other farmland environments to ditch fertilization, drainage, and irrigation. Contact us to get a free quote if are looking for this machine.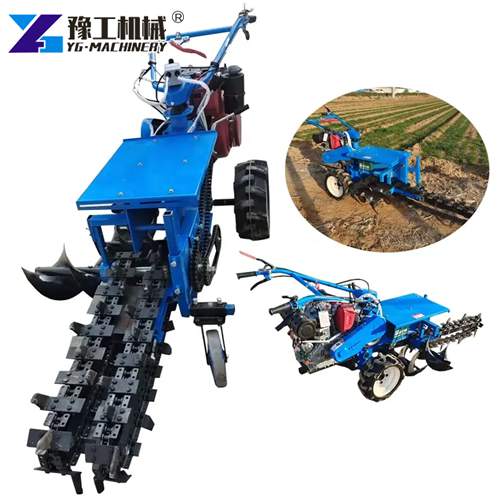 Mini trencher for sale
It has a wide range of applications. Simple structure. Low cost. Convenient use. With the machine, you can do the project of ditching and laying pipes (water pipes, mutual pipes), burying cables, natural gas pipelines, ditching and fertilizing fruit forests, yam loosening soil, and grape vines.
| | |
| --- | --- |
| Start mode | Electric start |
| Dimensions | 1750*950*1150 mm |
| Engine model | diesel engine |
| Walking mode | One in and two out |
| Ditching size/Width and depth | 10-100,15-90,20-80, 25-60,30-50,40-40, |
| Overal1 weight | 350KG |
| Walking device | Rubber wheel and track |
| Ditching speed | 200 meters an hour |
| Drill tooth material | Alloy, manganese steel |
The tool can be changed, and the depth and width can be adjusted flexibly. Contact us now to get the small ditch witch trencher machine factory price.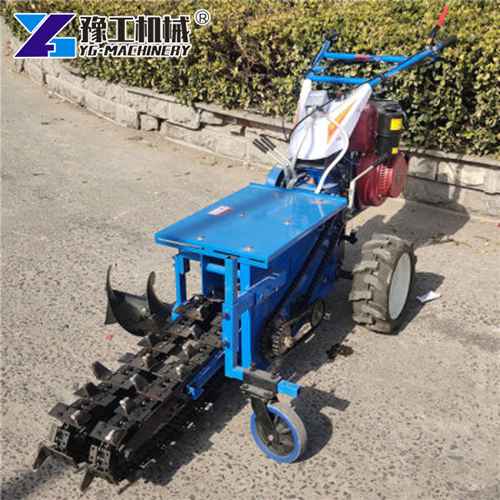 Chain trencher for tractor/excavator
A drive pulley, a drive shaft, a variable speed gearbox, a cutter shaft, and a frame mainly compose the chain trencher. The trencher is mainly used in conjunction with a tractor and is driven by the power of the tractor to realize trenching.
Matching tractor power: 30–120 horsepower
Working speed: 150-500m/h
Trench width: 15, 20, 25, 40, 60, 80, 100cm
Trenching depth: 0-240cm
Gearbox: hydraulic and mechanical options
Main features of the trencher
Check here the adavantages of this machine:
The quality of the trencher is good: The ditch opened can be as narrow as 10 cm and more than 2 meters deep, and the ditch is straight and the wall is steep, which is several times that of manual work and excavators.
Good quality and long life: Cutting inserts and chains are manufactured with special material process, with long service life.
High efficiency: Compared with manual work and excavators, it has higher operating efficiency (3-5 times that of excavators) and economic benefits, especially in the case of digging narrow and deep trenches (buried pipes or buried cables), the operation effect of this machine is even more obvious. The whole machine has simple structure, convenient operation and easy maintenance.
With the advantages of high quality and long service life, you can not only save labor cost but also make money with a less investment.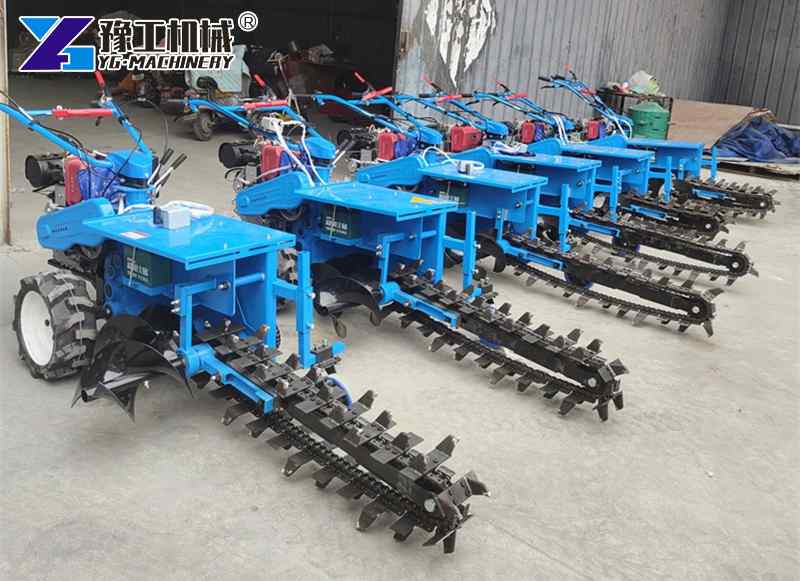 Vermeer trencher machine alternative | Walk behind trencher machine
Maybe you have heard of the brand Vermeer, the one of best trencher brands in the world. But you think the price is very high for you. Here, you can buy a Vermeer trencher machine alternative. Our walk-behind trencher machine is very powerful equipment for you.
An auxiliary trailer can load all attachments to the job site, do whatever you want to do. The machine can be attached to many equipment. Such as digger, auger, trencher, sweeper, backhoe, high dump bucket, tiller, lawn mower, hydraulic grapple fork, fork, trencher, 4-in-1 bucket, snow blower, leveler, angle blade, mixer, hydraulic breaker, trench filler, lawn aerator, a sweeper with a bucket, stone bucket, trailer, standard bucket, ripper, multi-function tool, etc.
Ditch Witch Trencher Machine Manufacturer and Supplier
Henan Yugong Machinery provides you with a high-quality trencher machine at a competitive price. We have exported our trenchers to the Philippines, Indonesia, Thailand, Maroc, Mexico, and other countries. Whatever type of trencher machine you need, please contact us with your requirements, and we will choose the most suitable model for you.