To sum up, an Ozone generator is a device used to produce ozone gas (O3). But ozone is easy to decompose and cannot be stored. That is to say, it needs to be prepared and used on-site (short-term storage under special circumstances). Therefore, ozone generators must be used in all places where ozone can be used. So, contact us to get the portable O3 Generator price.
Portable O3 Generator | Ozone generator disinfection
Generally, Ozone generators are widely used in drinking water, sewage, industrial oxidation, food processing and preservation, medical synthesis, and space sterilization. Meanwhile, the ozone gas produced by the ozone generator can be used directly, or it can participate in the reaction by mixing with a liquid through a mixing device. Here, you will find an ozone generator for car or an ozone machine for house for sale.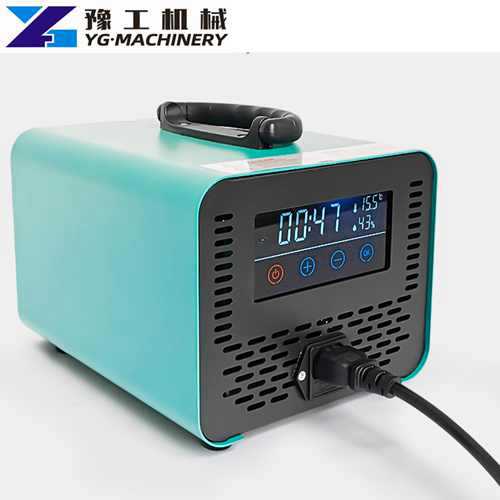 O3 Generator Parameters
| | |
| --- | --- |
| Product name | Ozone generator |
| Product Size | 215*170*140mm |
| Package size | 268*222*207mm |
| Ozone output | 5, 10,15, 20 |
| Weight | 2.6, 2.7, 2.8, 2.9 |
| Ozone concentration | 10-15, 10-20, 10-25, 10-30 |
| Ozone power | 60,80,100,120 |
| Large box size | Box for 4pcs:485*286*457mm;Boxes for 6pcs:710*286*457mm |
| Input power | AC110-220V/50-60HZ |
| Cooling way | Air cooling |
| Working environment conditions | Ambient temperature≤45C, RH≤80%, strictly prohibited inflammable and explosive places |
| Air source | Air |
| Material | Steel plate coating |
| Color | Light blue, light green |
| Timing | Touch screen + remote control |
YG Portable O3 Generator disinfection is a piece of equipment used for:
Car disinfection;
Decoration to remove formaldehyde;
Household sterilization and deodorization.
Portable ozone generator air purifier for sale
In a word, the Portable O3 generator is used to produce ozone, a special form of oxygen that is sometimes called activated oxygen. Of course, ozone is a good option for air disinfection. And with this small equipment, you can purify indoor air and prevent Viral Influenza, you can also use this machine to remove volatile organic compounds and fungi.
Firstly, the O3 generator adopts a honeycomb air duct output design to reduce noise during working. Secondly, this ozone disinfection machine adopts a portable, lightweight, and portable design, as a result, it is convenient to move, simple to operate, and has extremely strong ozone concentration and stability.
What to do if formaldehyde exceeds the standard? Or if the bathroom smells bad? What to do if germs grow? Do be worried. Here, you can buy a small and portable O3 generator disinfection machine. It will quick-acting formaldehyde removal, sterilization, deodorize, and turn it to oxygen.
Click the button below to get the ozone disinfection machine price.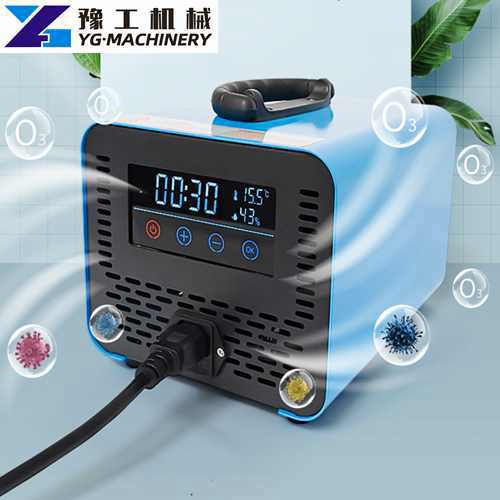 In conclusion, the use of ozone disinfection has been popularized in many regions of the world. Also in many industries. YG Ozone disinfection is an effective way for sterilization and a fast solution to domestic air pollution. For more information about this portable ozone generator, you can just leave your messages here.
Remember that in high concentrations, ozone inhalation can become toxic. Therefore, it is recommended that no one is present in a room where the ozone concentration levels are above 0.1 ppm. In these situations, as a guarantee of absolute security, space must be free for 40 minutes and then people can return normally.
Ozone Generator Supplier from China – YG Machinery
Henan YuGong Machinery(YG Machinery) is a top and reliable machine supplier from China. With many years of development in machinery, we can provide, besides ozone generators, types of environmental equipment, such as fog cannon dust suppression, fog cannon truck, wood shredder chipper, etc. YG Machinery will never make you disappointed, so, feel free to contact us with your needs, we are always here to help you.
To purchase this equipment or for more information, send an email to admin@ygcivilconstruction.com or contact us at WhatsApp +13598866720.
Please do not hesitate to leave your comments below if you have any questions about the article.