The toilet paper production line is composed of a toilet paper making machine, toilet paper rewinding machine, paper cutting machine, and paper packaging machine. Every machine plays an important role.
Here is a one-stop toilet paper roll production line. If you want to start your paper making business, please feel free to contact us to get assistance. We are always here to help! Click the button below to get more details about the toilet paper production line.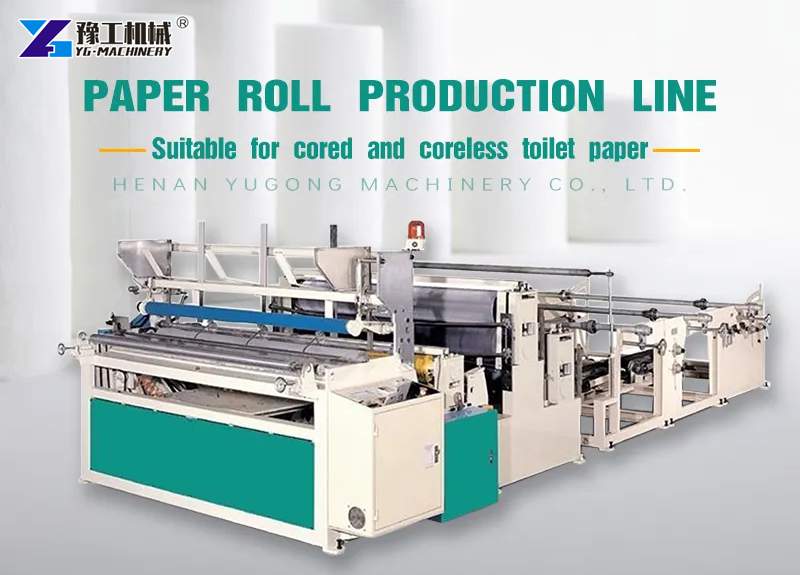 One-stop Fully Automatic Toilet Tissue Roll Making Machine
How are toilet paper rolls made? Actually, many people can not distinguish clearly between the tissue paper making machine, and the paper rewinding machine. So, there is an easy way to help you with it.
If you start from waste paper to make toilet paper processing, then you need a toilet paper machine. If you start from semi-finished products, then you need a toilet paper rewinder.
High-speed tissue paper rewinding machine
Automatic Toilet paper rewinder is the key equipment that affects the processing of toilet paper. Advanced computer control programming technology. Generally, this machine is used for rewinding and slitting of paper and film. Check out the machine parameters below:
Model
High-speed tissue paper rewinding machine
Raw paper width
≤2100mm
Finished product diameter
Φ60~150mm (adjustable elasticity)
The inner diameter of the finished paper core
Φ 32

~

50mm

Diameter of base paper: Φ1100mm
Φ1100mm
Inner diameter of base paper core
3″
Punching pitch (please specify)
4 knives, mechanical adjustment 90~180mm
Rewinding speed
0-200 m/min
Punching method
pneumatic separation
Paper ejection rack
1-3 layers
Dimensions (L×W×H)
6500×3100×2600 mm
Machine weight
3500kg
Total power
4kW
Pneumatic system
3 HP air compressor, minimum pressure 5kg/cm2 Pa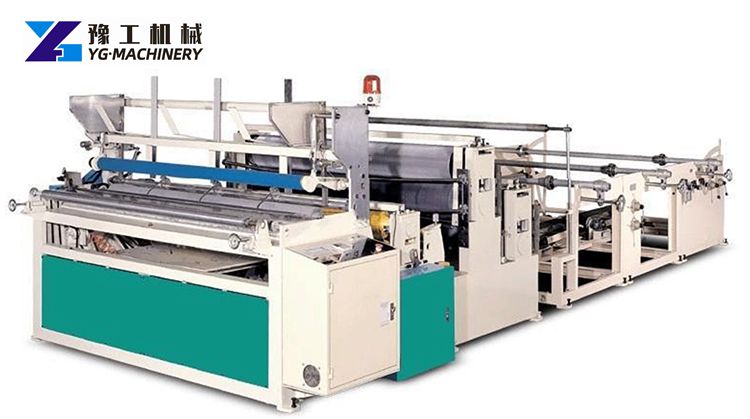 Automatic Toilet paper cutting machine: 1 band saw cutting machine
What is the function of the paper roll cutting machine? It can cut the paper longitudinally from the parent roll. From the paper machine or cardboard machine. So as to make it into a slender paper roll. Of course, with a diameter suitable for the next step of processing. Contact us here to get the paper cutting machine price.
Rated speed: 150 cuts/min
Design speed: 170 cuts/min
Cutting diameter: φ60—φ130(mm)
Total power: 9kW
Cutter motor: 4kW
Conveying servo motor: 1kW
Rotary cutter motor: 4kW
Machine noise: ≤65dB
Compressed air: 0.5-0.8MPa
Overall dimensions (length×width×height): 5350×1500×1850(mm)
Machine net weight: about 1500kg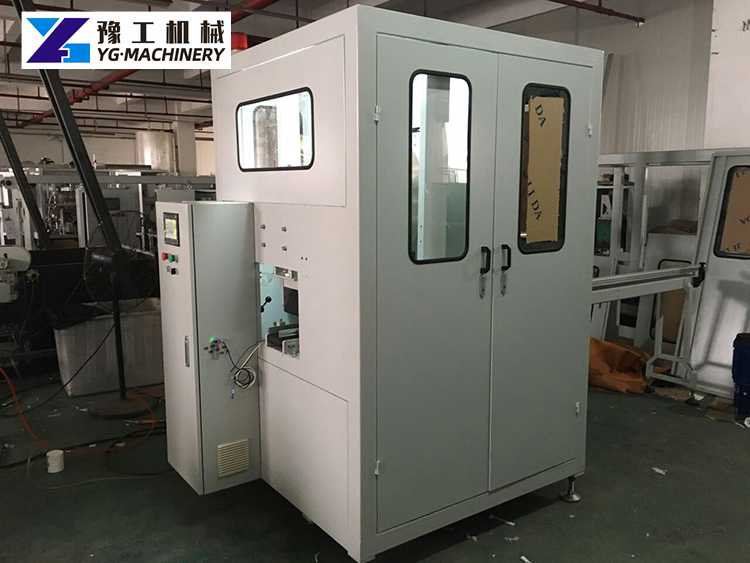 Toilet paper packaging machine: YG-500T multi-roll packaging machine
Here are the technical specifications of the roll paper packaging machine:
Model: YG-500T toilet roll packaging machine
Film width: max 450mm
Bag length: 130-450mm
Bag making width: 60-200mm
Product height: Max.130mm
Film roll diameter: Max 320mm
Packing speed: 30-180 bags per min
Power specification: 220V 50/60HZ 2.6KW
Machine size: (L) 4020* (W) 820* (H) 1450mm
Machine weight: 800kg
This is a small roll paper packaging machine. Suitable for the packaging of roll-shaped products. Such as independent sanitary rolls, roll tissues, coding paper, hotel roll paper, cash register paper, etc. Want the paper rewinder machine price? Please click the button here.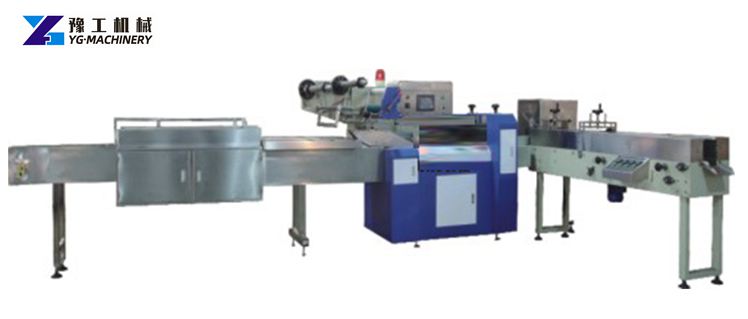 Toilet paper making machine production line Manufacturer
Henan Yugong Machinery, located in Henan Province, is a top and professional machine manufacturer. Our toilet paper production line has been exported to many countries. For instance, the United States, Australia, Netherlands, Austria, etc. In addition, we have also the baby diaper production line, Sanitary Napkin Making Machine, paper cup making machine, etc.
To get a free quotation, please leave your inquiry here. Our sales manager will contact you as soon as possible. Or you can also contact us by WhatsApp at +8613598866720. If you have any concerns or questions, feel free to ask.