According to the different materials, there are more than 6 types of hand protection gloves:
PVC gloves
PE gloves
Latex gloves
Fabric or Cotton Gloves
Coated Fabric Gloves
etc.
And here comes the question, how the coated fabric gloves are made? What should I do to start my gloves manufacturing business? In this guide, I will show you an automatic disposable gloves making machine that can help you. Follow me!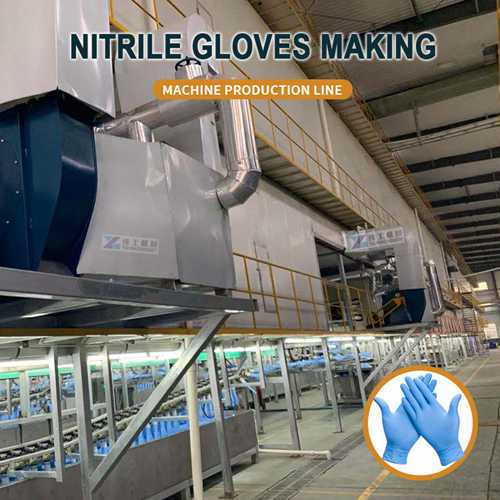 What is Gloves Manufacturing Machine?
Gloves manufacturing machine is a production line with serval machines. As the name means, you can use the machine to make disposable gloves, including PE gloves, PVC gloves, nitrile gloves, and latex gloves. The machine is composed of a vulcanization tank, a coagulant mixing tank, a sand mill, water purified, a diaphragm pump, air compressor, latex/nitrile surgical, and exam glove dipping machine, auto strip machine, porcelain exam gloves former, dryer, surgical glove packing room. For the gloves making machine price, you can click the button below.
Technical Parameters of glove making machine
Product name: Glove dipping machine
Condition: New
Production Capacity: 6,000 pcs/hr
Voltage: 380V
Power: 34 kW/hr
Mold: 3600PCS
Heat consumption: 550,000 cal/hr
Speed: 10 m/min
Quality: Good
Gloves manufacturing machine: how gloves are made?
Servals step to make gloves:
Prepare the material to make gloves.
Clean and prepare hand-shaped molds for use.
Vulcanize the latex to give latex its elasticity, at the same time, the gloves are also dried during this process.
Rinse the gloves with water to remove excess latex.
Brushes roll their ends into cuffs.
Stripping phrase: using air jets to remove the gloves from the molds.
Test: regulatory requirements and batch testing.
Features of Automatic disposable glove making machine
Easy to operate
High efficiency, lower cost
Touch Screen+PLC control
High-quality glove former sealing knife
Attached gloves former cooling device
The whole set packed whole set delivery.

Gloves Making Machine Manufacturer & Supplier
Henan Yugong machinery co. ltd is a professional manufacturer of gloves making machine. The automatic disposable gloves production line can be designed according to your needs. We have latex gloves making machine, nitrile gloves manufacturing machine, PVC gloves making machine, PE gloves making machine. Besides gloves making machines, YG Machinery can also manufacture the diaper production line, wet tissue production line, Toilet paper production line, etc.
If you want to buy an automatic disposable gloves manufacturing machine, feel free to get more information here.