Environmental friendly plays an important role in sustainable development. The Paper bag replaces the plastic bag. How do factories make paper bags? Read this article to learn more about the paper bag making machine.
Without a doubt, paper bag-making business is profitable. Super Market, bread package, cake package, gift package, all of these need paper bags. So, if you want to start your paper bag business, leave your messages to get the kraft paper bag machine for sale price.
Paper bag machine: Technical parameters, Features, Price
YG Full Automatic Paper Bag Making Machine With Twisted Handle can be used for producing kraft paper bags, various food bags, portable shopping bags, and other environmentally friendly packaging paper bags. The whole production line is composed of a bag forming machine and a paper bag print machine. The machine forms paper bags from the paper roll, printing, hemming, tube forming, cutting, gluing, bottom folding, bottom gluing, and bag finishing. It is suitable for producing food bags such as bread bags, KFC bags, and McDonald's bags.
This equipment has the advantages of fast speed, high production efficiency, simple operation, and low power consumption. Overall, it is an ideal equipment for paper bag production.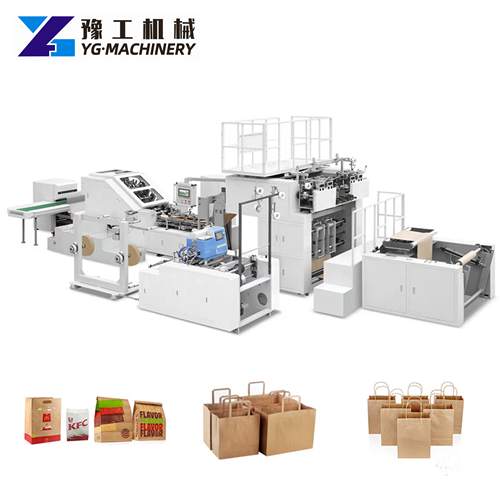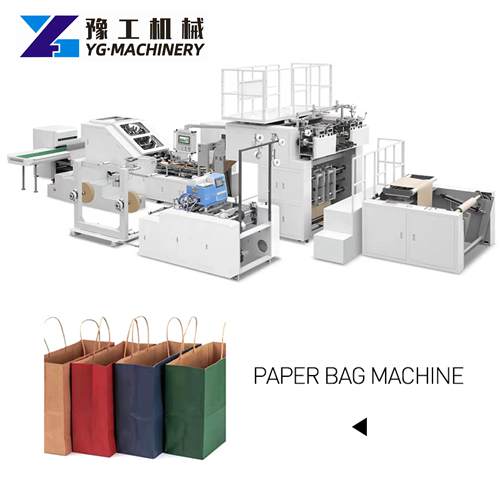 Technical Parameters
YG-330

YG-450A

YG- 450B

Cutting length

270-530mm

270-530mm

380-760mm

270-430mm (with handle)

270-430mm (with handle)

380-660mm (with handle)

Bag width

120-330mm

200-450mm

220-450mm

200-330mm(with handle)

240-450mm(with handle)

240-450mm(with handle)

Bottom width

60-180mm

80-180mm

80-200mm

Paper Thickness

60-150g/M2

80-150g/M2

80-150g/M2

80-150g/M2(with handle)

Paper roll width

380-1050mm

590-1300mn

630-1350mm

620-1050mm(with handle)

710-1300mm(with handle)

710-1350mm(with handle)

Roll paper diameter

1300mm

Paper core

76mm

Patch length

152mm

152/190mm

152/190mm

patch width

45-50mm

Handle distance

75mm

75/95mm

75/95mm

Rope diameter

4-5mm

Patch paper roll width

90-100mm

Diameter(Patch paper roll)

1200mm

Patch paper thickness

100-135g/M2

Production speed for bags without handles

30-180bags/min

30-150bags/min

30-130bags/min

Production speed for bags with handles

30-130bags/min

30-120bags/min

30-120bags/min

Machine size

15000x6000x2700mm

15000x6000x2700mm
The Fully Automatic Shopping Bags Making Machine can be customized according to your requirements. Contact us to get a detailed quotation.
Features
The kraft paper bag machine is mainly composed of four parts: feeding, gluing, forming, and cutting. Due to the needs of the modern market, processes such as dispensing and puncturing have been added. The feeding part can be designed with 1-4 layers of feeding racks according to the requirements of the finished product, so it is also called a multi-layer kraft paper bag machine. This equipment can be used for bag making of 70-140g kraft paper rolls. Adopt frequency conversion speed regulation, with automatic gluing, forming, tearing, counting, and other functions.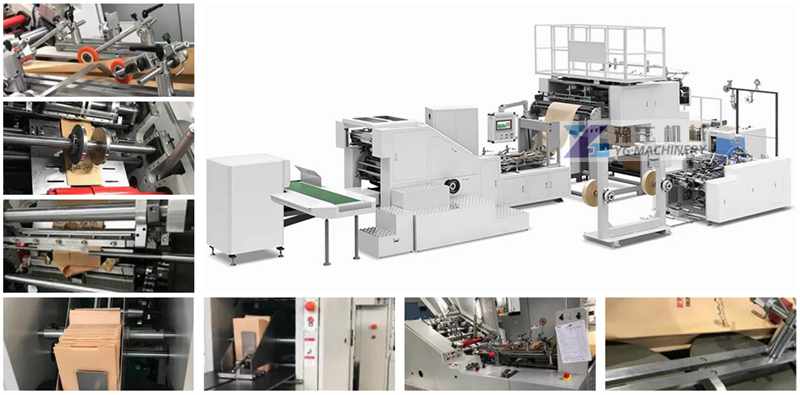 Paper Bag Machine Price
Henan Yugong Machinery is one of the top bag making machine manufacturers in China. So, our machine is not only of high quality but also at a competitive price. If you are looking for a paper bag manufacturing machine, do not hesitate to leave your messages. Our sales manager will introduce to you the most suitable machine and offer to you a good price according to your requirements.
In addition, Henan Yugong Machinery provides also Paper cup making machine, PP Woven Bag Machine, Toilet paper production line, Sanitary Pads Machine, Water filling machine, etc.