How is made the steel wire mesh? YG Wire Mesh Welder Machine can produce reinforcing mesh working with pre-cut wires.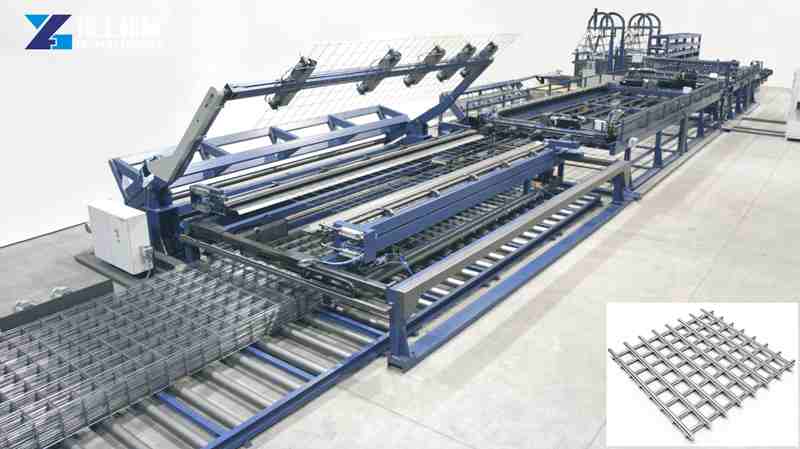 Wire Mesh Welding Machine For Sale
YG Steel Wire Mesh Welding Machine is mainly used for the production of wire mesh for bridge construction, water conservancy projects, highway and railways, steel mesh for pouring concrete in buildings, steel fence mesh for construction scaffolding, and steel anchor mesh for tunnel support.
Tunnel steel mesh welder machine technical parameters
| | |
| --- | --- |
| Host side plate | 25 thick iron plate |
| Upper beam plate thickness | 25 width 200 iron plate |
| Lower beam | 300 I-beam |
| Upper electrode diameter | 25 copper rod |
| Upper electrode connecting wire | 200 square copper wire |
| Upper electrode splint | 20*40 key bar |
| Upper electrode slide rod diameter | 25 cold drawn round steel |
| Lower electrode holder | Copper block |
| Lower electrode | 35*35*20mm Chrome Pickaxe Copper Square |
| Lower electrode connecting line | 300 square copper plate |
| Spindle diameter | 75 round steel |
| Power Motor | Integrated Variable Frequency Brake Motor Reducer |
| Motor power | 3.0kW |
| Host base wall thickness | 5mm100*50 square tube |
| Transformer | 2*120KVA water-cooled transformer |
| Pull net runway thickness | 2.5mm60*80 square tube |
| Number of solder joints (number of warps) | 8 |
| Dimensions (L*W*H) Covers an area of | 2250*4900*1450mm |
| Welding wire diameter | 5-8mm |
| Welding aperture | 150*150mm—200*200mm |
| Welding speed | 20-45 times/min |
| Machine weight | 2.2T |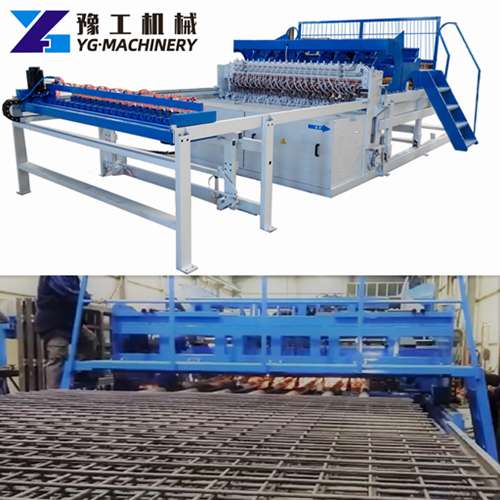 Features
The welding host of the steel mesh welding machine adopts synchronous control technology, the system is stable, the work efficiency is high, the service life is long, the precision is high, and the welding point is firmly welded.
The welding transformer adopts a new type of water-cooled high-efficiency welding mesh transformer, and the welding current can be adjusted arbitrarily, which expands the welding wire diameter range; the welding copper head adopts the special chrome-zirconium copper block for welding, and adopts water circulation cooling, which greatly reduces the loss. rate and can be used in many ways.
The mesh drawing system of the reinforced mesh welding machine is controlled by computer programming. The spacing of the horizontal bars can be adjusted arbitrarily through the display of the control cabinet. It is convenient and simple to change the hole spacing. Up to dozens of different spacings can be realized on the same mesh.
The control system of the machine adopts a PLC programming controller, touch screen display, convenient operation interface, and simple working method.
The horizontal wire blanking system adopts patented technology, and the PLC controls the motor to automatically drop the wire without manual placement. (Equipped with horizontal wire blanking detection system)
Henan Yugong Machinery
Henan Yugong Machinery, also named YG Machinery, provides kinds of rebar machinery for civil construction. Our equipment: Rebar Straightening And Cutting Machine, Automatic steel pipe welding machine, CNC I Beam Bending Machine, etc. If you are looking for rebar machinery, please leave your messages here. We will contact you as soon as possible. WhatsApp/WeChat: +8613598866720.