A customer from Puerto Rico ordered Hammer and Olecranon Scissor form YG Machinery.
High quality Hydraulic breakers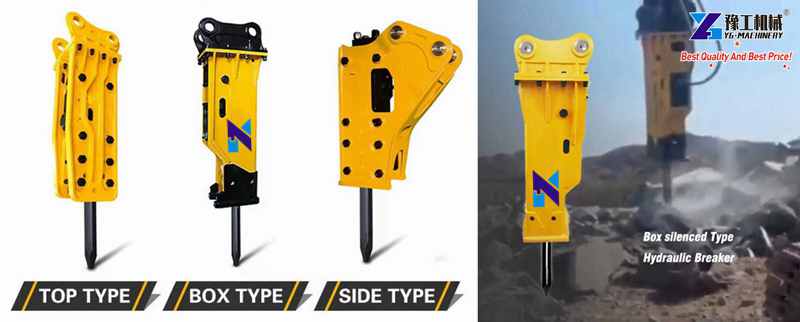 Hydraulic breakers are referred to as breakers or hammers. The power source of hydraulic breakers is the pressure provided by excavators, loaders, or pump stations. work efficiency. The principle of selecting a hydraulic breaker is to choose the most suitable hydraulic breaker according to the model of the excavator and the operating environment.
Common breaker drill rod diameters are 53, 68, 75, 100, 120, 135, 140, 150, 165 (all in millimeters), etc.
If you need the quotation, please leave your requirements and your contact information.
 Hammer Application
1. Mining: mountain opening, mining, grid screen crushing, secondary crushing
2. Metallurgy: ladle, slag cleaning, furnace dismantling, equipment foundation dismantling
3. Railway: mountain driving, tunnel excavation, road and bridge demolition, roadbed consolidation
4. Highway: highway repair, cement pavement crushing, foundation excavation
5. Municipal gardens: concrete crushing, water, electricity, gas engineering construction, old city renovation
6. Construction: Demolition of old buildings, broken reinforced concrete
7. Ships: hull removal of mussels and rust
8. Others: ice breaking, frozen soil breaking, sand vibrating
Scrap Metal Recycling Machine Excavator Scissors Olecranon Shears
The olecranon shears, also known as hydraulic shears, are installed on the excavator and belong to the excavator demolition attachment. It uses a separate pipeline and can rotate 360 degrees. Easily reach any part of the scrapped car, accurately and quickly grab the dismantling target. The knife edge is designed with a clamping groove. And the clamping force is strong, which is convenient for any angle interchange design when clamping irregular materials. These scissors are suitable for different operations, including the dismantling of scrapped cars, the demolition of steel structures, the processing of scrap steel, etc. They can cut iron materials, steel, cans, pipes, etc., with efficient operation and powerful cutting force.