A concrete splitting machine (rock splitter) is a machine for splitting materials, which is mostly used in construction, decoration, engineering construction, and ore mining.
On May 15, we received an inquiry about a rock splitter from Algeria. The customer would like more information on the hydraulic rock splitting equipment. So our sales manager Laxmi contacted him and sent all the details about the rock splitter machine. As the customer is satisfied with the machine, we made a quotation for him. Of course, he is also happy with the price. Because we are a machine manufacturing factory, the machine price is very competitive. If you need also this equipment, please feel free to leave your messages, our sales manager will reply to you as soon as possible.
Application of Hydraulic Splitting Machine in Tunnel
Specific construction plan:
First, drill a hole with a diameter of 42mm on the plane to be split, and then drill another hole half a meter apart. Each hole is not less than 500mm deep.
After drilling, use a test rod to check whether the drilled hole is Qualified, and then split with a hydraulic splitter. It only takes a dozen seconds to split each hole.
After the split is completed, use a crowbar or a shovel to poke and remove the stone to create a volley surface. (Note: the better the volley surface is made, the more efficient it will be to split rock or concrete behind)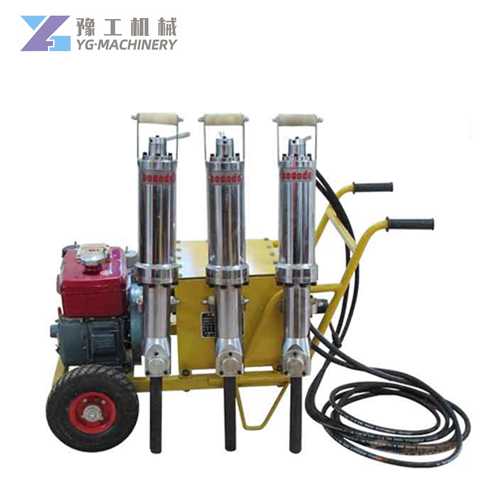 Product introduction of concrete and rock splitting machine
The concrete splitting machine is composed of two parts: a hydraulic power station and a split gun. The splitter is driven by the ultra-high pressure oil output from the pump station to generate a huge driving force, and after mechanical amplification, the split objects can be split in a predetermined direction. The hydraulic station supplies 60Mpa hydraulic oil to the split gun. The split gun can generate dozens of tons of thrust. The splitter pushes the wedges to expand to both sides, and the expansion force can reach several hundred tons so that the objects are split from the inside and separated.
Hydraulic rock splitter technical information
Below are the technical parameters of the YG Hydraulic Rock Splitter machine for sale.
Model
YG-250
YG-350
YG-450
Power
Diesel Power Pack
Diesel Power Pack
Changchai 6hp or 8hp
Hydraulic Power Unit
Pressure Adjustable 10-60Mpa
Splitter Length (mm)
1000
1100
1200
Wedge Length (mm)
250
350
450
Wedge Weight (kg)
30
36
43
Piston Stroke (mm)
90/220
Drilling Depth (mm)
>500
>700
>900
Drilling Diameter (mm)
42
50
55
Crack Width (mm)
10-20
Splitting Time (s)
10-15
Splitting Force (T)
800
900
1000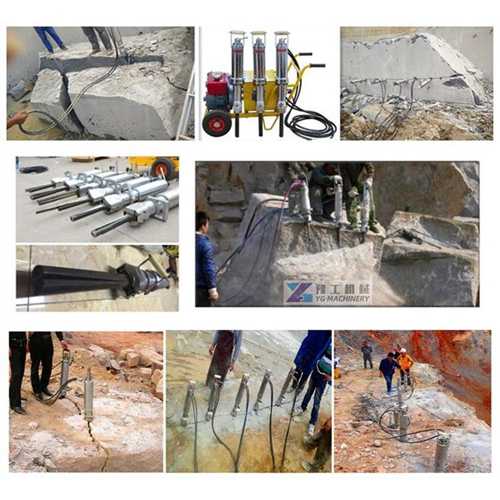 There are no hidden dangers in the construction process, no need to take complex safety measures, and the controllability and operation safety are strong, and because the equipment has the characteristics of light vibration and low noise, the operator can operate and view the static splitting process at close range.
Hot Sale: Rock splitter for sale | Excavator hydraulic rock splitting machine
Application field of rock splitting machine
1. Demolition and partial reconstruction of reinforced concrete foundations/structures: Hydraulic splitting machines are widely used in various reinforced concrete foundations (such as steel furnaces, various heavy equipment, tower cranes, dams, hydropower stations, hydraulic Demolition and partial reconstruction of building piers, etc.);
2. Demolition of reinforced concrete ground/wall: The hydraulic splitter is especially suitable for the demolition and reconstruction of ground/wall (such as airport runways, ancient buildings, high-grade roads, bridge decks, etc.). ) Strict control of shock and vibration requirements;
3. Demolition of concrete structures in indoor or narrow spaces: The hydraulic splitter is light in weight, small in size, and easy to operate. Especially suitable for the demolition of indoor or narrow spaces (such as subways, factories/buildings, tunnels, etc.).
4. Quarry waste mining: hydraulic separators have been widely used in marble. granite. Sandstone and other precious quarry waste are mined. Compared with blasting or other manual methods, hydraulic separators have the advantages of safety, environmental protection, high material productivity, and low mining costs.
5. Excavation of tunnels, ditches, and other rocks: precise excavation in narrow spaces (such as small tunnels, subways, culverts, mines, underground pipes, ditches, and rocks (no blasting, vibration, noise, exhaust gas, and rocks are not allowed).
6. Smelting and demolition engineering: Hydraulic splitter is widely used in metallurgy. In various overhaul projects in the cement industry (cleaning of carbon blocks in electrolytic aluminum plants, cleaning of steel plants, cleaning of cement plants, crushing and dismantling of carbon blocks), etc.
7. Various rescues (earthquakes, mine accidents, roads, etc.): Destruction of hard rock: excavation of tunnels, underground exploration, and excavation of rock bases, multiple splitting and demolition of extra-large rocks can be split within seconds and dismantling. The direction of splitting can be controlled in advance, and the maximum splitting force is set to 800 tons.
In conclusion
If you are looking for a hydraulic rock splitting machine, please contact us o get a free quote. Our sales manager will make for you a quotation at a good price. Please leave your requirements in detail here.