YG Machinery manufactures a wide range of products which include fully automatic paper cup making machines, semi-automatic paper cup machine, automatic paper cup making machines, and ultrasonic paper cup making machines.
Paper cup making machine for sale
A Paper cup is a common thing in our daily life. Everyone uses it, for drinking coffee, water, or tea. Paper cups are disposable cups made of paper and are usually lined or covered with plastic or wax to prevent liquids from leaking or soaking through the paper. It can be made from recycled environmentally friendly paper and is widely used all over the world. So paper cup business is profitable if you make a good plan and have good action. Here, you can get all the details about the high-speed automatic paper cup making machine.
Click the button to get the machine's price.
Fully Automatic Paper Cup Making Machine
YG High-speed Paper cup machine is one of the TOP 10 Paper cup forming machines in 2022. This machine adopts a desktop layout, which isolates the transmission components and molds. The transmission part is under the desk and the mold is on the table. The layout is convenient for cleaning and maintenance.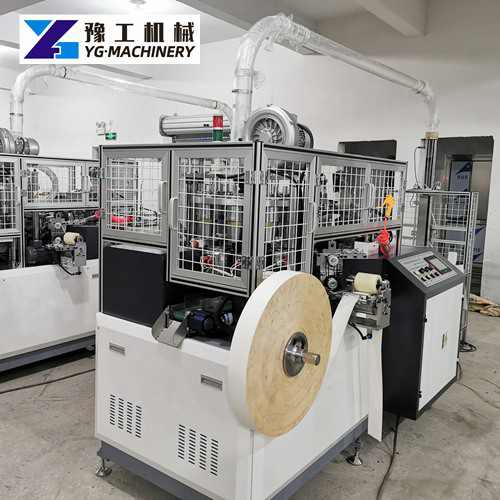 The machine adopts automatic spray lubrication, longitudinal axis transmission structure, barrel-type cylindrical indexing mechanism, and gear transmission to ensure the stability and quality of the whole machine. For electrical components, PLC, photoelectric tracking, and servo feed are used to control the operation. The production capacity of this type of machine is as high as 110-160 pcs/min, which is suitable for producing 5-16 ounces of cold/hot cups.
Parameters
Model
YG-800
YG-S800
Paper Cup Size
3-16OZ
3-16OZ
Raw Material
One-side PE
One-side or two-side PE coated paper (Singe PE or Double PE coated paper)
Speed
90-100pcs/min
90-100 pcs/min
Suitable paper weight
150-180g;±20g
160-300g/;±20g
Voltage supply
380V,50HZ
380V(220V) 50HZ
cup size
Bottom35-70mm,Top45-90mm,High32-135mm
Bottom35-70mm,Top45-90mm,High32-135mm
General power
4.5 kW
6 kW
Working Air Source
NO
0.4-0.6Mpa; 0.4m3/min
Net weight
1680kg
2000kg
Measurement
L:2115mm;W:1000mm;H:1700mm
Main engine: 2100*1200mm*1800mm
Cup holder: 900*600*1500mm
Cup Side Sealing
Copper bar heating
Evergreen Ultrasonic
Bottom Knurling
Heating
Hot Air System
Ultrasonic Paper Cup Machine
A perfect machine for making quality paper cups and paper plates to save the environment and save the future for the next generation.
| | |
| --- | --- |
| Name | Grooved wheel type single tray paper cup machine |
| Model | YG-C800 |
| Paper Cup Size | 3-16OZ |
| Raw Material | One-side PE |
| Speed | 70-80 pcs/min |
| Suitable paperweight | 150-300g/㎡;±20g/㎡ |
| Voltage supply | 380V,50HZ |
| Cup size | Bottom 35-70mm,Top45-90mm,High32-135mm |
| Working Air Source | NO |
| General power | 5 kW |
| Net weight | 1680kg |
| Measurement (mm) | L:2115mm; W:1000mm; H:1700mm |
| Cup Side Sealing | EVERGREEN Ultrasonic |
| Bottom Knurling | Heating |
The mold can be customized according to customer requirements.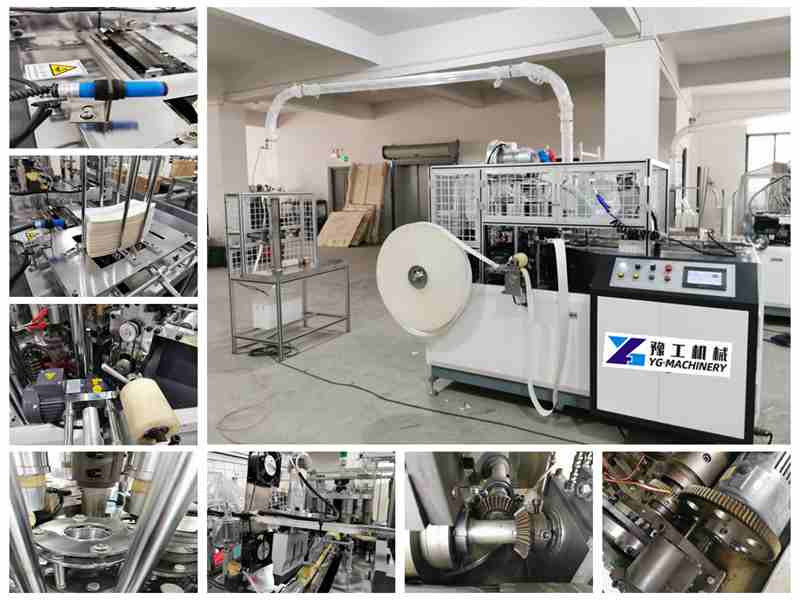 How do I choose the right machine?
It is not important which one is the best paper glass making machine however it is more important to find the best supplier for your paper glass making machine who has a good backup of all the spare parts of the paper cup machine and after-sales services.
Many suppliers just want to sell the machine without any sales and service support so choose your supplier wisely.
YG Machinery has spent more than 20 years researching paper cup production lines. So, trust us, you will get professional assistance.
Price
To offer a better service, we will demand your requirements, What is the cost of a paper cup making machine? Click the button below to request a quote.
Besides the cup maker machine, we have also Paper Bag Making Machine for sale. YG Machinery is a machine manufacturing company that can provide production lines, like diaper making machines, wet tissue paper making machines, latex gloves making machines, Toilet paper production line, Pet food production line,etc.