Drilling Depth: 130-400m
Drilling diameter: 100-350mm
Engine Power: 32-95Kw
Drill pipe length: 1.5m  2.0m  3.0m
With an Air compressor or mud pump.
Need price? Click the button below.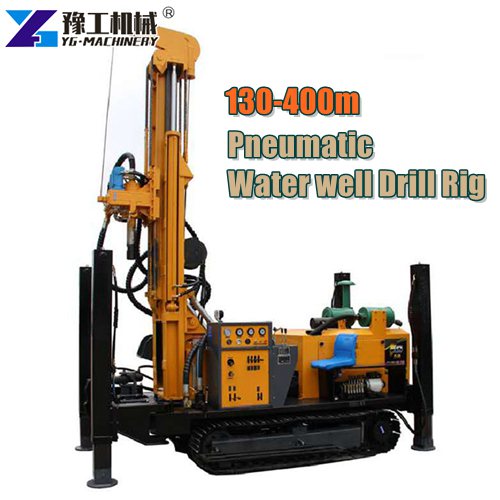 What is a Pneumatic Water Well Drill Rig?
A Pneumatic Water Well Drill Rig is a type of drilling rig that uses compressed air as its power source. It is used for drilling water wells, geothermal wells, and other applications. YG Machinery offers a wide range of Pneumatic Drill Rigs with different drilling depths and diameters. Also, our pneumatic water well drilling equipment has a wide range of applications in various difficult environments. Contact us to get the Pneumatic 400m Water Borehole Well Drill Rig at Good Price.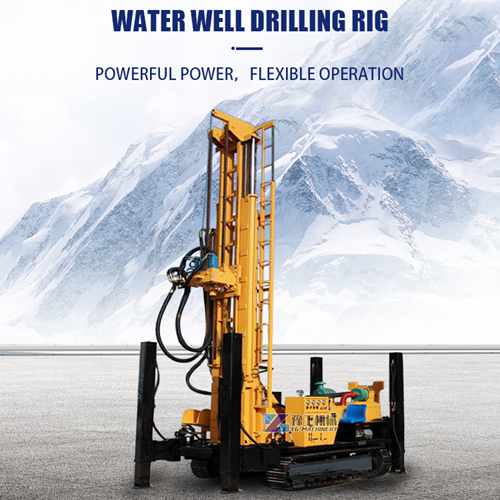 Technical Parameters
| | | | | |
| --- | --- | --- | --- | --- |
| Model | YG-130 | YG-200 | YG-300 | YG-400 |
| Weight(Ton) | 3 | 5.5 | 9 | 10 |
| Drilling Diameter(mm) | 100-219 | 140-305 | 140-325 | 140-325 |
| Drilling Depth(mm) | 130 | 200 | 300 | 400 |
| Walking Speed(Km/h) | 0.8 | 2.5 | 2.5 | 2.5 |
| Climbing Angles | 30 | 30 | 30 | 30 |
| Power(Kw) | 32 | 65 | 84 | 95 |
| Pressure(Mpa) | 1.45-2.5 | 1.7-3.3 | 1.7-3.3 | 1.7-3.5 |
| Air comsumption(m³/min) | 15-29 | 17-30 | 17-35 | 17-35 |
| Drilling Pipe Length(M) | 1/1.5 | 1.5/2.0/3.0 | 1.5/2.0/3.0 | 1.5/2.0/3.0 |
| Rig Lifting Force(T) | 5 | 18 | 28 | 24 |
| Dimension(M) | 4*1.45*2.05 | 3.8*1.7*2.35 | 5.5*1.95*2.78 | 5.2*2*2.78 |
Note: If you do not know which model is more suitable, leave your requirements below, and our sales manager will recommend a suitable model for your project.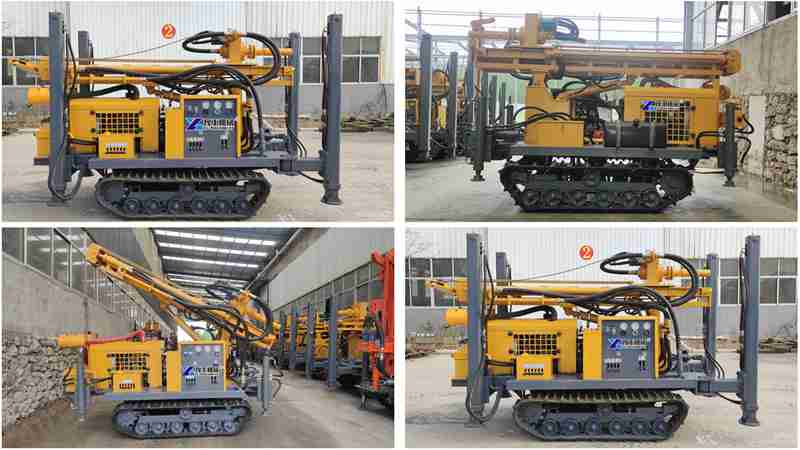 Features
The engine uses Guangxi Yuchai turbocharged engine;
Traveling device: With a reduction box, which has a long service life;
Hydraulic oil pump: the oil pump of the parallel transmission design is separated. The power supply is sufficient and the distribution is reasonable. And the hydraulic system is uniquely designed. The maintenance is simple and the cost is small;
Power head device: the gearbox is cast in one piece. And the power is provided by dual motors, with large torque, durability, and low maintenance cost;
Drilling rig chassis: professional excavator chassis, durable, large load-bearing, wide chain plate, less damage to hard road surfaces;
Lifting force: the composite boom is designed, the boom is small in size, the stroke is long, the double oil cylinder is lifted, and the lifting tonnage is large;
Each lifting arm of each drilling rig is equipped with a limiter to protect the safety of the oil cylinder and ensure work safety;
Each hydraulic oil pipe is covered with a protective jacket to make the oil pipe have a longer service life.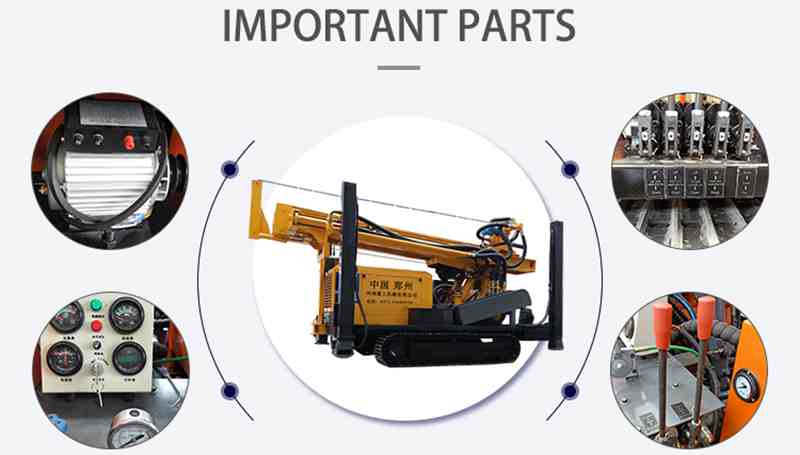 How deep can a pneumatic water well drill rig go?
The maximum drilling depth of a Pneumatic Water well Drill Rig varies depending on the model. For example, the YG-130 Pneumatic Drill Rig has a drilling depth of 160m. The drilling depth of YG-400 can reach 400 meters. 
Can a deep well drilling rig drill hard rocks?
Yes, a pneumatic water well drilling machine is a highly efficient water well-digging machine that can drill holes or break hard surfaces to drill wells. It can drill through low water tables, large amounts of silt, clay, exposed bedrock, or large rocks. However, drilling through big rocks can definitely slow the process way down.
What is the difference between a pneumatic and a hydraulic drill rig?
The main difference between hydraulic and pneumatic drill rigs is that hydraulic systems use liquids like water and oil to transmit power while pneumatic systems use air to transmit power.
Hydraulic systems are bigger and slower but provide higher precision and more power. 
Pneumatic systems are better for applications requiring quicker, more compact systems with lesser force and precision.
How do I choose the right type of drilling rig for my needs?
Drilling requirements: the terrain you are going to be working on; drilling depth; drilling diameter; drive system, etc.
The price: You should consider the drilling rig price based on your budget.
Ensure that the selected drilling rig has good quality and durability to ensure long-term stable operation and minimize maintenance and replacement costs.
China Water Well Drilling Rigs Manufacturer
Henan Yugong Machinery is one of the best water well drilling rigs manufacturers in China. We provide types of deep water well drilling rigs. For example, XY-3 drilling rig machine, XYX-3 Truck Water Well Drilling Rig, FY200 Borehole Water Drilling Machine, etc.
What is the price of a water well drilling rig?
The price of a water well drilling rig depends on several factors such as the type of rig, the manufacturer, and the features it has.
Are you looking for a good Truck Drilling Rig Water Well? Please leave your messages here to get the Hydraulic Bore Well Drilling Machine Price.