The spider crane is small in size, heavy in load, and can be lifted. This is unmatched by general cranes. For example, in basements, workshops, and other operating environments, ordinary machines cannot enter. And the roof, indoors, in shopping malls, or in densely populated places, the tower crane can't operate. But the mini crawler spider crane can easily work in these small spaces.
5 Tons Hydraulic Crawler Crane Spider Crane for Sale
Crane type: crawler crane
Operation form: manual, wireless remote control
Structural form: Crawler type
Telescopic boom length: 16 meters
Cantilever length: 16.5 m
Effective lifting height: 16.8 m
Rated lifting capacity: 5 T
Scope of application: Small range narrow space
Maximum driving speed: 540 r/min
Rated lifting moment: 15
Maximum swivel speed: 360°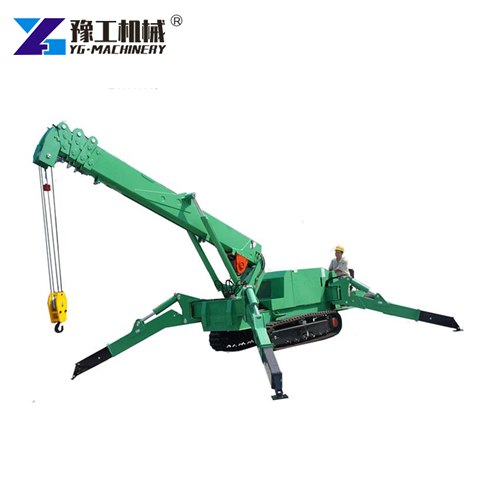 It is called spider crane in the market. Because this machine looks like a spider when its four outriggers are stretched out. The chassis is a crawler walking mechanism, so it is also called a crawler crane; For other large cranes, its appearance and structure are very small, and it can also be called a mini spider crane or a miniature crane. The 5-ton miniature crawler crane is only used for the inspection and maintenance of automobile engine workshop equipment in narrow spaces, power construction, petrochemical workshop inspection and maintenance, building glass curtain wall installation, high-speed rail station construction, and cemetery stone industry, and other places with narrow spaces.

Application:
YG 5-ton folding crawler crane is mainly used in narrow places where large cranes cannot be deployed.
It can be driven by gasoline or 380V motor and can realize wireless remote control operation;
It can be used as a small aerial work vehicle by adding a work basket.
Its products are widely used in the hoisting of tombstones in cemeteries, the installation of indoor electrical equipment in substations, the installation and maintenance of equipment and pipelines in petrochemical plants, the installation and maintenance of glass curtain walls, the installation of lamps and lanterns in high-rise buildings, and indoor decoration.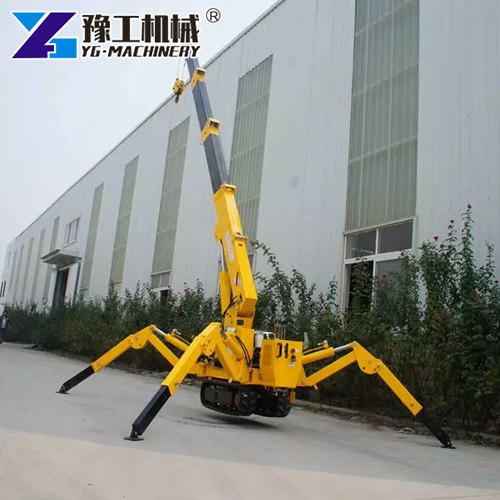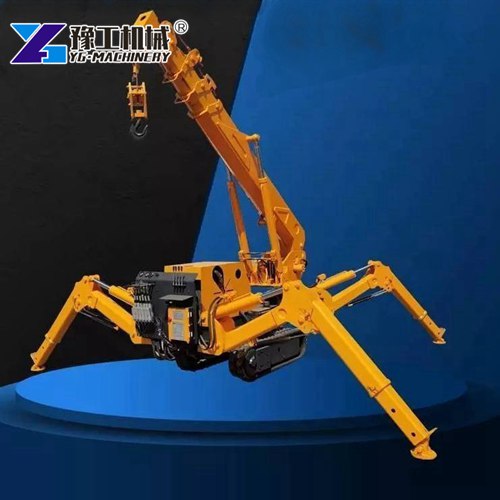 Features
Diesel + Electric motor: The whole machine adopts dual power of diesel engine and 380V motor, compact structure, good braking performance, more stable start and stop;
Engineering rubber track: motor walking, engineering rubber track, equipped with a brake system, the brake is more sensitive;
Wireless control + manual control: Remote control operation (manual + adjustable speed) hoisting remote control, outrigger remote control, walking remote control;
Equipped with 4 fully hydraulic folding outriggers, manual rotation;
Oil pressure automatic support, one section of the hydraulic outrigger, and one section of manual outrigger.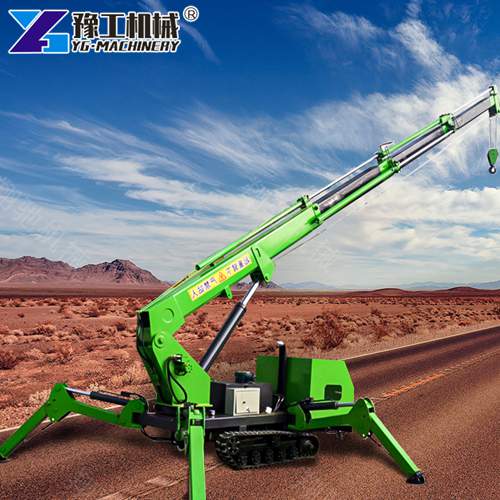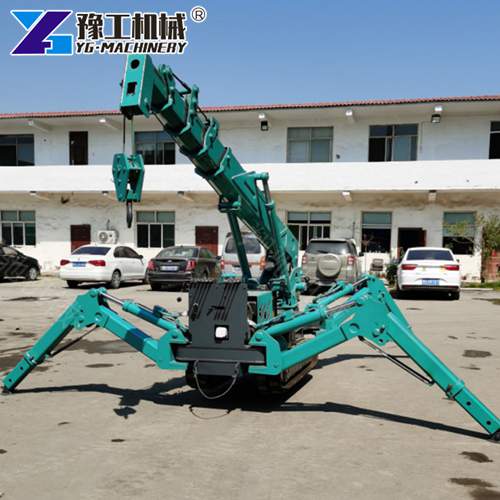 Company Profile – About Us
Henan YG Machinery Co., Ltd. is an enterprise specializing in the production and research of miniature folding crawler cranes. With more than 20 years of machine manufacturing, our machines are praised by clients from all over the world. We provides also Mini excavator for sale, Hydraulic Pile driver machine, Wheel loader, etc. If you are looking for a mini crawler crane, please leave your messages here. Our sales manager will contact you as soon as possible.