The 20-ton or 30-ton crawler excavator can not be used in a small-scale construction site. In this case, you need a small excavator that can work in a small field, especially suitable for planting, trenching, fertilizing, weeding, etc. in orchards such as kiwifruit, vineyards, oranges, and navel oranges. Learn more about the mini excavator for sale.
YG Mini Excavator For Sale
This equipment can be attached with different attachments to achieve the functions of digging, crushing, hook clearing, drilling, and bulldozing. The small excavator has the characteristics of small size, small footprint, flexibility, and compactness. So it can better replace manual work and save a lot of resources and costs. YG Machinery is a certificated small excavator manufacturer in China. Contact us here to get the most cost-effective wheeled multifunctional household small excavator.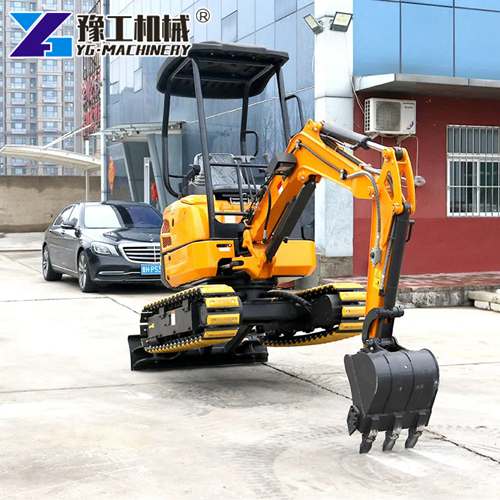 Check here the working case of this mini excavator for sale in the Phillipines.
Technical Parameters
| | |
| --- | --- |
| Model | YG-LD25 |
| Engine model | Yanmar 3TNV70 |
| Power | 13kW |
| Bucket capacity | 0.048m3 |
| Radius of gyration | 1580mm |
| Chassis width | 990~1250mm |
| Crawler width | 230mm |
| Maximum excavation height | 3275mm |
| Maximum excavation depth | 2150mm |
| Max loading height | 2310mm |
| Bulldozer lift height | 275mm |
| Maximum ground excavation radius | 3610mm |
| The total length of the track | 1590mm |
| Vertical excavation height | 1740mm |
| Track height | 320mm |
| Dimension | 3600*1250*2380mm |
| Weight | 1200Kg |
Features of a 2-Ton Excavator:
Weight: A 2-ton excavator typically weighs between 4,400 and 5,500 pounds.
Engine: The engine on a 2-ton excavator is usually a diesel engine that provides enough power to perform a variety of excavation tasks.
Bucket Capacity: The bucket on a 2-ton excavator can typically hold between 0.07 and 0.1 cubic yards of material.
Maximum Digging Depth: The maximum digging depth of a 2-ton excavator is typically around 8-9 feet.
Cab: The cab on a 2-ton excavator is usually equipped with air conditioning, heating, and ergonomic controls for the operator's comfort.
Attachments: A 2-ton excavator can be equipped with a variety of attachments, including buckets, hammers, augers, and more.
It's important to note that specific features of a mini excavator can vary depending on the model and manufacturer. Please contact us to get the mini excavator for sale price. WhatsApp 008613598866720.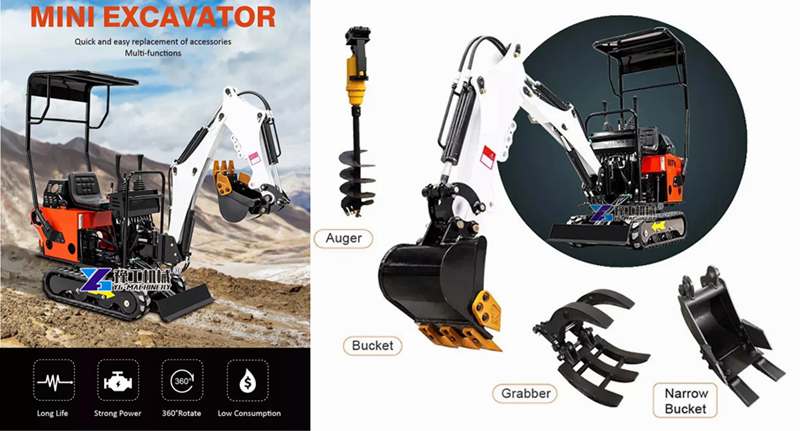 How to use a Mini Excavator?
Using a Mini Excavator:
Before using a mini excavator, it is important to read the manual and understand the safety guidelines and operation instructions.
Make sure the machine is on level ground and that the tracks or wheels are properly positioned.
Start the engine and let it warm up for a few minutes.
Use the control levers to move the excavator forward, backward, left, and right. Practice maneuvering the machine before operating it on a job site.
Use the boom, stick, and bucket to dig and move dirt, rocks, or other materials. The controls for these attachments are usually located on the right side of the operator's seat.
Always use caution when operating the excavator around other people, structures, or underground utilities.
Are you interested to buy a mini excavator? YG Machinery provides kinds of small domestic excavators. Leave your messages to get the small excavator working video. We have also battery powered excavator.