Rebar is a common material for construction. Generally, all you have available on-site are straight rebars. But sometimes, for different needs, you need to bend the reinforcing bars. What to do? How to bend rebar? By hand or machine tool? Actually, there are various methods that you can use to bend rebars on-site. Bend rebars manually are the most basic method, but the method has also limits. for example, you can not bend bars of very large diameter or in a high capacity either. So the best way to bend the rebar is to use an automatic Rebar Bending Machine. If you are looking for a CNC Rebar Bending Machine, please read this article.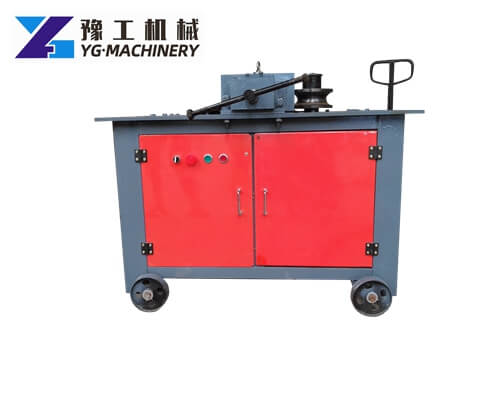 Related articles:
Introduction complete of the Rebar Bending Machine
The rebar bending machine is a tool useful for reinforced concrete. Yugong Machinery offers you several types of bending machine, such as electric or manual. This device proves high performance both in factories and in modern construction sites. You can contact us to request a quote. TEL/WhatsApp: +86 13598866720.
Technical Parameters
| | | | | |
| --- | --- | --- | --- | --- |
| Model | GW40 | GW40A | GW40B | GW50A |
| Motor Power | 3KW | 4KW | 4KW | 4KW |
| Round steel diameter | 6-26mm | 6-40mm | 6-40mm | 6-48mm |
| Rebar diameter | 6-22mm | 6-25mm | 6-28mm | 6-36mm |
| Disk speed | 5-10r/min | 5-10r/min | 5-10r/min | 5-10r/min |
| Net weight | 200KG | 240KG | 240KG | 320KG |
| Dimensions | 800*700*650 | 860*790*780 | 860*800*850 | 1000*760*800 |
YG Machinery has two types of rebar bending machines, one is suitable for thick steel bars and the other is suitable for thin steel bars.
Following is a detailed introduction:
Rebar bending machine mainly bends thick steel bars. Generally, the steel bar diameter is larger than 20mm. Mainly divided into manual control angle and automatic computer control angle for bending.
The steel hoop bending machine mainly bends thin steel bars. Generally, steel bar diameter is 6mm, 8mm, 10mm, 14mm, and 16mm. These machines are also divided into manual control angle and automatic computer control angle bending, adjustable from 0-180 degrees.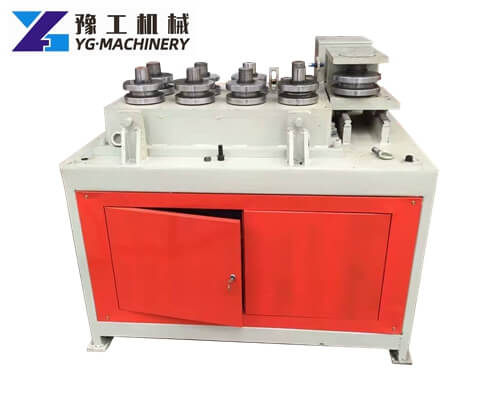 Application: Rebar Bender Machine
Rebar benders are mainly applicable to cement prefabricated component factories, cement product factories, construction sites, highways, railways, bridge construction, steel market, and other sites. Rebar bending machine is a professional tool ensuring the processing of rod bars from 20mm up to 55mm in diameter. An automatic rebar bending machine can bend all types of iron up to 32mm in diameter.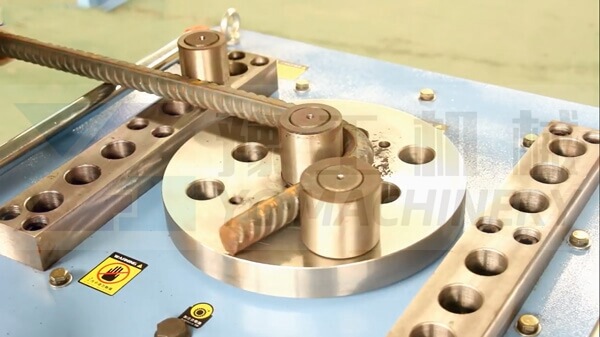 Working Principle
The bending machine is rotated by the disc, and the central post placed in the disc and the central post on the strip drive the disc to rotate to bend the shape. There are two buttons: one forward and one reverse. Can achieve 360 degrees and 720 degrees rotation. It can process 6-50mm steel bars, but it is often processed more than 20mm, and the processing angle is 60 degrees and 90 degrees.
Simply put, the hoop bending machine is to bend the ring reinforcement, which is the thin steel bar. It is controlled by dual foot pedals, one for 90 degrees and the other for 135 degrees, adjustable within a range of 0-180 degrees. The steel bars processed by it are 4-32mm, and the commonly processed steel bars are 6mm, 8mm, 10mm, and 14mm.
Features:
One machine with multiple functions, suitable for stirrup processing of various projects
Humanized design is more convenient, four corners have wheels, easy to move, double control by foot button
The solid disc strips and accessories are made of stainless steel, which is solid and durable, improving work efficiency
Numerical control panel, more precise control
Pure copper motor, long life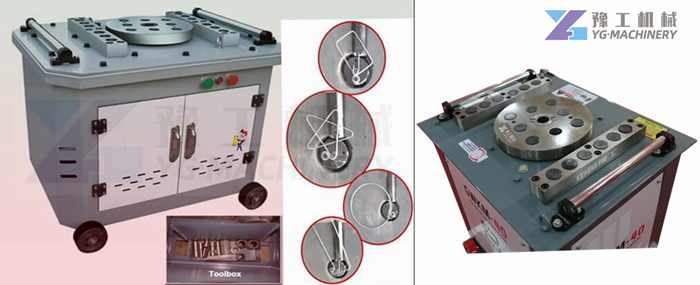 Rebar Bending Machine Price
As an important member of the steel bar processing machinery family, the rebar bending machine has become the best tool for customers to process steel bars at a low price and extremely high work efficiency. The rebar benders of YG Machinery are equipped with the best motor, and the steel used in the machine is made of solid and durable stainless steel. And when you buy it, all necessary accessories will be included with the machine. As a veteran manufacturer of steel bar processing machinery, we have been providing customers with high-quality products at very competitive prices. It only takes a small investment to greatly improve your work efficiency, so the ROI is very impressive. If you are interested, please do not hesitate to leave your contact information.
More to know
The majority of machines are made in China, even the European brands, use the machines from our factory and repackage them to sell in Europe. So the price of the machines made in China is more reasonable.
In addition, YG Machinery provides also other types of equipment, such as Rebar Derusting Machine, Easy Operate Steel Bar Cold Extrusion Press Machine, Diaper Making Machine, Thread Rolling Machine, Reinforced Cage Winding Machine, Scrap Steel Cutting Machine, Concrete Spraying Machine, Glove Making Machine, Fog Cannon Dust Suppression India, etc.