Wood Shredder is a tree shredder machine to crush wood or tree branches. Multifunctional equipment. The wood shredder is suitable for agricultural and engineering projects. Here, get the latest price. Or contact us on WhatsApp at +8613598866720.
Electric or Petrol Wood shredder | Wood chipper for you
YG Machinery offers the best tree shredder machine for you. Competitive price. The wood shredder machine is multifunctional with the function of slicing and crushing. It can cut tree branches with a diameter of 4-50cm.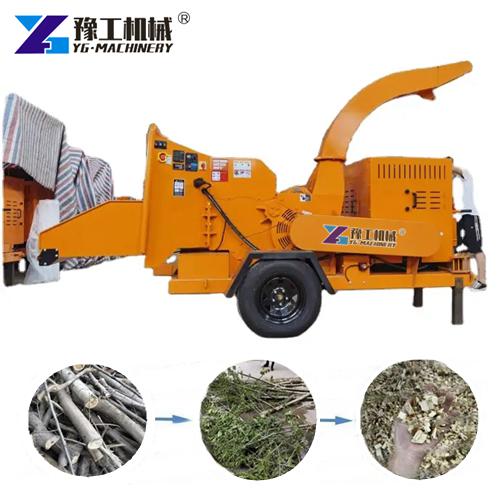 Raw materials that can be used for crushing
On the one hand, it can be used for the crushing of many materials. For example, bamboo, thatch, corn stalks, sorghum stalks, cotton stalks, and other plants.
On the other hand, it can also be used for one-time processing crushing. Such as branches, bark, peanut shells, corn cobs, corn stalks, peanut pulp, sweet potato pulp, rice straw, wheat straw, and other agricultural materials and logs.
All these raw materials will be crushed and used by small and medium-sized enterprises and individual businesses. Such as sawdust or sawdust for paper mills, power plants, edible fungi raw materials processing, and machine-made charcoal, raw material processing, wood-based panels, chemical raw materials, even landscaping, bio-organic fertilizer, aquaculture, etc.
Technical Parameters
Below are the technical parameters of an electric wood shredder machine:
Model
Power(kW)
Capacity(kg/h)
Fineness
Land occupation
Dimension

(

mm)

YG-400
18.5
450-1000
4-20
5
1850*1200*920
YG-600
30/37
1000-2000
4-20
7
2600*1600*1250
YG-800
45/55
2500-3500
4-20
9
2900*2100*1500
YG-1000
55/75
3500-4500
4-20
11
3200*2500*1750
YG-1300
75/90
4500-5500
4-20
13
3500*2900*2000
YG-1500
90/110
5500-7500
4-20
15
3800*3300*2400
YG-1800
132/160
6500-9500
4-20
17
4000*3600*2600
YG-2000
160/200
6500-12000
4-20
19
4200*3900*2800
YG-600, YG-800, YG-1000 are the hot model chosen by our clients. You can also select the model according to your requirements. Or contact us to get professional assistance.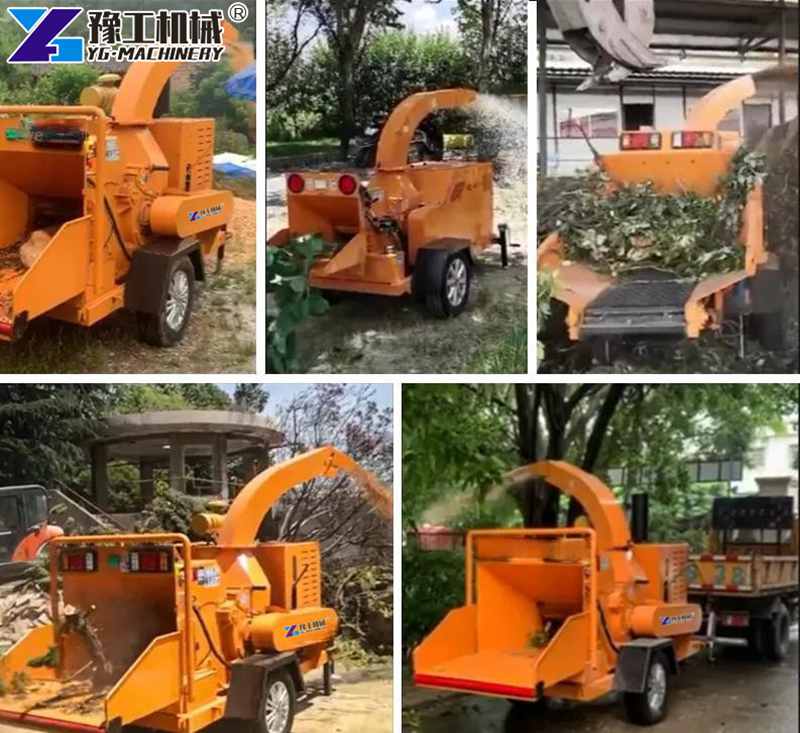 The wood shredder can be used for bamboo wood powder, nutshells, Chinese herbal medicines, bark, leaves, and rice husks, corn cobs, orange stalks, seaweed, dehydrated vegetables, hawthorn, dried ginger, garlic slices, seasonings, paper, circuit boards, plastics, Chemical raw materials, seawater products, graphite, perlite, distillers grains, activated carbon, cellulose, cowhide, plant roots, stems, leaves, flowers, fruits, various edible fungi and other hundreds of difficult materials processing.
It is a chemical industry, building materials, medicine, health care, breeding, food, mosquito coils, and other industries commonly used grinders.
Features of wood shredder machine
The combination of higher speed and stroke greatly improves the rated power and passing capacity of the sawdust machine and improves the crushing ratio and production efficiency.
Low consumption of wearing parts, crushing principle, and technical parameters, reliable operation, low operating cost; all parts of the sawdust machine is protected against wear, reducing maintenance costs to a low limit. The general service life can be increased by more than 30%.
Alloy cutters are wear-resistant, sharp, reliable, and increase service life. The unique design of the crushing system greatly increases the service life of the equipment. The crushing chamber adopts a multi-stage crushing process and fine crushing principle device, which is characterized by large working impact, high production efficiency, and strong fine crushing ability.
Each component of the wood shredder has a compact structure and a reasonable layout. Its outstanding features are convenient operation, safe use, good airtightness, and low noise.
The wood shredder can provide higher production capacity, excellent product fineness, and is easy to automatically control, has great reliability and flexibility, and truly creates more value for users.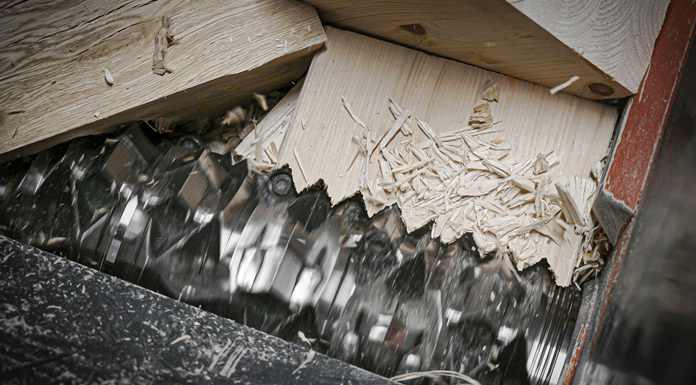 Advantages of wood shredder machine
Large crushing ratio and high production efficiency
Low operating cost and reasonable structure
Long service life
Easy to operate
Wood Chipper Shredder Machine
The wood chipper machine can be divided into two types: Drum Chipper machine and Disc chipper machine. The common model is the drum shipper machine.
Model
YG213
YG216
YG218
Knife stick diameter(mm)
300
650
800
Knife number
2
Inlet size(mm)
120*300
180*500
225*680
Rotating speed of Knife stick(rpm)
730
590/836
650
Feeding speed(m/min)
38
37
37/25
Maximum diameter of raw material(mm)
90
120
160
Chip length(mm)
26
30/22
30/20
Capacity(m3/h)
3-5
10
15-20
Power(kW)
30
55
110
Feeding roller motor power
1.1*2
3*2
4*2
Oil pump motor power
1.1
1.1
1.1
Weight(kg)
1200
4070
7000
Dimension(mm)
3680*870*9000
4348*1730*1258
4670*2150*1500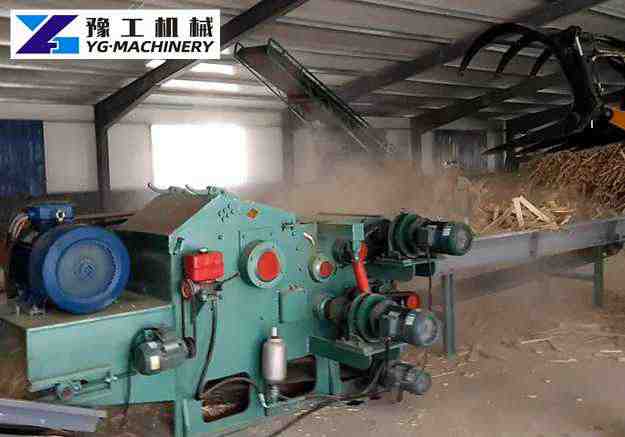 The main raw materials cut by the drum chipper are small diameter wood, timber harvesting, and processing residues (such as branches, branches, slabs, slats, round wood cores, waste veneers, waste wood, etc.). The shredder chipper machine is also suitable for cutting non-wood Raw materials (such as sugar cane, reed, bamboo, etc.).
After being cut, the raw materials become small wood chips of certain specifications, which can be used as raw materials for papermaking such as particleboard, medium density board, fiberboard, etc., and can also be used as fuel. Wide application range, diversified raw materials, good quality of cutting wood chips, safe and reliable, simple and convenient operation, and high production efficiency.
Chipper shredder Working Principle
The wood or tree branches are cut into small pieces by the blade at the bottom of the feed inlet. Then enter the crushing chamber for crushing. The crushing chamber is equipped with a rack-shaped hammer to beat the small blocks after the blade is cut at high speed. And the bottom of the machine is installed.
There are screens with different apertures that are matched according to the different particle sizes of the finished products. During the blade cutting and crushing process, the rotor generates high-speed airflow, which rotates with the cutting direction of the blade. As a result, the material is accelerated in the airflow. The repeated impact causes the material to be double crushed and accelerated at the same time.
Wood shredder machine | Wood chipper Manufacturer
YG Machinery is a top and reliable environmental equipment supplier. Besides the wood shredder machine, Henan Yugong Machinery has also a garden mulcher, electric garden shredder, and wood chipper, wood mulcher, fog cannon dust suppression, truck-mounted fog cannon, hydroseeder machine, etc.
If you have any questions about the wood shredder machine, you can always contact us for help. DO not hesitate to leave your messages below.