How is pet food made? What do you need to do to start your pet food business? Here, we will introduce you to a high quality pet food production line.
Pet food mainly refers to dog food, cat food, ornamental fish feed, pet turtle feed, mink food, aqua animals food, etc. To produce this type of food, you need absolutely a pet food processing line. The pet food production line has two types: one is a dry pet food production line, the other is a wet pet food manufacturing plant.

Pet food processing line Technical Parameters
Below are the parameters of the main equipment Twin screw extruder:
| | | | | | |
| --- | --- | --- | --- | --- | --- |
| Model | Installed capacity(kW) | Power(kW) | Capacity(kg/h) | Dimension(mm) | Weight(T) |
| PHJ65A | 42.2 | 22 | 200~300 | 3500*800*1700 | 1.8 |
| PHJ75G | 50.2 | 30 | 250~400 | 4500*800*1700 | 2.3 |
| | 57.2 | 37 | 300~450 | 4500*800*1700 | 2.35 |
| PHJ75S | 32.2 | 30 | 400~600 | 4500*800*3500 | 2.4 |
| | 39.2 | 37 | 500~800 | 4500*800*3500 | 2.45 |
| PHJ85G | 84.2 | 55 | 400~600 | 5000*800*1700 | 2.5 |
| PHJ85S | 63.2 | 55 | 600~800 | 5000*800*4000 | 3.7 |
| PHJ90G | 85.7 | 55 | 500~800 | 5500*1200*1900 | 3.5 |
| PHJ90S | 63.2 | 55 | 1000~1500 | 5500*1150*4000 | 4.5 |
| PHJ95G | 98 | 75 | 800~1000 | 5000*1200*1900 | 3.5 |
| PHJ95S | 84.2 | 75 | 1500~2000 | 5500*1200*4000 | 4.5 |
| PHJ120S | 85.37 | 110 | 1500~2000 | 5500*1400*4000 | 5.5 |
| PHJ140S | 188.2 | 160 | 2500-4000 | 6000*1400*4000 | 6.5 |
Contact us here to get the pet feed production line factory price.
Pet food line production process
The machine will start with automatic batching. Then the raw material will be smashed. And it will filter the smashed material, and mix them. The equipment will press and pupped the smashed material. After the cold room, it needs to spray oil on the product. Then, it will dry the pet food product and pack them according to the requirements. This is how is working the pet feed production line.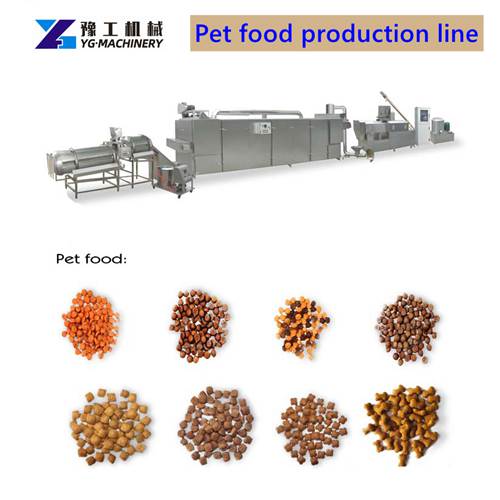 Process composition
Mixing machine: Choose the most suitable mixing machine according to the different outputs of the production line. There are two main models for you to choose from.
Feeding machine: Screw conveying; Convenient and fast.
Extruder: The output can range from 120kg/h to 1000kg/h. The raw materials can be corn meal, grain meal, bone meal, meat meal, etc. You can replace the molds to produce the specific food shape.
Hoist: The feed is transported to the oven. The height of the hoist is determined according to the oven. Samely, you can choose an air conveyor.
Multi-layer oven: Electric ovens. The temperature is adjusted between 0-200 degrees through the control cabinet. The parts in contact with the material are stainless steel double-layer mesh bags. The baking time can be adjusted according to the speed.
Vibrating screen: Screen off excess debris.
Seasoning line: there are octagonal, cylinder, single-roller, and double-roller seasoning lines to choose from.
Advantages of Dog/Cat food production line
Improve the palatability of dog food. Dry dog ​​food becomes crispy after puffing. During the process of biting and swallowing, pet dogs have better taste and clean oral teeth;
Change and improve the nutritional value of dog food. Many nutrients need to be cooked and puffed before they can become nutritious. Otherwise, not only will it not bring effective nutrition to pet dogs, but it will cause diarrhea, vomiting, etc. Inappropriateness;
Improve the digestion and absorption rate of dog food by pet dogs. The puffed dog food is more comprehensive and perfect for pet dogs to absorb. At present, there is even a "double puffing" process, the purpose is to make the dog food more perfect. absorb all nutrients;
Through the process of puffing and granulation, the shape and structure of the dog food are changed, making it easier for pet dogs to eat and eat more dog food;
Changing the content of different nutritional indicators of dog food, such as reducing the water content, can improve the shelf life of dog food, which is more convenient for pet owners to store and feed anytime and anywhere, which is safe and convenient;
Changing the density of dog food, extrusion granulation, and puffing can also increase the bulk density of dog food, which is convenient for procurement and transportation;
The puffing process is also a high temperature and high pressure process, which can kill various molds, salmonella and other harmful substances, and improve the safety and hygiene of dog food.

Pet food production line Price
What costs the pet food production line? It depends on your needs. FOB Price: $7,500.00-$35,000.00/ Set. If you want to buy a dog food production line, you can contact us. We can provide a custom-designed production line according to your needs. Of course, professional production tests can be carried out.
Pet food production line Factory&Manufacturer
Henan Yugong Machinery is one of the largest pet food processing line manufacturers from China. Besides the dog/cat production line, YG Machinery offers also other production lines, such as the dog bowl making machine, Disposable lunch box making machine, paper cup making machine, pp woven bag machine, and French fries making machine, packing machine for sale, etc. Contact us to get more details.