A Paper disc is a kind of paper container made of white cardboard made of chemical wood pulp and pressed by a rolling mill. The paper plate has the same shape as other porcelain plates, but the plate is much lighter. It can be used to hold Western dishes, etc., and can also be used to hold bread, cakes, snacks, etc. So the paper plate has a wide application. As a result, the paper plate making machine will be a good business. Contact us here to get the paper plate manufacturing machine price.
YG Paper Plate Making Machine For Sale
A paper plate machine is used for producing the paper plate. YG-500Y high-speed automatic paper plate machine is a brand-new updated and improved product. It is equipped with an automatic collection device and has functions such as automatic suction and paper feeding, heating forming, automatic disc ejecting, constant temperature control, and automatic counting.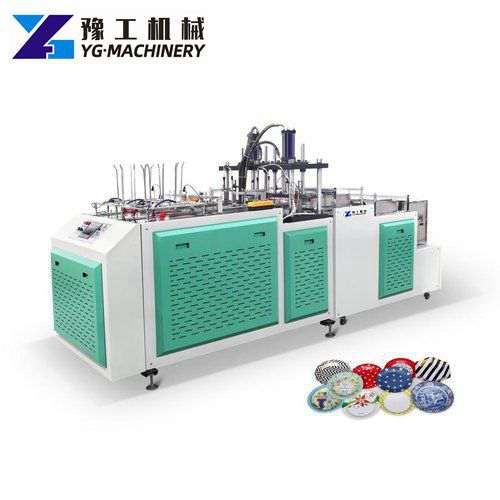 This machine adopts a combination of high-efficiency hydraulic cylinders, which can be widely used in the production of discs and plates made of paper or aluminum foil laminated paper, with higher production speed, more stable performance, safer operation, and more convenient maintenance. And more humanized structure design and other advantages.
By changing the mold, various specifications such as square, round, and other paper plates can be produced.
Click the button to get the paper plate making machine price.
Technical Parameters
| | |
| --- | --- |
| Model | YG-500Y Plate making machine |
| Plate Specification | 5 Inch-12 Inch |
| Produce Speed | 100-140pcs/Min (Double Workplaces) |
| Total Power | 380V,50HZ,14KW |
| Suitable Material | 100-600gsm Base Paper, Cardboard, Ivory Board, Aluminum Foil Paper |
| Blank Paper Size | Max Paper Unfold Diameter Size 300mm |
| Weight | 1300KGS |
| Packing Size | 2600mm*1300mm*1300mm |
| Air Supply Compression | Pressure: 0.8MPA |
| Air Out-Put | 0.3cbm/min |
Contact us to get the paper dish making machine price here.
Advantages of YG-500Y disposable plates machine
1. Independent research and development, the latest products
2. Using a mechanical cam, each station is 30-50 pcs/min faster than ordinary machines
3. The paper feeding adopts mechanical work with stable performance. Compared with the common type of paper-dropping technology, the scrap rate is greatly reduced to one-thousandth.
4. It is more user-friendly, with its own high-efficiency counting machine, automatic counting and stacking, and other functions, which can save half of the labor compared to ordinary machines.
5. It can be directly equipped with a packaging machine (paper tray outer packaging film) and a labeling machine (labeling after packaging). Suitable for assembly line work.
6. It can automatically produce all kinds of non-standard products, and the yield is 100%, which solves the problem that ordinary machines cannot complete.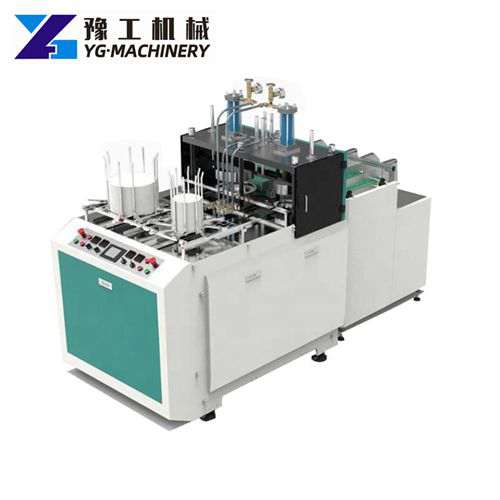 After-sale service:
1. Quality is the foundation of survival, service is the way of development, our after-sales service is timely, the quality is excellent, and the warranty period is one year.
2. After the equipment leaves the factory, the company sends professional technicians to install and debug the equipment to produce qualified products that satisfy customers. One year free warranty and lifetime technical support.
Disposable Plate Making Machine Manufacturer
Henan Yugong Machinery Co., Ltd. is one of the paper container equipment manufacturing enterprises integrating production, sales, and scientific research. The company's main products are paper lid machine, paper bag machine, paper straw machine, paper plate machine, paper lunch box machine, paper cake tray forming machine, paper cup machine, etc.
Contact us if you have any needs. WhatsApp +86 13598866720.