Putty Spray Machine is a piece of equipment efficient for spraying putty and spackle. Which airless sprayers are more suitable for spraying putty? How to spray the wall in a better way? Read this article and find the answer.
YG 4030J Putty Spray Machine – Airless Putty Sprayer

High quality work. long service life.
In the past, custmors prefered the wallpaper, but now, they want smooth and clean walls. This is why airless putty spray device is becoming increasingly important. How to spackle a wall? Here, I introduce you a best wall putty spray machine – YG 4030J Putty Spray Machine.
YG 4030J Putty Spray Machine – Airless Sprayer for spray putty and Spackle
Technical Parameters
Model: YG 4030J
Voltage: 220v (two boxes of household electricity)
Power: 1.5kw*2
Exhaust volume: 560L/min
Air compressor weight: 35 kg
Size: 88*60cm
Bucket height: 80cm
Barrel diameter: 60cm
Pressure range: 0.1-1.0mp
Bucket weight: 30 kg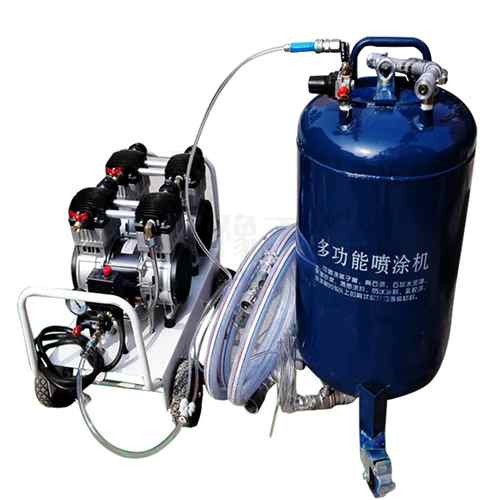 YG 4030J Airless Putty Sprayer can spray putty powder, natural stone paint, rock chip paint, cement slurry, enamel paint, tempered paint, water-packed colorful paint, waterproof paint, fireproof paint, thermal insulation mortar, asphalt, and other paste materials, except for materials that settle too fast, materials that solidify too fast.
Read also: Shotcrete Machine: Concrete Wet Spraying Machine [FOR SALE]
Working Principle & Features
YG 4030J is a multifunctional sprayer machine with an airless device. The materials are transported by compressed air, and then it atomized the material at the spray gun.
Air compressor is small, lightweight, and portable. No noises, no oil needed. (The device use non-lubricant pistons and nano-coated cylinders.)
Stable, low cost for maintenance, high efficiency, the machine can work for 8 hours.
Simple structure, small, portable, long service life.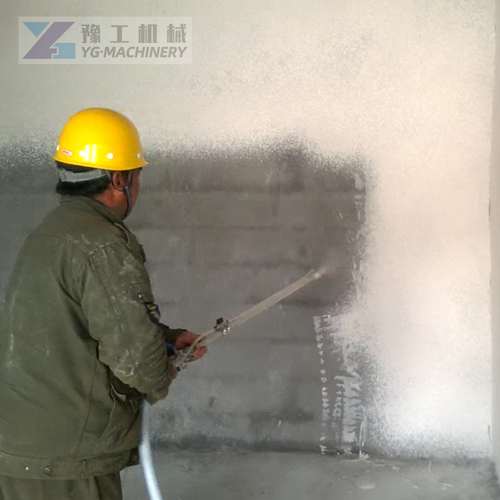 Advantages :
Faster job thanks to high surface coverage
High quality work
Eeasy to use
Aapplication of other materials such as primer and dispersion paint
Not block due to nozzle with large caliber
Easy to clean
With YG 4030J Airless Putty Spray Machine, you can achieve high-quality work results in a short time. The machine can paint 8-10 kg paste materials per minute, spray putty for 100-200 m² per hour, and spray natural stone material for 60-100 m² per hour.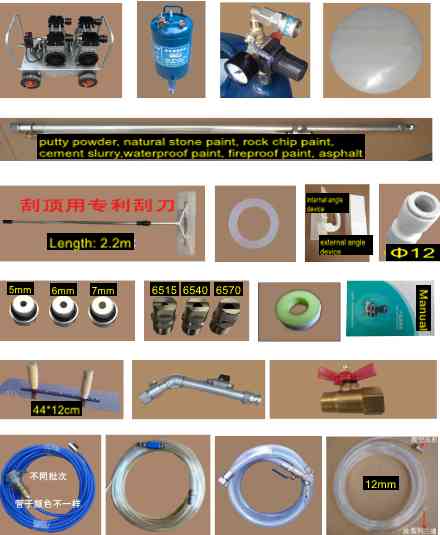 Accessories List
long spray gun & short spray gun
double scrapers
internal angle device & external angle device,
4 round nozzles
clamps
rubber pads
raw material tape,
accessory kit (spare parts for common connectors, replace directly if damaged)
Materials that YG 4030J spraying machine can use:
Bito MS 108
Brillux Airless Filler 1885
Brillux Airless Filler 1890
Caparol KF
Diesco
Dinova Airless Spray
Filler ELF
GIMA AIRLESS SPRAY
PACKAGE
Herbol Spraypipe Airless
Knauf Sheetrock Super Finish
Maxit Airless Spray Filler G
METYLAN RENOMINE PREPARED PAPER
Murexin Airless
Spraypipe Durapid AS 30
Palmcolor Airless Spray D5
Relius Spray Filler Fine
Rigips ProMix Airless F
SIGMA Spray Filler
StoLevell In AS
Tex-Color Airless
Zero Airless fine
605 Megamur Airless easy
606 Megamur Airless fine
How to Choose a suitable putty sprayer?
Step 1. Confirm the material.
What material will you use? For Exterior wall or interior wall? Spraying for exquisite Interiors or underground garage workshops?
Step 2. Choose the brand.
There are many common putty spraying machine brands, such as Graco, Wagner, Jaguar, Berger, FARBMAX, YG Machinery, etc.
Step 3. Price and payment method.
The price is of course an important factor to consider. and you need also consider the payment method that is suitable for you.
Putty Spray Machine Price
To buy or rent a putty sprayer, it's up to your project. If you are an interior renovation company or you do sprayer or decorator travaux all the time, I advise that you buy a small putty spray paint machine like YG 4030J. The price is competitive, cheaper than Graco, Wagner, and FARBMAX.
Read also: