A Concrete pump is composed of a pump and a long hose. And it is used to deliver concrete to construction sites. There are many types of concrete pumping machines for sale, such as concrete pump trailer, concrete mixer pump, self-loader concrete trucks, concrete boom trucks, etc.
High-quality Concrete pump at best price
What is a Concrete Pump?
Composed by pump body and conveying pipe, a Concrete Pump Machine is used for concrete conveying of large-scale concrete projects such as high-rise buildings, high speeds, and overpasses. It is a kind of machine that uses pressure to deliver concrete continuously along pipelines, mainly used in building, bridge, and tunnel construction.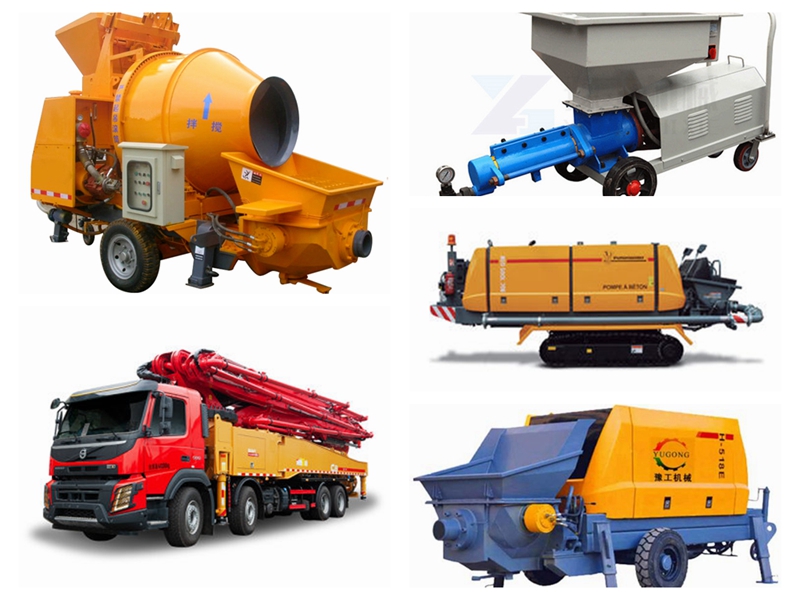 What type of pump is best for concrete?
In general, there are two types of concrete pumps: concrete boom truck and line pump or trailer-mounted concrete pump.
And, it can also be divided into many types:
Gate valve concrete pump and S-valve concrete pump from valve types
According to power type, they can be divided into one type with an electric engine and another type with a diesel engine. PS: Most people would like to choose the electric engine type because it's more convenient to use on construction site.
From the amount of concrete conveyed, they can be divided into types of 20m³/h, 40m³/h, 60m³/h, and 80m³/h.
How to choose a concrete pump for your project? You can choose the concrete delivery pump according to the requirements of the construction project:
Purpose of Pump
The complexity of Construction Projects in terms of casting
Main technical parameters: delivery capacity, outlet pressure, motor power, and distribution valve form.
Price and economic factors
Read also: How to choose a concrete pump for your project?
Trailer-mounted Concrete pump for sale
This trailer-type pumping equipment is a small and professional pump to convey concrete. It can be used on various types of construction sites. With a small size, the equipment is more convenient to move and has a good pumping performance.
| | | | | |
| --- | --- | --- | --- | --- |
| Model | YG-10 | YG-20 | YG-30 | YG-40 |
| Max Theoretical Concrete Output | 6m³/h | 12m³/h | 15-18m³/h | 20-22m³/h |
| Max Concrete outlet Pressure | 10Mpa/15Mpa | 15Mpa/18Mpa | 15Mpa/18Mpa | 23Mpa |
| Aggregate Size | 5-15mm | 5-20mm | ≤20mm | ≤20mm |
| Power | 15kw | 22kw | 37kw | 45kw |
| Hose Diameter | Φ80mm | Φ80mm | Φ80mm(100mm) | Φ100mm(80mm) |
| Max Theoretical Conveying Distance (Horizontal Distance/vertical Height) | 50m/20m | 80m/40m | 160m/80m | 260m/120m |
| Overall Dimension | 1800×700×1100mm | 3400×1200×1600mm | 3800×1500×1600mm | 4000×1500×1550mm |
| Total Weight | 600kg | 1600kg | 2200kg | 2400kg |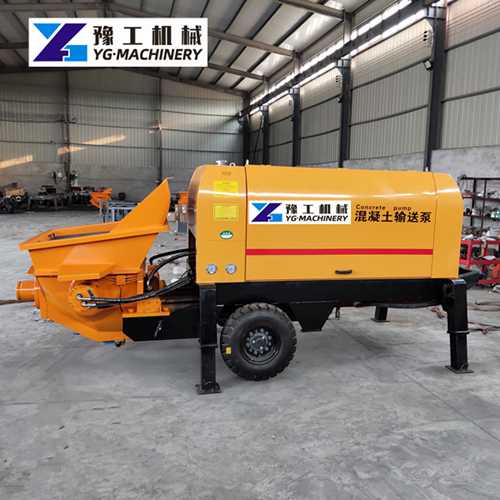 Composition:
Pumping System
1. The feeding hopper with a large inclination angle is designed to improve the suction efficiency.
2. S-pipe valve can make it slow in pipe diameter changing and smooth in delivery, to provide concrete pump high pumping rate.
3. Glass board. Its cutting ring with high wear resistant hard alloy, service life is 3 times longer than the traditional material.
4. Exit with high pressure.
5. Wear parts with high service life.
6. High quality products parts (key components: Kawasaki of Japan, Peck of America, Siemens of Germany, Schneider of Germany).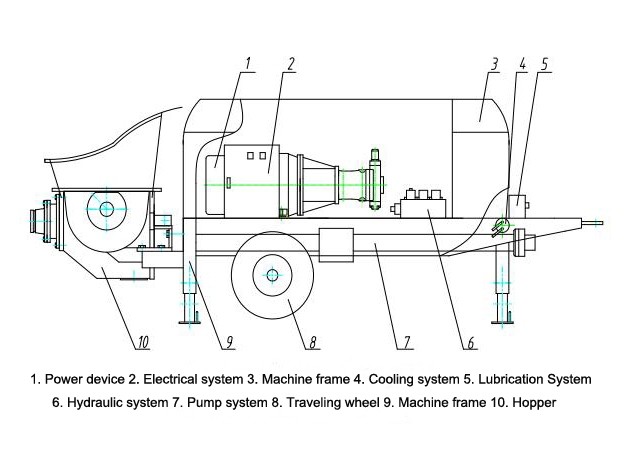 Intelligent control system
1. Switch for high and low pressure: The unique high and low-pressure valve changer has two delivery modes: high pressure and small displacement / low pressure and large displacement
2. Adjustment of pumping capacity
3. Variable adjustment technology to realize the synchronous change of concrete working condition and displacement
4. Automatic centralized lubrication. Through the centralized automatic lubrication, to ensure the lubrication effect of components, extend the life of moving parts and sealing components.
Advanced hydraulic and electrical systems
1. Double pump group: The system adopts an advanced open double pump, double loop hydraulic system, pump return way, and reversing oil way to work independently, the system is simple and reliable.
2. The cooling filtration system adopts bypass cooling filtration and a large radiator device with forced air cooling, which can effectively control the temperature of hydraulic oil.
3. PLC control: The hydraulic system steering is controlled by a programmable logic controller. The electrical control part is simple and reliable.
Wireless remote control Function
Wireless remote control to achieve a long distance and no obstacle operation. Up to 100M.
Concrete mixer with pump for sale
This concrete mixer pump machine can do the same time mixing and pumping jobs, which is more convenient for a smaller civil construction project.
| | | |
| --- | --- | --- |
| Model | YGS30 | YGS40 |
| Max Theoretical Concrete Output(m³/h) | 30/17 | 46/30 |
| Max Concrete outlet Pressure(Mpa) | 9 | 10 |
| Aggregate Size(mm) | ≤30 | ≤40 |
| Power(kW) | 37 | 45 |
| Concrete Cylinder Diameter(mm) | Φ140×1000 | Φ180×1000 |
| Oil Tank Capacity(L) | Φ80×100 | Φ100×1000 |
| Max Theoretical Conveying Distance (Horizontal Distance/vertical Height) | 120/500 | 140/600 |
| Pipe Cleaning Mode | Washing | Washing |
| Overall Dimension(mm) | 4500×2200×2600 | 4500×2200×2600 |
| Total Weight(kg) | 4000 | 4300 |
| Discharging capacity(m³) | 0.45 | 0.45 |
| Feeding capacity(m³) | 0.8 | 0.8 |
| Production rate(m3/h) | 10-14 | 10-14 |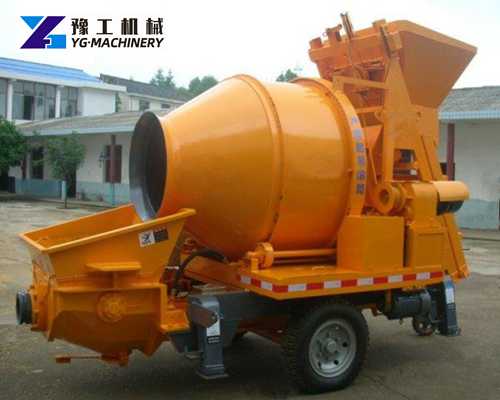 Hot Concrete boom truck for sale
The Concrete boom trucks are more suitable for pumping concrete to high rise. With the long pipe, it can pump concrete to very high buildings.
| | |
| --- | --- |
| Model | YG 14m Line Pump |
| Pumping System | |
| Max Theoretic Output (High/Low Pressure) | 40m3/h |
| Max Theoretic Concrete Output | 10MPa |
| Rated Working Pressure | 31.5MPa |
| Distribution Valve | S valve |
| Oil Cylinder Diameter x Stroke | Ф180×1300mm |
| Hydraulic Oil Cooling | Air cooling |
| Max. Aggregate Dimension | 30mm |
| Max. Placing Height | 22m |
| Horizontal Distance | 15.4m |
| Slewing Angle | 200° |
| Pipe Diameter | 125mm |
| Min. Height of Opening Placing Boom | 6500mm |
| Outrigger opening width | 5.5m |
| Chassis and the Whole Machine | Chassis Model WP4G110E220 |
| Engine Power | 82kw |
| Oil Tank Cubage | 400L |
| Tail Gas Exhaust Standard | China IV |
| Overall Dimensions | 7500x2200x2920mm |
| Lubrication Mode | Automatic lubrication |
| Oil Tank Volume | 370L |
| Control Mode | Manual + remote control |
| Maximum Water Pressure | 0.7Mpa |
| Water Tank Volume | 500L |
| Pipe Cleaning Mode | Water cleaning/dry cleaning |
3 Common Problems and solutions for blockage of Concrete pumping equipment
1. Blockage at the outlet of the distribution valve
The discharge port is blocked. Usually, the pumping system is suddenly interrupted, and there is abnormal sound, the equipment has strong vibration, but there is no corresponding vibration in the pipeline.
Remedy: Pour cement slurry into the hopper, start the pump repeatedly in forward and reverse directions to force the passage to open. If this method is not working, you can only remove it manually, remove the connecting pipe and the debris in the valve.
2. Blockage at the feed inlet
The feed port is blocked. Usually, the pumping action and hydraulic system are normal. No abnormal sound and vibration, but there are large aggregates or agglomerates in the hopper, which are stuck or arched at the feed port.
Remedy: Run the pump in the reverse direction to destroy the agglomeration, return the concrete to the hopper and re-mix, and then pump forward. If it doesn't work, it needs to be cleaned up manually and eliminated.
3. Concrete pipeline is blocked
When the conveying pressure gradually increases, but the hopper level does not drop, the pipe outlet does not discharge, the pump vibrates, and the pipeline is also accompanied by strong vibration and displacement, it can be determined that the pipeline is blocked.
Judgment of blockage: Blockage generally occurs in elbows, tapered pipes, and areas with vibration. At this time, you can use a small hammer to hit along the pipeline. Where you hear the harsh sounds or the dull sound, that is where the pipeline is blocked.
Concrete Pumping Machine Price
According to the different models of different concrete conveying amounts, concrete pumps have different prices. Certainly, different brands adopt different technology and quality, their prices won't be the same. As a professional manufacturer in this industry for decades, YG machinery can provide various models of high quality concrete pump at a highly competitive price. Please feel free to click and get a quote, we will send you the best price and solve all your problems in time.
Other products
Besides the concrete pump, YG Machinery provide also the concrete pile breaker, concrete road cutting, concrete laser screed machine, etc.