A wet wipes machine, or wet tissue machine, is a useful machine that can produce various types of wet wipes. Such as baby wipes, skincare wipes, kitchen wipes, leather wipes, hotel wipes, sanitary wipes, alcohol wipes, disinfection wipes, etc. Fully automatic control system. And the entire production process does not require manual labor, fully automatic. Contact us to get the wet wipes machine price here.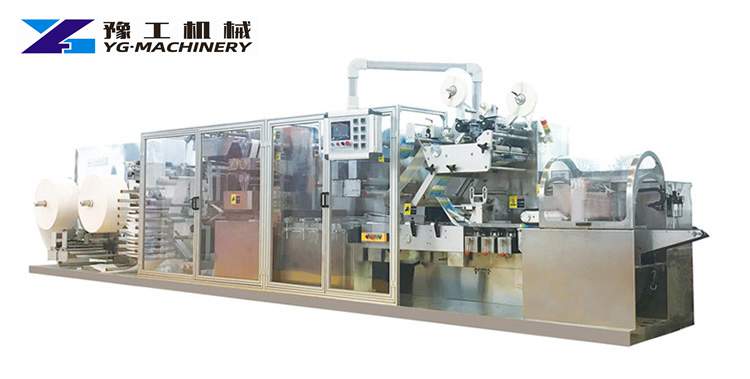 Fully automatic Wet wipes manufacturing machine
First of all, the fully automatic high-speed single-chip wet tissue machine adopts a full servo system and high-precision tension control. Secondly, the machine can convey, cut, and pack wet tissue easily. That is to say, a wet tissue machine can complete all production processes from wet tissue conveying, slitting, folding, cutting, and packaging. Third, this whole machine has a compact structure. Furthermore, the design is reasonable, the operation is simple and convenient, and the operation is stable.
YG's Fully automatic wet wipes making machine can be customized for different packages.
Small package of 5-30 pieces
Large packages of 80-100 pieces
Technical parameters
Below are the technical parameters of the wet tissue machine production line:
| | |
| --- | --- |
| Production speed | 270~400 cuts/minute; about 40-50 bags/minute |
| Number of slitting channels | 12 channels |
| Width | 1000-1520mm |
| Power supply | 380V 50HZ three-phase power |
| Total power | 13KW |
| Applicable raw materials | Spunlace non-woven fabric, hot-rolled non-woven fabric, dust-free paper, etc. |
| Material weight | 35-80 g/m2 |
| Folding method | 'Z'-shaped folding (with or without extraction) |
| Humidification method | Preset automatic metering humidification |
| Humidification accuracy | +5% |
| Machine net weight | 9000kg |
| Humidification mixing system | Double mixing barrel with agitator |
| Mixing barrel size | 800×800 (mm, diameter×height) |
| Capacity | 400 liters * 2 pieces |
Click the button to request the wet wipes machine price.
Wet Wipes Making Machine for Sale
The wet wipes machine is specially designed for the production of wet tissues. It adopts vertical folding and a lower feeding mechanism. Fast speed and stable operation. It can automatically complete wet tissue folding, inner and outer liquid filling, slicing, bag making, sealing, and counting.
The WL100 series is a fully automatic wet tissue production line for large packaging of 80-100 pieces.
Meanwhile, the BWL series baby wipes production line is a high-speed wet wipe production line. The production capacity is the highest among all equipment, 16000 pcs per minute, about 200 bags/min. However, the equipment is relatively large, so there are requirements for the site.
So, these two are large packaging production lines, equipped with a fully automatic double-film double-label single reciprocating packaging machine, and this line is sufficient from non-woven fabrics to packaging finished products.
Wet wipes packaging machine
The wet tissue packaging machine has many special functions such as the batch number. Moreover, the equipment can avoid the secondary pollution of wet wipes in the packaging process. The whole machine is compact, generous, and safe. It is currently the first choice for wet wipes production.
Remarks: YG Machinery provides also the semi-automatic wet wipes production line that is composed of a single-chip microcomputer, rewinding machine, rolling machine, semi-automatic folding machine, and semi-automatic packaging machine, cap sticking machine, and triple package. Now contact us to get a cheap wet wipes making machine factory price.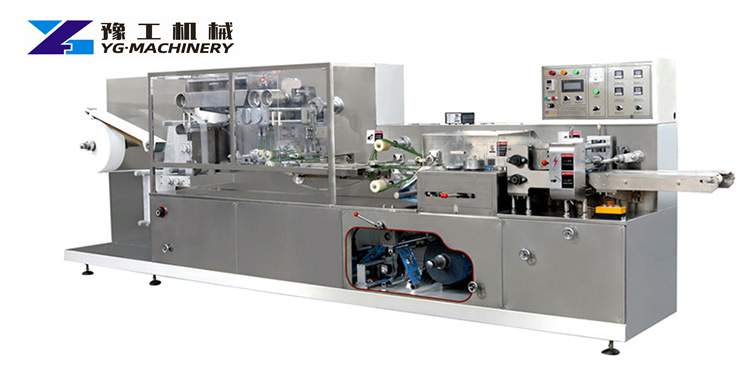 Firstly, the production speed is up to 260 bags per minute, 16000 pcs per minute.
Secondly, the equipment has an adjustable bag maker.
Equally important, it has the basic function of automatic identification. If the packaging bag is not opened or the packaging bag is incomplete, there will be no material discharge and no heat sealing. And, you can reuse the packaging bag without consuming raw materials, which saves customers the processing cost.
Then, the wet tissue machine also has an alarm system, when the working standard pressure is abnormal or the heating tube fails, an alarm message will be sent out.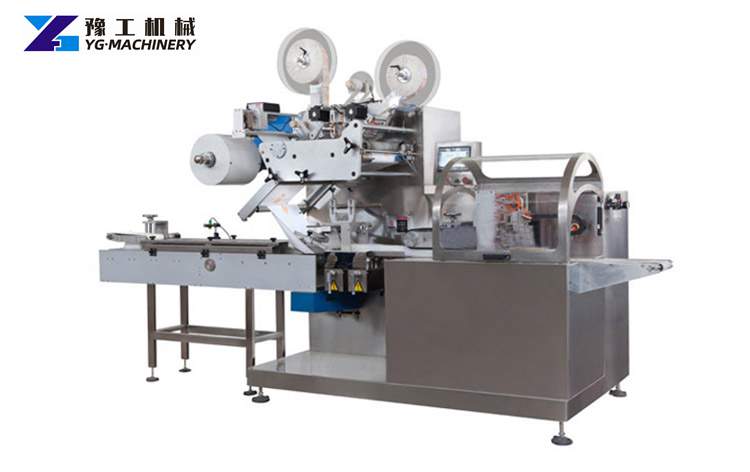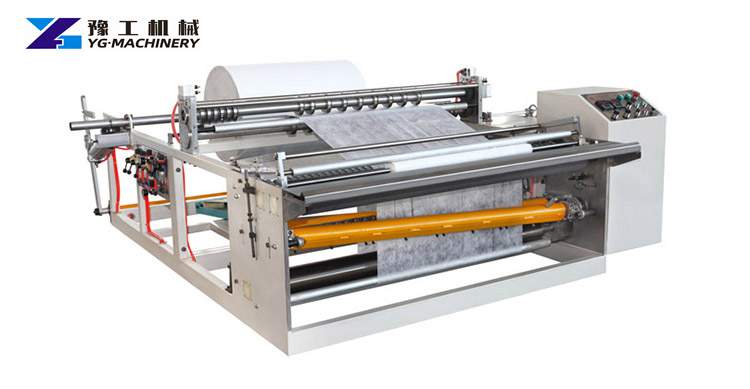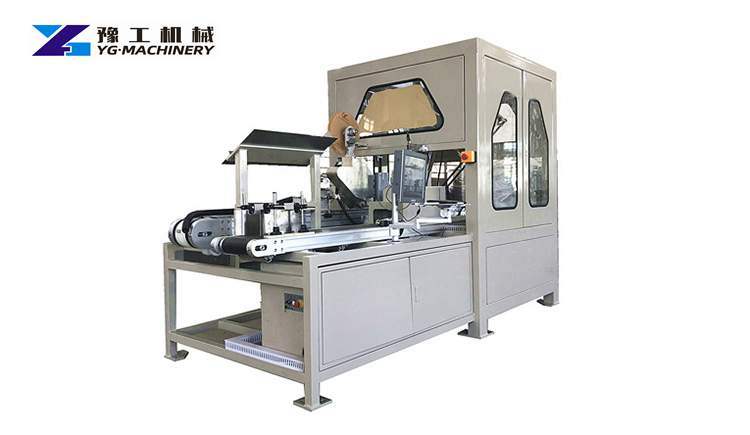 Advantages
Select unique production materials, 12-axis raw materials, each axis has independent tension control and independent drive, fully and uniformly the tension of the 12 cloths, through the steering rod, the direction of the cloth can be more position;
The high-speed roll cutter cuts off, which reduces the time for replacing raw materials and greatly improves production efficiency;
The main folding machine and the packaging machine can be automatically connected and used separately when producing special specification products, which can enable customers to use the machine to a greater extent and produce greater benefits;
Cutter protection function: electrical safety circuit protection, and emergency stop design, fully protect the safety of the personnel and the machine;
Detect the thickness of the joint to avoid signal error and ensure the quality of the product.
Features
The barreled wet tissue-making machine is controlled by dual frequency converters. And the bag length is set and cut immediately, without adjusting the empty running, one step is in place, saving time and film.
Using a human-computer interaction interface, the parameter setting is more convenient and quicker than the old wet wipes packaging machine.
It also has a fault self-diagnosis function, the fault display is clear at a glance, saving manpower fault detection time.
High-sensitivity photoelectric eye color mark tracking, digitizing the sealing and cutting position of the box, making the sealing and cutting position more accurate.
Independent PID control of temperature, is better suitable for all kinds of packaging quality.
The positioning stop function is non-sticky and does not waste film.
The transmission system is clean, the work is more reliable, and the maintenance is more convenient.
Lastly, all control is realized by software. This is convenient for function adjustment and technology upgrades. This design makes the wet tissue machine more convenient and intelligent and has higher production efficiency.
Read also: How is made paper? | Raw Materials | Production Process
Wet tissue paper making process
Workflow: Small non-woven fabric → folding → humidification → slitting → product conveying → automatic bag making and packaging (back sealing) → coding → output of finished products.

Wet wipes machine manufacturer & Supplier
In brief, YG Machinery is a professional high-quality wet wipes machine manufacturer and supplier. Our factory covers an area of 100 acres, and as well, we have over 13 product researchers, more than 20 engineers, and 80 professional sales staff to help you to better use the wet wipes production line.
Moreover, we have a professional customized development team that can tailor-made wet wipe machines solutions according to actual needs. So, from plan designation to confirm the plan, order production, and on-site installation, we offer considerate service throughout the whole process. However, to offer you a better service with a profitable machine, we need to know the capacity, the site area, and other related information. So, please do not hesitate to contact us to get more details about the equipment.
In addition to this, YG Machinery offers also a diaper production line, gloves making machine, PVC Injection Molding Machine, mask making machine, Water filling machine, etc. Now, click the button below to get the machine price.
If you have any questions about the wet tissue wipes manufacturing machine, you can leave your messages below, we will reply to you as soon as possible.