Grouting pump is a helpful machine that can grout for viscous materials such as cement paste. There are many types of grouting pumps in the market for various uses, such as Piston pump, Squeeze Cement Grouting Pump, Screw grouting pump. How to choose a suitable device for your projects? Here, you will find a detailed introduction to these pumps and how to choose a grouting pump.
What is a grouting pump?
A complete grouting machine is mainly composed of an electric drill, chassis, bracket, material cup, pump, tee, pressure gauge, high-pressure pipe, and switch valve group. A High-pressure grout pump is designed for use in medium and large-sized pre-stressed concrete works.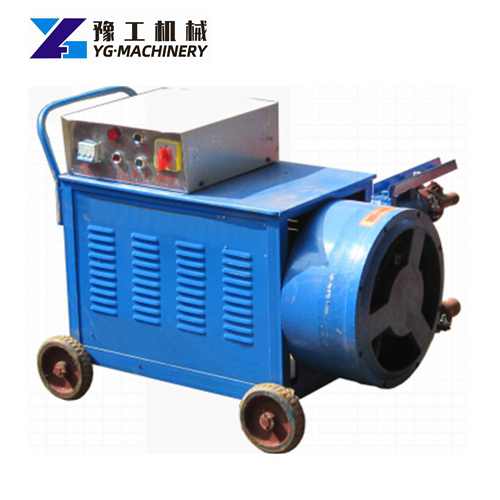 Some typical grouting applications are:
Waterproofing
Floor restoration
Metal door and window frames
Sealing joints
Connecting prefabricated concrete sections
Filling voids and eliminating holes in concrete blocks
Tiling
Leveling sidewalk slabs
Manhole and sewer linings
How to choose a grouting pump?
Manual grouting machine
The manual grouting machine has low pressure. It can be said that there is almost no pressure. It is purely manually operated to squeeze the slurry out. And this equipment is often used in various waterproof repair grouting. The price of the grouting machine is very cheap and the structure is very simple.
Waterproof high-pressure grouting machine
A Waterproof high-pressure grouting machine, with pressure within 1MPa, is mainly used for grouting of water-proof, particle-free, flowable thin slurry materials. The pressure of this grouting machine is not large, but it is called a habit in the waterproof industry, so it is called a high-pressure grouting machine. Nothing more, this small grouting machine is very practical for individuals who simply do repair grouting, and it is also very portable.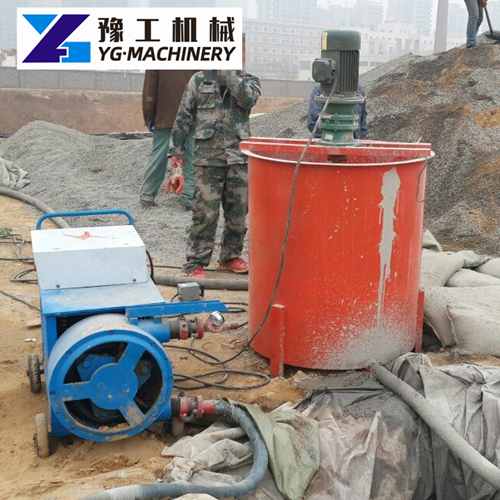 Hydraulic Squeeze Cement Grouting Pump
Squeeze grouting machine (squeeze pump or mud pump in the industry) is mainly used for the short-distance pouring of thin pure cement slurry, and can not add sand and any materials with aggregate particles.
Model
HJB-2
HJB-5
Pressure
0.3-0.8mpa
0.3-0.8mpa
Discharge volume
2m³/h
5m³/h
Mixing ratio (water: cement sand)
1:0.5 (fine sand ≤5mm)
Conveying distance
Vertical 30m Horizontal 60m
Extrusion tube inner diameter
φ38
φ51
Inner diameter of the delivery pipe
φ32
φ38
Motor power
3kw
4kw
Dimensions (mm)
1100*600*500
1300*800*900
Weight (kg)
260
400
The cement slurry is squeezed out by the intermittent weak pulse pressure generated by the cam squeezing the hose to achieve the purpose of short-term transportation of the cement slurry. The use is extremely limited, and the grouting efficiency is slow and low.
This pump is suitable for small contractors and individuals who have just started in some small grouting projects.
Single-cylinder piston grouting pump
The single-cylinder piston grouting machine is a cheap grouting equipment that relies on the cylinder liner piston to generate pressure. The principle is self-explanatory. A stroke of the piston generates an air pressure, which in turn promotes the flow of thin slurry. Because the piston pressure is discontinuous, so there are pulses and the pressure is intermittent, which determines that this type of grouting machine can only pump very thin cement slurry, and a slightly thicker pure cement slurry will cause serious pipe blocking.
This pump is not expensive, only a little more expensive than the squeeze pump, but the grouting efficiency is low, the pressure is small and there is a pulse, and it will lie down when encountering a slightly thick slurry. Users use it with caution! Of course, if Party A has no special requirements or the supervision and management are not strict, it can be said that the grouting project that can pass the cement slurry as thin as rice soup can also be used. Slurry tube.
Double-cylinder piston pump
Some people also call it a double-liquid pump or double-cylinder mortar pump. The principle of this pump is the same as that of a single-cylinder piston pump, and the pressure is higher than that of the single-cylinder pump with the same cylinder diameter. Of course, the cylinder can be made infinitely large.
At present, the double-cylinder grouting pump in the market can pump both cement slurry and mortar in principle. But the premise is that the slurry should not be thick, the sand should not be too much, and also the sand pump should be very smooth when mixed in an appropriate amount. Therefore, it is more extensive than the above. The price is related to the pressure, displacement, and reliability of the equipment itself. Contact us to get the mortar pump price.
Triplex plunger pump
Triplex plunger pump, also known as triplex grouting pump, the principle is the same as that of piston pump, all of which are piston principle, but it is triplex, the number of cylinders is large, and the pressure is naturally larger. Generally, the model in the market is 5~30MPa.
The pump has high pressure, so it is widely used in long-distance pumping of pure cement slurry without sand or rotary jet grouting, as well as construction requiring grouting pressure greater than 5MPa.
Screw grouting pump
Screw grouting pump machine, also known as a screw grouting pump, is a special equipment for conveying mortar. This pump is widely used in highways, railways, anchor grouting, and consolidation grouting for tunnels, urban viaducts, subways, hydropower stations, underground caverns, etc. Clearly, the quality of this kind of grouting equipment mainly depends on the rotor and stator. Therefore, these two components are the core that affects the performance and wear resistance of the equipment.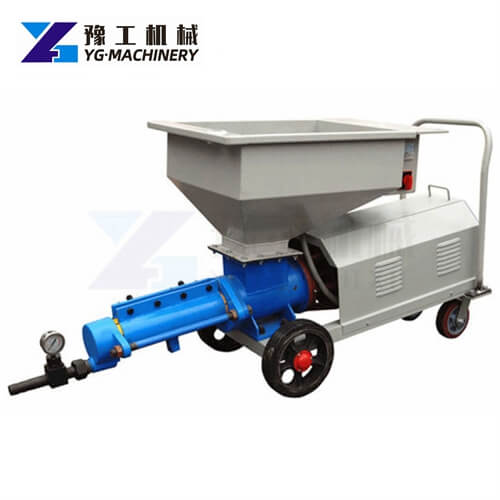 How much is a Screw grouting machine? There are many manufacturers who can produce screw grouting pumps. With similar shapes, but the prices are far different.
In conclusion
If you want to learn more about a particular grout pump, or some expert advice on what model to choose for your grouting project, we are here to help. Our sales manager will propose to you the most appropriate, cost-effective, and efficient solution, with their years of experience in the concrete industry. Contact us by WhatsApp +8613598866720 or send us an email at admin@ygroadmachine.com.