YG Automatic Steel Pipe Welding Machine is a great tool to join the two pipes together. The machine uses MIG welding(Metal Inert Gas welding) technology to weld stainless steel. And it is used for Steel Pipe Rental Stations.
Read more: Pipe shrinking machine | Hydraulic automatic pipe end processing machine
YG Automatic steel pipe welding machine
YG Steel pipe welding machine is automatic equipment for spot welding, arc welding, and butt welding. It is widely used for weld scaffolding, like steel scaffolding, bowl buckle steel pipe scaffolding, socket type steel pipe scaffolding, portal scaffolding, hang scaffolding, and other steel pipe material scaffolding.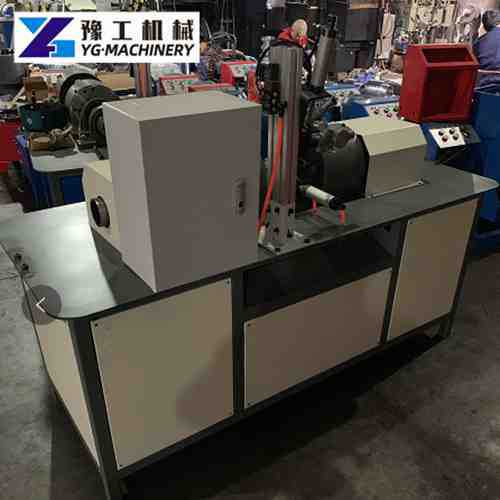 Details & Parameters
The automatic steel pipe welding machine is a piece of special equipment for welding ferrous metals and non-ferrous metal wires. Here are the machine parameters:
| | |
| --- | --- |
| Motor Power | 1.5KW |
| Voltage | 380V/50Hz |
| Steel diameter | Φ478mm, Φ57mm |
| Average welding time | 25s |
| Method of welding | Fully automatic |
| Welder type | Carbon dioxide gas shielded welding machine |
| Welding head conveying control | Hydraulic |
| Control system | PLC Control system |
| Weight | 280KG |
| Size | 1700*700*700mm |
Key Features
There are many short steel pipes in the Steel Pipe Rental Station, but customers need long tubes, what to do? YG Automatic Tube Welding Machine is a welding process equipment that can be used for pipe welding. The machine can solder short pipes to the length you want.
Long working life and a high production rate.
The machine can replace 4 laborers to weld the steel tube.
High quality and less weld metal required
Excellent performance.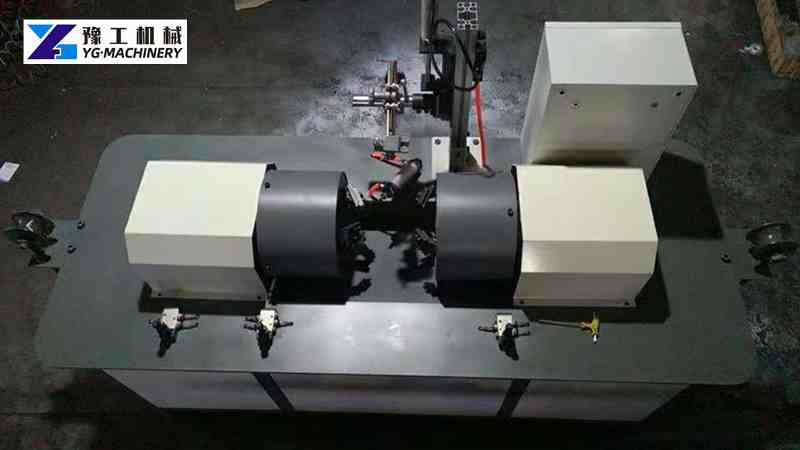 Advantages
Good performance: The equipment uses the Carbon dioxide gas shielded welding machine to weld the steel pipes so that the welding is perfect. It is not easy to see the welded part if the pipes are painted.
High Efficiency: It needs just 25 seconds for steel pipe welding and the machine can weld 800 pipes at least.
Low cost: The machine uses the welding wire in 1.2-1.5mm and it cost 0.5 $ for ten pipes welding.
Strong welding: First shrink the pipe at one end, then put it on the welding machine and weld it together, which has the effect of double-layer steel pipe bearing pressure and is more durable;
Maintenance for life: We are the manufacturing factory and we provide, so you will get the perfect services after-sales.
How to use the stainless steel pipe welding machine?
The machine should be installed indoors or under a rainproof shed. And the machine should connect the ground wire. When serval machines install side by side, the distance among the machines should be at least 3 m. Also, they should be separated, connected to different phases, and set the circuit breaker.
Before welding, you should check the machine: Fixture stable, and there must be no leakage in the hydraulic and pneumatic system.
The section of the welded steel pipe in one sentence regulates the secondary voltage, and it is not allowed to weld steel pipes exceeding the specified diameter.
A bracket should be set if you want to weld the long steel pipes.
The flash zone should be set with a baffle, and persons not related to welding are not allowed to enter.
If you use the machine in winter, the temperature should not be less than 8 degrees, and after the welding, you should pull off the cooling water.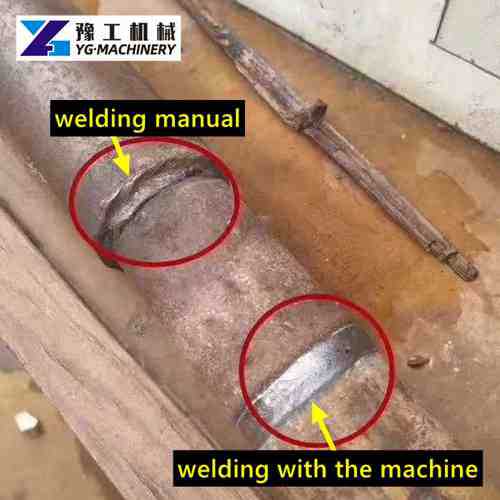 Frequently Asked Questions
1. Pros and cons of TIG Welding and MIG Welding
MIG Welding is a faster method of welding, and TIG welding is more suitable for thinner steel bars welding. Which one to choose? It depends on the size of your project.
2. How to maintain the Steel pipe welding machine?
You should use regularly lubricate chain wheel, bearings and speed reducer, etc. and keep clean of forming rollers.
3. What should I do if I need services after-sales?
Do not worry. We have a well-trained sales team, and to fully assist you, we will pay close attention to your orders and inquiries, also we will assure the quality and effectiveness of your machine purchase. So, YG Machinery never lets you down because we supply detailed and intact products and technology services for you.
Pipe welding machine manufacturer – YG Machinery
YG Machinery is a company with 20 years' experience in the development of machinery. We provide many types of machines for civil construction, such as rebar machinery, road machinery, etc. If you do need a machine automatic for welding steel pipe, please feel free to contact Us.