Portable screw compressor. The drive methods include electric motor drive and diesel engine drive. Explosion-proof portable compressors are also available. YG mobile air compressors have excellent performance characteristics and reliability. As an innovator in the field of mobile screw air compressors in China, we provide high-standard products and services for global oil and gas exploration, drilling technology, pipeline construction, mine drilling and blasting, water well drilling, and infrastructure construction.
Mobile Screw Air Compressor
Mobile screw air compressors are widely used in mining, water conservancy, transportation, shipbuilding, urban construction, energy, military, and other industries. YG Mobile Screw Air Compressors provide high-standard working performance in the industry and meet a wide range of construction needs in the market. It adopts a high-compression-efficiency screw main engine, a powerful brand engine, an air volume control system that meets various needs, and an efficient cooling system, with excellent performance and strong reliability.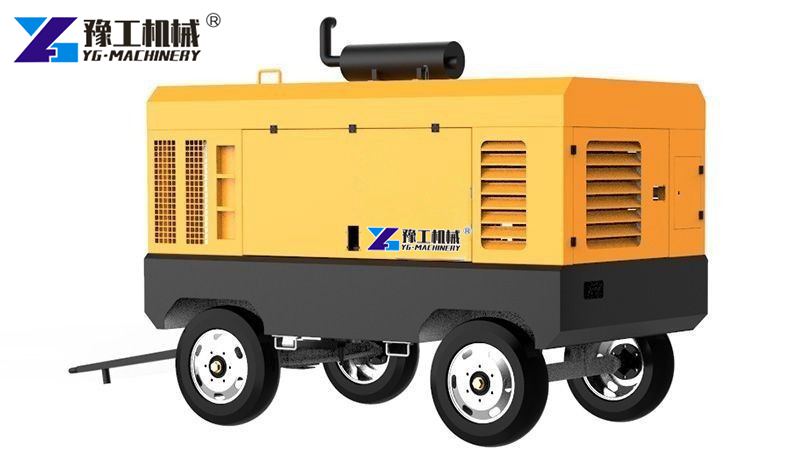 Parameters
| | |
| --- | --- |
| Product name | Air compressor |
| Exhaust pressure | 0.8Mpa |
| Exhaust volume | 1m³/min |
| Power | 7.5-132kw |
| Weight | 160-2600kg |
| Product size | 660*680*790mm |
Advantages
High reliability: The compressor has few parts and no wearing parts, so it operates reliably, has a long service life, and the interval between overhauls can reach 40,000 to 80,000 hours;
Easy operation and maintenance: High degree of automation, operators do not need to undergo long-term professional training, and can realize unattended operations;
Good power balance: There is no unbalanced inertial force, it can run smoothly at high speed, and can realize non-foundation operation, especially suitable for mobile compressors, with small size, lightweight, and less floor space;
Adaptable: With the feature of forced air delivery, the volumetric flow rate is almost not affected by the exhaust pressure. It can maintain high efficiency in a wide speed range.
Why you should use the screw air compressor?
Air compressors are mainly divided into screw air compressors, piston air compressors, and centrifugal air compressors.
Centrifugal air compressors are mainly used on occasions with the large air consumption and are rarely used in general enterprises.
Piston air compressors have low equipment investment. And many companies have used them in the past, but the gas production efficiency is poor. And screw air compressors have gradually replaced them.
Screw air compressors have high gas production efficiency. It is mainly divided into oil-free and oil-free. Among them, oil-free air compressors are used on special occasions such as textiles and medicine.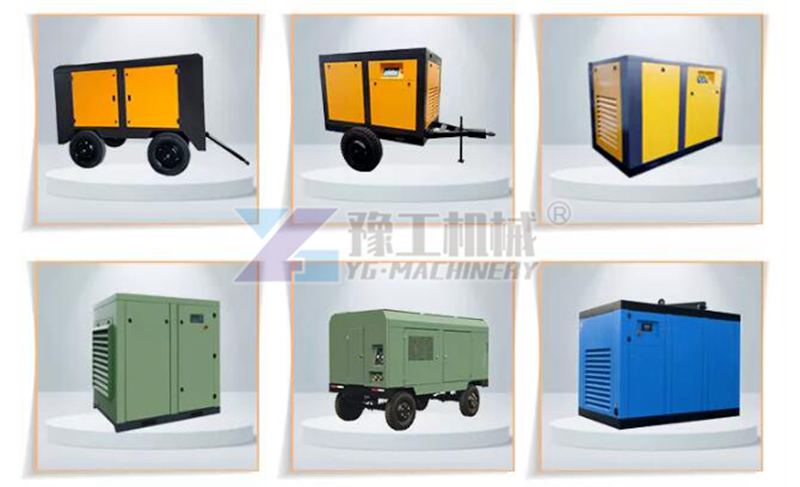 If you want to buy drilling rigs, please click here!
Screw Air Compressor Price
Are you looking for screw air compressor equipment? YG® provides kinds of air compressors: 5.5KW, 7.5KW, 37KW, 45KW, 90KW, 160KW, Electric Silent Diesel Oil Free Screw Type Industrial Air-compressor, Mini Air Compressors, etc. We are the air compressor manufacturer/factory. So our air compressors have the advantage of good price. If you want to buy our equipment, we can show you our factory online. Contact us now to get the latest screw compressor price. WhatsApp/WeChat: +8613598866720.