I Beam Bending Machine, also named H Cold Bending Machine, is widely used in the bending of I-beam, channel steel, and section steel in highway tunnels, railway tunnels, subway tunnels, road tunnels, water conservancy, hydropower diversion culverts, natural gas pipelines, communication pipelines, underground passages, and other projects.
Related Article: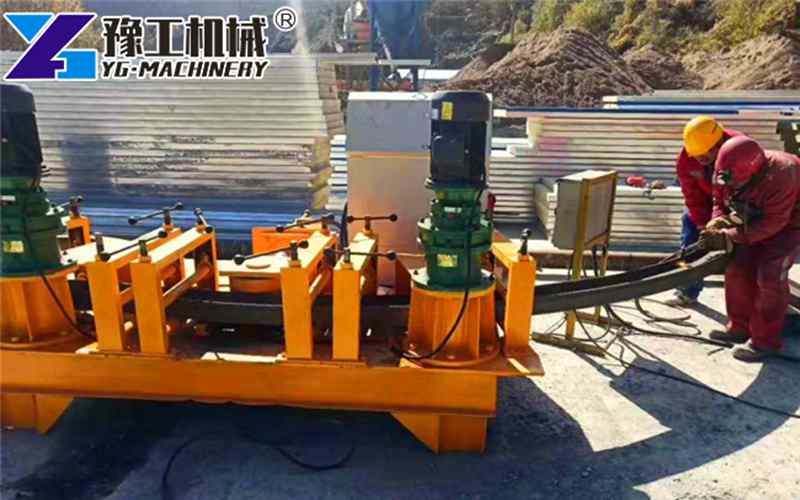 Hydraulic Automatic CNC I Beam Cold Bending Machine for sale
YG Machinery manufactures two types of Arch Bending Machines:
Hydraulic Automatic CNC I/H beam Bending Machine
Common Steel Arch Bending Machine
Cold Bending, as the word means, uses the cold method to bend the arch steel. Compared with the traditional version, the Hydraulic CNC I beam bending machine adopts a hydraulic system, has a Digital coding control system, an automatic control system, and is equipped with a Photoelectric control sensor, coded electronic ruler, electronic meter counter.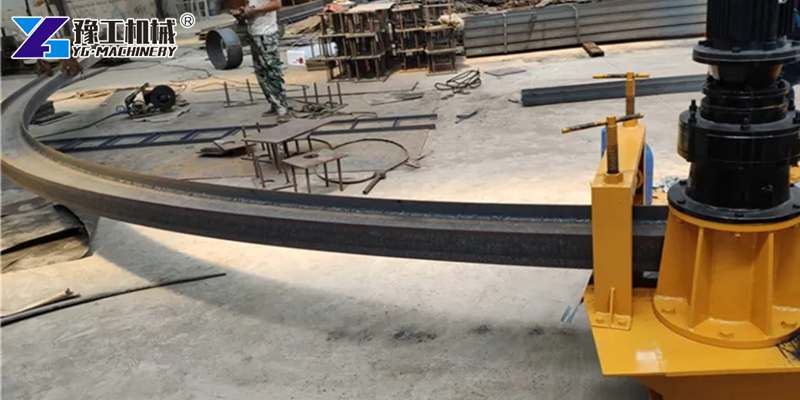 Technical Parameters
| | |
| --- | --- |
| Product model | YG-250 |
| Profile specifications | 14-25 I-beam |
| Cylinder advancing speed | 3-3.5mm/s |
| Rotation speed of the roller | 7r/min |
| Maximum pressure of hydraulic system power | 25mpa |
| Total power | 8.4KW |
| Cylinder power | 4KW |
| Driving wheel motor | 2.2KW*2 |
| Minimum bending radius | 1.8m |
| Weight | 2200kg |
| Dimensions | 2760*1639*1360mm |
Features
The machine can bend many types of steel bars, like I-beam, channel steel, angle steel, H/U/C-shaped steel.
Bending system: The two rollers are made of special materials and are heat treated as a whole to reduce the wear of the cruise ship, no scratches on the workpiece, and long service life.
The wearing parts are easy to change, the users don't need to correct them, just tighten the screws and the machine can work normally.
Dual motor drive, hydraulic cylinder propulsion.
Generally, the Steel Arch Bending Machine is composed of 6 parts: base part, mechanical transmission, cold bending system, hydraulic system, electrical control system, and auxiliary system. Feel free to contact us to get the machine price here.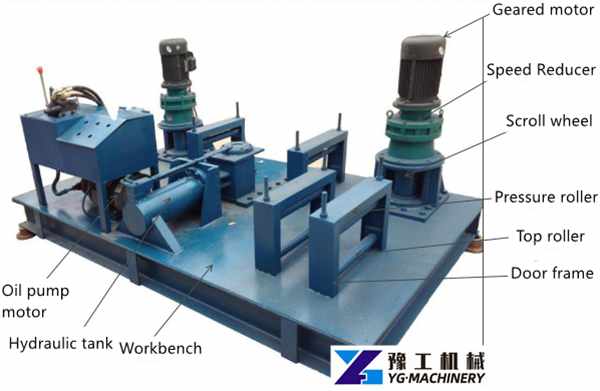 Check here the working case in Indonesia of I beam bending machine.
Cold Bending Equipments Working Principle
When the arch bending machine is working, it uses the Door bracket of the auxiliary system to put the I-Beam steel bars enter the two Active rollers. Turn on the hydraulic system, the Hydraulic cylinder will push the Dovetail and Cold roll to bend the H/U/C-shaped steel. When the arc required by the design is reached, turn off the hydraulic system, and activate the mechanical transmission system to make the shaped steel move on so that the machine can work continuously.
Close the mechanical transmission system and turn on the hydraulic system to pull back the Hydraulic cylinder when the bending is over.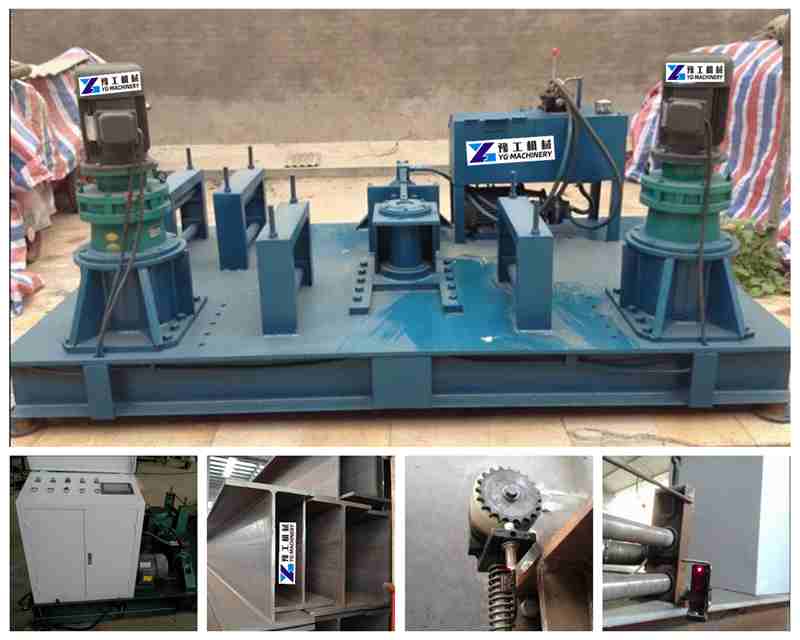 Advantages of H Beam Bending Machine
Simple structure, and easy to operate.
This method to bend I-beam can keep the rebar strength.
The machine improves the quality of supporting steel arches.
High work efficiency.
Best Price.
I Beam Bending Machine manufacturer & supplier
There are so many Beam Bending Machine manufacturers & suppliers. But which one to choose? I think YG Machinery is a good choice. Because YG Machinery has focused on the research and development of rebar machinery for over 20 years. And our factory has more than 1.5 million square meters. With high performance and low price, YG Hydraulic Automatic CNC Arch Bending Machine is appreciated by customers all around the world.
In addition, YG Machinery provides also other types of equipment, such as Rebar Straightening And Cutting Machine, rebar derusting machine, Rebar Cold Extrusion Press Machine, Hydroseeding Machine, Thread Rolling Machine, Reinforced Cage Winding Machine, Scrap Steel Cutting Machine, Concrete Spraying Machine, Fog Cannon Dust Suppression, etc.