A hydraulic concrete wire saw is a very powerful cutting tool. It can quickly cut various rigid products such as stone and concrete. YG Wire saw machines have been widely used in the construction industry and the mining industry. The Hydraulic Diamond Wire Saw are easy to operate and work efficiently.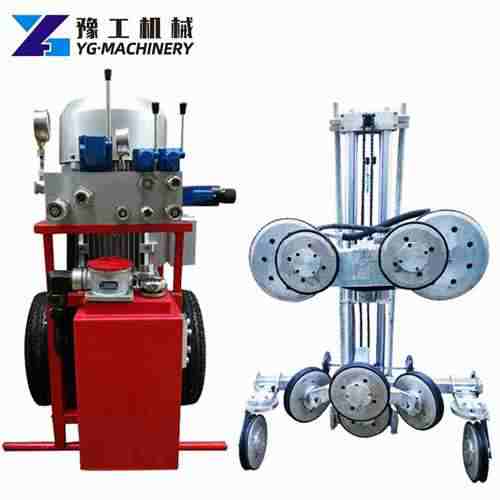 Wire saw machine types
According to the power type, it is mainly divided into two types: electric wire saw machine and hydraulic wire saw machine.
According to different cutting purposes and needs, it is divided into a concrete cutting wire saw, mining wire saw and marble and granite shaping and processing wire saw.
The wire saw blade and flywheel disc rubber ring used for cutting are a large number of consumables. The specifications of the wire saw blade is mainly controlled by beading. The formula of the bead is also different. The production formula of the beads should be customized according to the actual situation of the stone to maximize its efficiency, and the cost will be reduced a lot.
Related machine: Concrete wall cutting machine for sale
Electric Concrete Wire Saw Machine
A Concrete Wire Saw is a kind of cutting and demolition equipment for thick concrete and irregular concrete. For example cutting of reinforced concrete beams, columns, bridges, floor slabs, stone processing, and other building foundation concrete structures that need to be partially demolished can only be cut with a diamond wire saw. The use method is flexible, both horizontal and vertical cutting can be used.
Specification
| | |
| --- | --- |
| Wire Drive Mode | Electric |
| Voltage | 380V, 5Hz |
| Output Shaft Speed | 980r/min |
| Maximum Linear Velocity of Rope | 28m/s |
| Weight | 350kg |
| Maximum Wheel Size | 500mm |
Advantages of electric wire saw
The saw head is relatively heavy. In actual construction, sometimes it is not necessary to use expansion screws. The saw head can be fixed by directly pressing the bottom corner, thereby greatly reducing the damage to concrete cutting.
There is no need for a large amount of cooling water. Anyone who has used a hydraulic wire saw knows that the hydraulic pump station must use cooling water to reduce the problem in order to cool the oil temperature. The electric wire saw does not need a large amount of cooling water, only the head of the rope is required. Just add cooling water and it can work for a long time.
Low cost: It can be operated by household electricity, eliminating the need for a hydraulic system, so the cost is much lower.
Disadvantages of electric wire saw
It is not as flexible as the hydraulic wire saw, especially for the narrow construction surface, it will lose to the hydraulic wire saw.
The power is not as strong as the hydraulic one. The efficiency is lower than that of the hydraulic wire saw.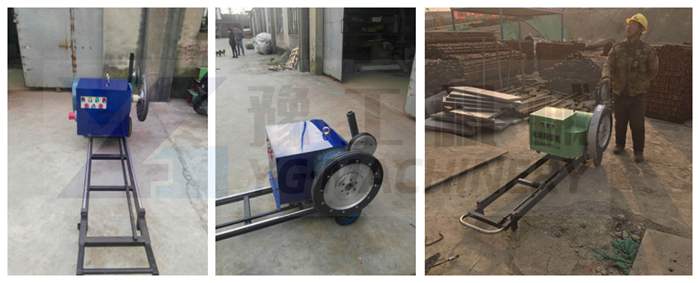 Hydraulic Wire Saw Machine for sale
The hydraulic wire sawing machine is a new generation of fully automatic reinforced concrete cutting equipment. The lightest design, the incision is guaranteed to be straight and neat during construction, without trimming, The Hydraulic Diamond Wire Saw can cut reinforced concrete, ceramics, glass. No vibration. Low noise during operation. Accurate positioning. This wall saw curbing cutting machine is suitable for cutting complex sections, such as reinforcement renovation of houses, bridges, floors, beams, columns and other cutting and demolition industries.
Parameters
| | |
| --- | --- |
| Model | YG-25 Hydraulic Pump |
| Voltage | 220V/380V, 50Hz |
| Rotation | 1300r/min |
| Weight | 170kg |
| Frame & Wheels | Aluminum |
| Weight | 75kg |
| Diamond Wire Saw | Diamond Wire |
| Cutting speed | 3~5m2/h |
| Motor Power | 25kw |
| Motor Type | HM-80, 2 Cylinders |
| Working Pressure | 15-20Mpa |
| Size | 720*650*1050mm |
| Wheels | 10 |
| Size | 90*90*1700mm |
| Specification | φ11.5mm 40beads/m |
| Wire life | 2~3m2/m |
The portable vertical all-aluminum single-operable hydraulic wire saw machine produced by our factory can realize various cutting of thicker concrete. The wire saw is competent for closely packed reinforced concrete structures and even underwater cutting operations of 30 to 50 meters. The hydraulic wire saw can meet the cutting depth that the wall saw cannot reach. Also, the cutting depth is not limited. At present, it is the leading advanced cutting construction equipment. It can be widely used in the construction of buildings, bridges, tunnels, and wharves, replacing the traditional methods of strong hammering, drilling rig hole rowing, and blasting construction.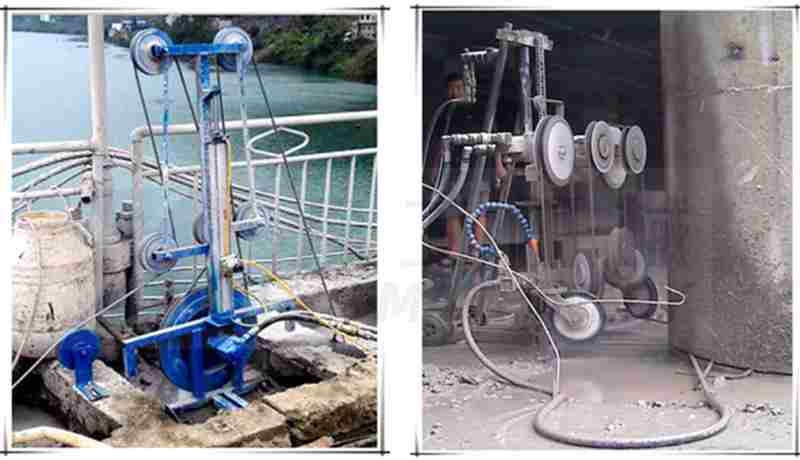 How to choose the right wire saw machine?
Firstly, you want to how to cut the material and the cutting environment. Do you need to cut the concrete walls, beams, columns, mining, or stone shaping? The space size? Cross-cut or vertical cut?
Secondly, think about your needs! The Concrete thickness, rebar size, number of bars, efficiency, consumables, etc.
Note: If you want to cut the concrete or some special material, it is recommended to use a Small Electric Wire Saw or Hydraulic Wire Saw; If you use the machine to do marble and granite mining, cutting and shaping or some large area cutting, it is recommended to use a mining wire saw machine.
In conclusion, if you have any questions about the wire saw machine, please contact us or leave your messages. We are here to help! WhatsApp/WeChat +8613598866720.
Other machines: Rebar Straightening And Cutting Machine, Concrete Pump, BW Mud Pump