April 6, 2023, the YG-40 steel bar thread rolling machine and YG-40D rebar upsetting machine were exported to Malaysia.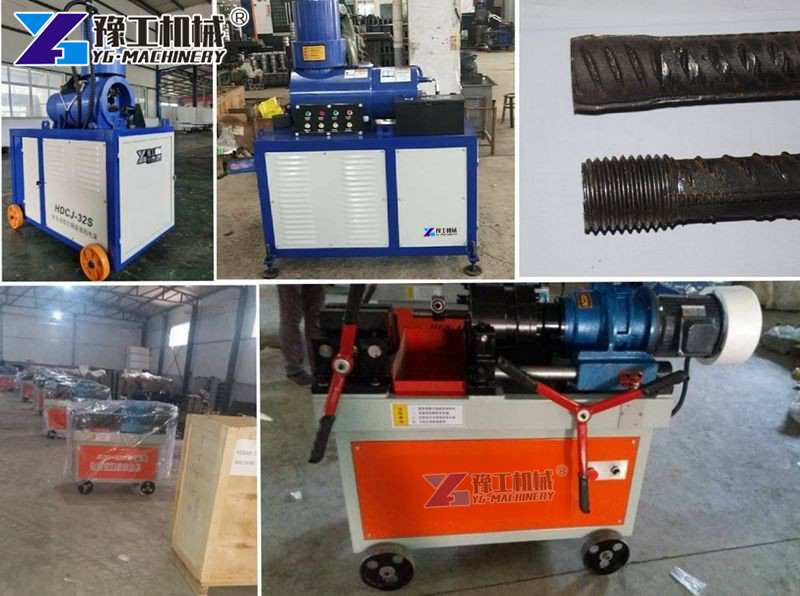 As global construction springs up, there are higher and higher requirements for the quality of the project. Upsetting steel bars can improve the tensile strength of the joints, improve the quality of the joints, and make the joints resistant to compression. This greatly increases the quality of the project.
If you are also looking for a rebar machine, please read on.
Steel Bar Upsetting Machine for Sale
Applicable steel bar diameter 12-32Ⅱ-Ⅲ grade construction steel bar.
Piston stroke: 140mm
Large flow rate: 5.42L/min
Upsetting force: 2036KN
Total power of the motor: 4KW
Dimensions: 1020*500*965mm
Overall net weight: 560Kg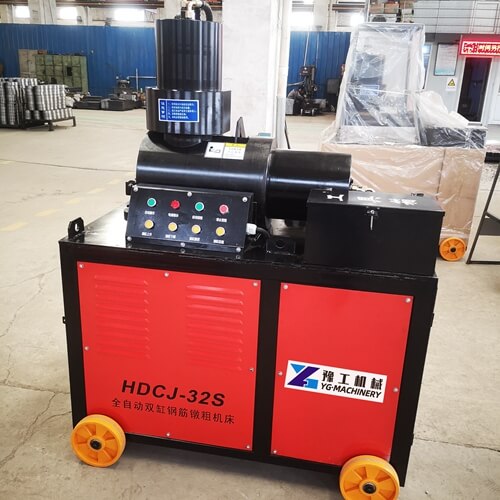 Features
The steel bar upsetting machine adopts a fully automatic hydraulic double-cylinder design, including a fuselage, a lower pressure cylinder, a forward cylinder, a main body, a mold and an emblem head, an electrical control system, and a hydraulic system. Check the machine features:
The new design of the mold slot makes it easy to replace the mold;
Fully automatic CNC panel, one-button start, cycle operation;
The pressure gauge can accurately display the pressure to ensure stable oil pressure and more standard upsetting;
Dual hydraulic cylinders for clamping and upsetting, stable performance, and high efficiency;
13-32mm steel bar upsetting. The mold has a high-strength quenching treatment, which is durable and has a long service life.
Rebar Thread Rolling Machine for Sale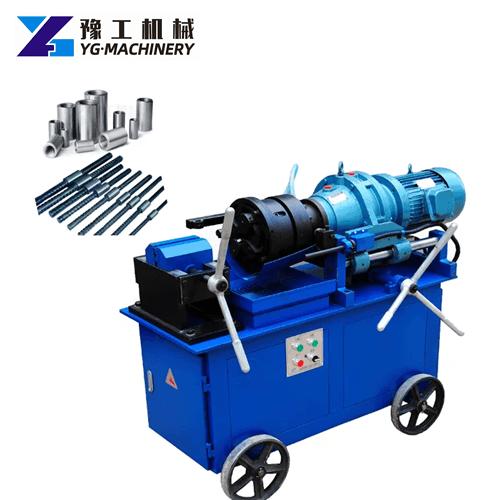 YG-40 Steel bar straight thread rolling machine is mainly used for rolling straight thread heads of ribbed steel bars in construction engineering and is the key equipment to realize the straight thread connection of steel bars. It can process a diameter of 16 ~ 40 ribbed steel bars.
| | | | |
| --- | --- | --- | --- |
| Model | YGS-40 | YGT-40 | YGA-40 |
| Processing diameter range | 16-40mm | 16-40mm | 16-40mm |
| Thread rolling length | 0-80mm | 0-80mm | 0-100mm |
| Power voltage | 4kw/380v 50hz | 4kw/380v 50hz | 7.5kw/380v 50hz |
| Working efficiency | 15s/forming | 8s/forming | One-touch auto forming |
| Machine weight | 320kg | 350kg | 400kg |
| Machine size | 115*50*106cm | 110*60*130cm | 126*70*106cm |
| Type | Standard type | Upgrade type | Full automatic type |
Steel sleeve for sale
A steel bar sleeve, also known as a steel bar joint, is a connecting piece used to connect steel bars and has an internal thread corresponding to the wire thread.

| | | |
| --- | --- | --- |
| Specification | Diameter | Length |
| 12MM | 19 | 35 |
| 14MM | 21 | 35 |
| 16MM | 24 | 40 |
| 18MM | 27 | 45 |
| 20MM | 30 | 50 |
| 22MM | 32.5 | 55 |
| 25MM | 37 | 60 |
| 28MM | 41 | 65 |
| 32MM | 47 | 75 |
| 36MM | 53 | 85 |
| 40MM | 58 | 90 |
Simple construction process: the end of the steel bar is processed into a straight thread by rolling process, and the two steel bars are connected to each other with the corresponding connecting sleeve.

How to use the rebar upsetting machine with the thread rolling machine?
The steel bar upsetting machine can pre-process the end (head) of the steel bar to be upset so that the diameter of the steel bar in the processed section is increased (3-5mm). And then use the steel bar thread rolling machine to process the upsetting part.
The diameter of the threading part is infinitely adjustable. When connecting, use a common construction wrench to connect the straight thread sleeve to the thread at the end of the steel bar to complete the butt joint of the steel bar. The strength of the base material and other advantages.
Rebar Machinery Manufacturer
Henan Yugong Machinery specializes in the production of straight thread sleeve multi-axis tapping machines for construction, sleeve marking machines, steel bar straight thread rolling machines, steel bar straight thread connecting sleeves, rebar upsetting machines, pipe bending machines, rebar straightening and cutting machines, and related auxiliary tools. Our products are not only good in quality but also delivered on time.
What is the machine's price? Please leave your inquiry below or contact us via WhatsApp/Tel 008613598866720.