A Concrete sprayer machine is a useful tool that uses compressed air to make concrete become airflow in suspensions and spray it onto the coated surface in order to achieve the purpose of support.
Concrete Spraying Machine Movable at Best price
The Shotcrete Machine is the main equipment for concrete construction. With the advantages of high mechanization, simple operation, high efficiency, YuGong Concrete Spraying Machine have become more and more widely used on various occasions, such as tunnels, highways, railways, water wells, rock slopes, coal mine shafts, etc.
As a TOP concrete spraying machine manufacturer, YG Machinery provides two types of concrete spraying machines: wet concrete spraying machine and dry concrete spraying machine. You can go to part 1 to learn about their differences.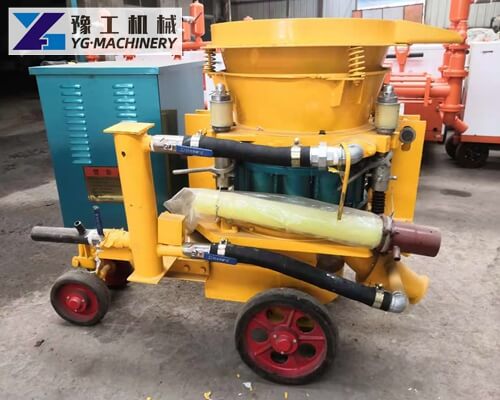 Parameters of Wet Concrete Spray Machine
| | | |
| --- | --- | --- |
| Model | H | |
| C | | |
| Max. conveying distance | Vertical: 20m | Vertical: 20m |
| The applicable material water-cement ratio | <0.4 | <0.4 |
| Maximum particle diameter | | |
| Motor Power | | |
| Size | 1 | |
| | | |
Parameters of Dry Concrete Spray Machine
Differences between wet et dry shotcrete machine
The wet concrete shotcrete machine is relative to the dry concrete sprayer machine. A Concrete wet sprayer machine is ideal for anchor spray construction. Here are the differences between the wet sprayer machine and the dry sprayer machine:
Dry concrete spraying machine is a kind of concrete spraying technology commonly used at home and abroad. During the construction process of the dry spraying process, the dust is large, and water and water ash are added to the nozzle. Inaccurate control and insufficient cement splash affect the quality of concrete.
A Wet concrete spraying machine can fundamentally solve the three major problems in the above sprayed concrete operation. The spraying dust concentration of the wet spraying machine is less than 8%, rebound rate is less than 10%, and the water-cement ratio is controlled accurately, which can make the cement fully water. The sprayed concrete has high strength.
Compared with a dry concrete spraying machine, the wet concrete sprayer machine can greatly save cost, the wet spraying dust is small, and the workers' health is guaranteed.
The one-time spraying thickness of the wet shotcrete machine is easier to meet the requirements than that of a dry concrete spraying machine. The concrete density and surface flatness are reliably guaranteed, and the support quality is greatly improved.
More and more bolt shotcrete support projects have used wet shotcrete machines, with the enhancement of people's awareness of environmental protection and the improvement of the quality of shotcrete.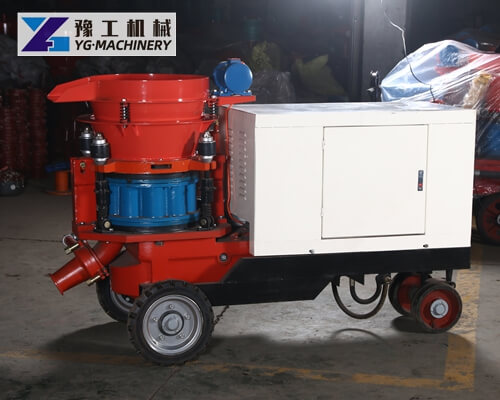 Read more: Non-Curing hot melt spraying machine at best Price
Advantages of wet concrete sprayers machine with dry shotcrete machine
Good spraying effect: Dry sprayer spraying effect is not as good as that of wet spray machines;
Easy to operate;
Low DUST: Dry spray machines will produce a lot of dust, which will pollute the environment. We have been advocating environmental protection for several years. Moreover, the dust can also cause harm to workers' bodies. PS: Therefore, if you want to use a dry spray machine, I advise buying a small fog cannon dust suppression;
Reliable technical performance;
In terms of cost, a dry concrete shotcrete machine requires more manpower than a wet concrete sprayer.
Hot sale: Hydraulic Wet Shotcrete Sprayer Machine
YG-90 Hydraulic Wet Spraying Machine is easier to meet the requirements than dry spraying for one-time spray thickness. Moreover, the concrete density and surface flatness are reliably guaranteed. In addition, it can be used for project construction such as shotcrete, filling, grouting, pumping, etc.
| | |
| --- | --- |
| Model | YG-90 Hydraulic Wet Sprayer |
| Production capacity | 3-7 m³/h |
| System maximum pressure | 6.1MPa |
| Working wind pressure | 0.4-0.6Mpa |
| Maximum aggregate | 15mm |
| Machine weight | 2200kg |
| Dimensions | 3440x1470x1660mm |
| Main motor power | 22kW |
| Voltage class | 380V |
| Hopper volume | 0.3m³ |
| Concrete slump | 12-18cm |
| Machine dust | < 6mg/m³ |
| Feeding height | 1.15m |
| Fuel tank volume | 145L |
| Rebound rate | ≤ 10% |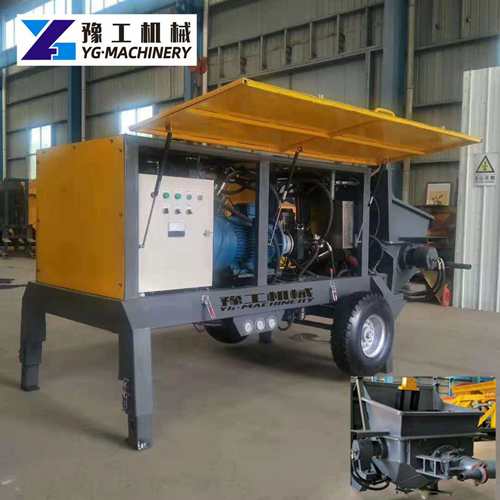 Features of Hydraulic Wet Shotcrete Sprayer Machine
Stable performance, few wearing parts, and low maintenance and use costs;
You can adjust conveying volume as needed (switching swing times ≤ 16);
PLC control, reliable work, long service life, and easy to operate;
The shotcrete pulsation is small and the continuity is good;
Also, the amount of accelerator added can be adjusted;
Wire-controlled handle control, the operation is more convenient.
Working Principle
Firstly, add mixed material to the spray machine.
Then, the machine will send the concrete to discharge.
After that, the air compressor will blow off the material and send the cement into the feed pipe.
When the material arrived at the sprinkler, the system will add some water or liquid(when needed), and the concrete will be sprayed out through the nozzle.
Conclusion
In a word, Henan YuGong Machinery is a top and professional supplier and manufacturer of construction equipment. If you are interested to purchase environmental equipment, rebar machinery (such as plate roller, thread rolling machine, rebar bending machine, etc.), production line, please feel free to contact us or leave your messages below.