A Mud pump refers to a machine that transports flushing fluid such as mud or water into the borehole during drilling. Besides, it's an important part of drilling equipment.
What is a Mud Pump used for?
BW drilling mud pumps are used to pump the medium containing solid particles. According to the process conditions, the equipment should be suitable for handling abrasive or corrosive liquids.
Related article: Peristaltic Industrial Hose and Tube Pumps
In the common positive circulation drilling, a mud pump provides pressure to the surface flushing medium, such as clean water, mud, or polymer flushing fluid. Under this pressure, the surface flushing medium will go through the high-pressure hose, faucet, and the center hole of the drill pipe string, directly to the bottom of the drill bit. Then it can achieve the purpose of cooling the drill bit, removing the cutting debris, and transporting debris to the surface.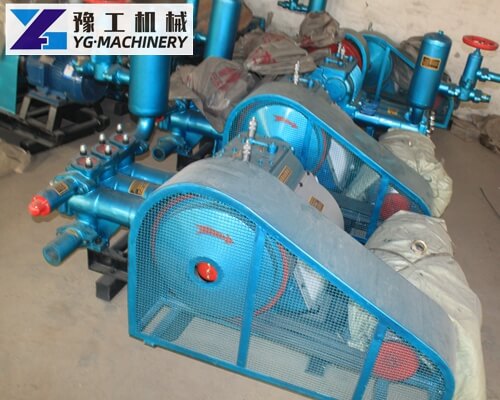 This is BW series triplex mud pump, a kind of horizontal type, 3-cylinder, single-acting reciprocating piston pump. The followings are about the parameters of different types.
Technical Parameters
| | | | |
| --- | --- | --- | --- |
| Model | BW150 | BW160 | BM320 |
| Output | 150L/min | 160L/min | 320L/min |
| Pressure | 7Mpa | 10Mpa | 8Mpa |
| Power | 7.5kw | 11kw | 30kw |
| Suction Pipe Diameter | 51mm | 51mm | 76mm |
| Drain Pipe Diameter | 32mm | 32mm | 51mm |
| Weight | 560kg | 480kg | 1000kg |
| Size | 1840*795*995mm | 1100*995*950mm | 1905*1100*1200mm |
YG Machinery offers a series of special high-pressure pumps for circulating drilling mud through a drill pipe that is specifically designed to handle mild and heavy mud. The BW series mud pump of YG Machinery is piston type. The crankshaft of the pump is driven by the power machine to rotate, and the crankshaft drives the piston to reciprocate in the pump cylinder through the crosshead. Under the alternate action of suction and discharge valves, the purpose of pressure feeding and flushing liquid circulating is realized.
Types of Mud Pumps
Commonly, mud pumps can be divided into:
The pump seal type can be divided into piston or plunger type
From power type, can be divided into the electric type and diesel type
From a number of cylinders of the pump, there are single-cylinder, double-cylinder, three-cylinder, five-cylinder, and other types.
The Usage
Grouting reinforcement, anchoring grouting.
Pump thin mud, sewage, and mixed water.
Transport cleaning fluid for drilling rig.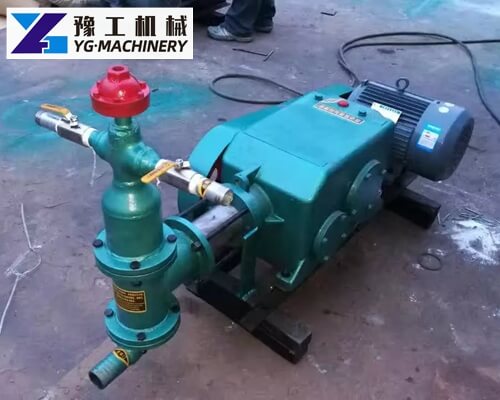 Features
The pump is a horizontal three-cylinder reciprocating single-acting piston pump.
Electric motor or diesel engine.
The pump has the characteristics of stable operation, a wide range of flow change, high output pressure, and stable performance.
High efficiency and energy saving.
Good detachability, easy to repair and move.
Uniform flow and small pressure fluctuations.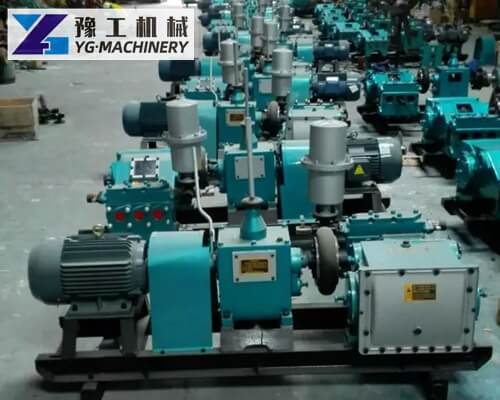 Wearing Parts of Mud Pump
As is known, the vulnerable parts are mainly the pump casing, bearing, impeller, etc.
BW series mud pumps adopt advanced anti-wear measures to increase the service life of vulnerable parts, reduce engineering investment and improve production efficiency. At the same time, Henan Yugong Machinery will provide replacement parts for clients. These wearing parts should be kept ready for timely replacement.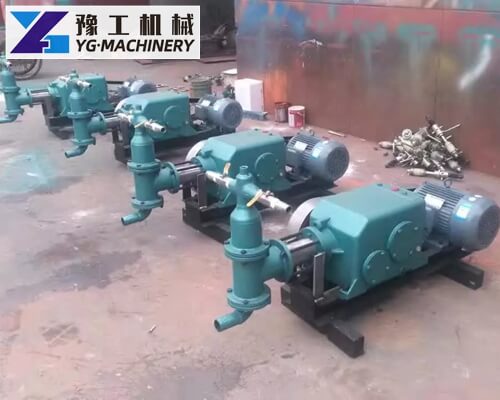 How to Choose Suitable Mud Pumps for drilling rigs?
To choose a mud pump that best suits your work needs, it is most important to note the following two points:
According to the actual working environment and usage habits, choose the electric model or the diesel model.
What are the specific pressure and flow amounts required when the mud pump is working
Read more: How to choose grouting pump: the piston, extrusion type, or screw type?
Mud Pump Manufacturer – YG Machinery
YG Machinery specializes in making drilling mud pumps and oil drilling rig components with over 20 years of experience. We have different types of pumps for sale, corresponding to different pressures and flow rates. You can choose the most suitable one according to your needs. If you want to get the machine price or learn more about pumps, feel free to contact us, you will get the latest quote and receive a reply asap.
In addition, YuGong Machinery provides also other types of equipment, such as Rebar Straightening And Cutting Machine, rebar derusting machine, Diaper Making Machine, Hydroseeding Machine, Thread Rolling Machine, Reinforced Cage Winding Machine, Scrap Steel Cutting Machine, Concrete Spraying Machine, Glove Making Machine, Fog Cannon Dust Suppression India, Drilling rig machine, etc.