Sanitary Napkin/Pad is a necessity for girls and women. To protect women and Girls from Cervical Cancer and various other reproductive diseases. So the sanitary napkin/pad is a good profitable business if you get a high quality Sanitary Pads Machine. Buy the Sanitary Napkin (Sanitary Pad) Making Machine manufactured by YG Machinery.
If you are looking for a Sanitary Napkin Making Machine, you are right here. YG Machinery provides you with the high-quality full servo sanitary pad making machine for sale.
Working Case: Sanitary pad making machine for sale in South Africa
YG Sanitary Pads Making Machine For Sale
This Sanitary Napkin Pad Making Machine uses a full servo system. All the production process is controlled by the PLC system. With a touch screen, you can easily input the dimension of the products. Compact structure. Easy to operate. There is also a semi-automatic sanitary pad-making machine. But the high-speed full servo sanitary napkin machine has the best cost-efficient. With the same investment, the full servo pads making machine can produce more sanitary pads. Note: Before you buy the machine, please do research on the sanitary pads machine in your country.
Machine details and Production Process:
Core Forming: pulp roll stand, a hammer mill for pulp defibration, a forming drum for separated cores, transportation, and compression sections.
Feeding section and glue coating of non-woven/ Perforated Film, the application of cuff elastics with spray gluing
Polythene feeding section and glue coating on polythene
The machine will assembly and make the sanitary pads, then the packaging machine will put the pads into the bag.
Contact us here to get the fully automatic sanitary napkin making machine price. Welcome to inquiry.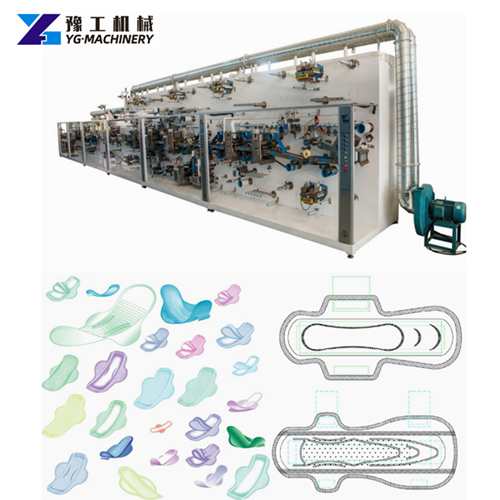 Technical Parameters of Full servo Sanitary Napkin Making Machine
Below are the technical parameters of the full servo sanitary napkin pad making machine:
Capacity (million pieces/ year)
90-240 million pieces
Designed Speed
500pcs/min
Stable Speed
450pcs/min
Passing rate
≥ 97% (Not include the glue applicator, Auto Splicing)
Power Supply
380v, 50HZ
Power Installed
250KW include Glue filter
Power Used
200KW
Electric wire
3×120mm2+1×50mm2+1×25mm2
Compressed Air Supply
0.6~0.8Mpa
Compressed Air Absorption
4000 Nl/min
Machine Size
24.0m× 3m× 3m(L× W× H )
Working Size
28m× 6 ´3.5m (L× W× H )
Machine Weight
about 40Tons (whole production line)
Machine Color
Confirm with Customer
Machine Direction
From Right to Left (can be designed as customer's demand)
Containers
4´ 40 HQ containers
Product Size
As customer's requirement
Product Type
a.fluff core
b.ultra thin
Sanitary Napkin Raw Material
Typically, the raw materials of the sanitary pads are airlaid paper or wood pulp, Tissue with SAP, PE films, glues, and release papers. are used for making sanitary napkins.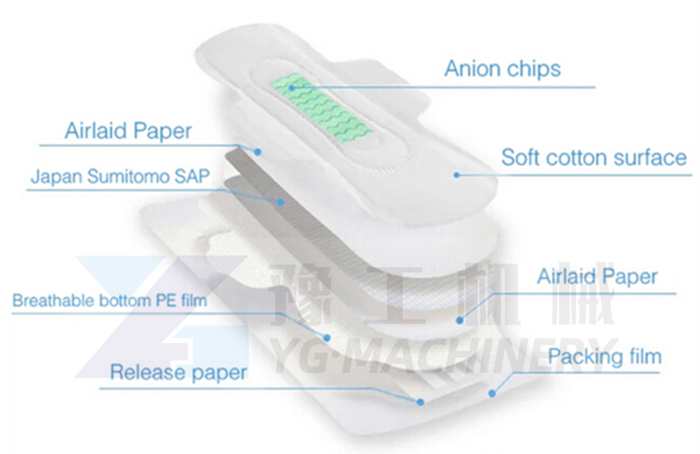 Features of Sanitary Napkin Production Line
Full servo high automation control
Human-machine interface, PLC automatic control system
The panel and main accessories are processed by CNC
With an Automatic deviation correction system
Automatic tension control
This machine is equipped with an Automatically count and store production data
Quality control, automatic waste rejection
Designed according to CE standards and passed CE certification

What is the cost of the pad making machine?
In general, FOB Price: 300,000 – 560,000 $. The price does not include transportation cost, packaging, taxes, etc.
In conclusion, Sanitary napkin manufacturing is a profitable business. If you are interested in the Sanitary pads business, you can contact us to get the sanitary pad-making machine price.
Henan Yugong Machinery is a top and reliable machine manufacturer and supplier. Besides the sanitary napkin making machine, we can also provide the baby diaper making machine, wet wipes machine, toilet paper making machine, Mask making machine, etc. So, if you have any needs, please leave your messages or contact us to get a free quote. We are always here to help. In addition, you guys are welcome to visit our factory.