Drill rigs are a piece of construction equipment for drilling holes in the ground. There are many types of drilling rigs for different purposes. Such as Down the hole drilling rigs, Horizontal directional drilling rigs, Core drilling rigs, Water well drilling rigs, etc. In this article, I will introduce to you the hot sale crawler type water well drilling rigs made by YG Machinery.
Note: If you do not know how to choose the right drill bits, drill pipe and drill rigs, please read this guide.
Water Well Drilling Rigs for Sale
FY Series Water Well Drilling Rigs are the pratique and multifunctional equipment with high efficiency. It uses a diesel engine. The machine is suitable for drilling water wells, agricultural irrigation wells, and boreholes for other purposes. Especially for Water intake in mountainous areas and rock formations. This type of drilling rig adopts the new hydraulic technology. And it is equipped with a large torque hydraulic motor for rotation and a large bore hydraulic cylinder for propulsion. All drilling rigs need to be used with air compressors.
Portable 180-300m Crawler Type Borehole Drilling Rig
YG-180
YG-200
YG-300
YG-300A
Drilling Depth
180m
200m
300m
300m
The hole diameter
140-254mm
140-305mm
140-325mm
140-325mm
Drill pipe diameter
76mm 89mm
76mm 89mm
89mm  102 mm
76mm  89mm  102 mm
Drill pipe length
1.5m 2.0m 3.0m
Once-time advance length
3.3-3.4m
3.4
6.6
3.4
Climbing angles(Max.)
30
Rig lifting force
10T
12T
20T
16T
Swing speed
45-65rpm
45-70rpm
55-115rpm
40-70rpm
Swing torque
3200-4600N.m
3500-4800N.m
6200-8500N.m
5700-7500N.m
Equipped capacitor
55kw
65-70kw
84kw
75.8kw
Walking speed
2.5km/h
Supporting Power
29m3/min 23BAR AIR COMPRESSOR
17-30m3/min
17-35m3/min
17-35m3/min
Using air pressure
1.7-2.5mpa
1.7-3.0mpa
1.7-3.3mpa
1.7-3.0mpa
Weight(T)
4.5T
5.8T
9T
7T
Dimensions(mm)
3800*1550*2350mm
4000*1750*2450mm
5900*2000*2850mm
4100*1950*2600mm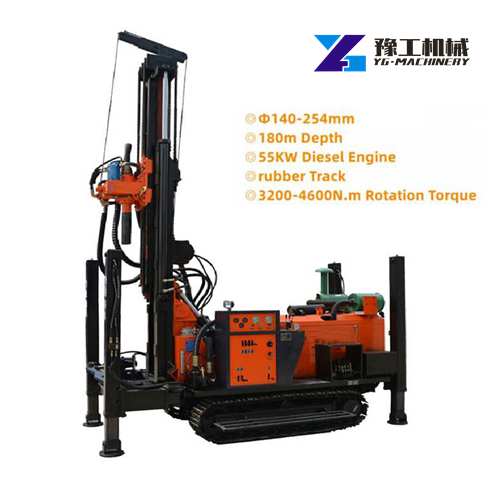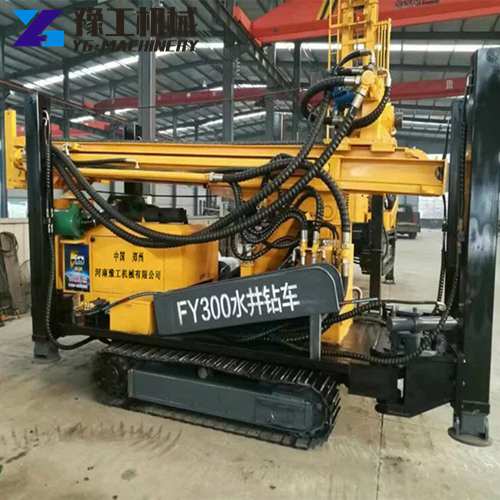 400-600m Hydraulic Drilling rigs for sale
It is suitable for various complex situations. The equipment can move very flexibly on difficult roads and can be widely used in many fields such as resource exploration of hydrology wells, coal bed methane, the shallow layer of shale gas, terrestrial heat, etc, and can also be used for coal-mine gas exploitation salvage work.
YG-400
YG-600
YG-800
The weight(T)
10
12
13
The hole diameter(mm)
140-350
140-350
140-500
Drilling depth(m)
400
600
800
One-time advance length(m)
6.6
Walking speed(km/h)
2.5
Climbing angles (Max.)
30
Equipped capacitor(KW)
92
115
140
Using air pressure(Mpa)
1.7-3.5
Air consumption (m3/min)
17-35
Drill pipe diameter(mm)
89  102  108
102  108  114
76  89  102
Drill pipe length(m)
1.5  2.0  3.0  6.0
1.5  2.0  3.0
Rig lifting force(T)
22
28
35
Swing speed(rpm)
45-115
Swing torque(N.m)
6500-9000
8500-11000
8660-11150
Dimension(mm)
5900*2100*2850
6000*2200*2850
6100*2100*2900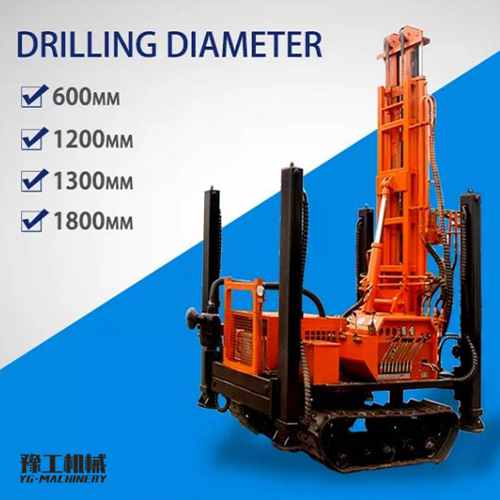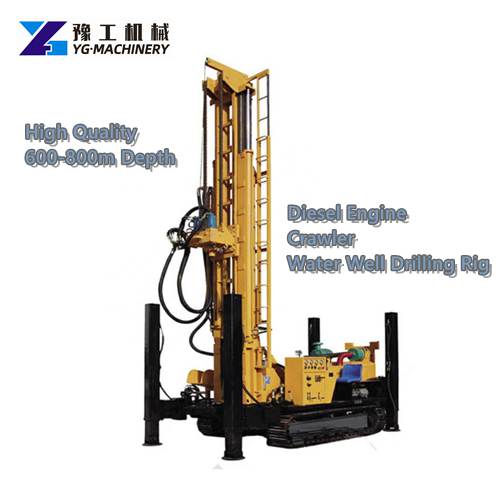 Feature
Hydraulic oil pump; parallel transmission design (patent) oil pump single body, power supply adequate distribution reasonable, a hydraulic system unique design, simple maintenance cost small.

Used with air compressor, can drill 180m, 200m, 300m, 400m, 500m,600m, 800m, etc.
Usually drilling diameter is 6", 8", 10", 12", 14",etc. According to your needs, we can configure the suitable drill pipe, drill bit, and the right model.
Powerhead devices; gearbox casting, double motor power supply, torque, durability, and maintenance costs are small.
Drilling rig chassis; Professional excavator chassis, durable, heavy load bearing, wide chain board, little damage to the hard road surface.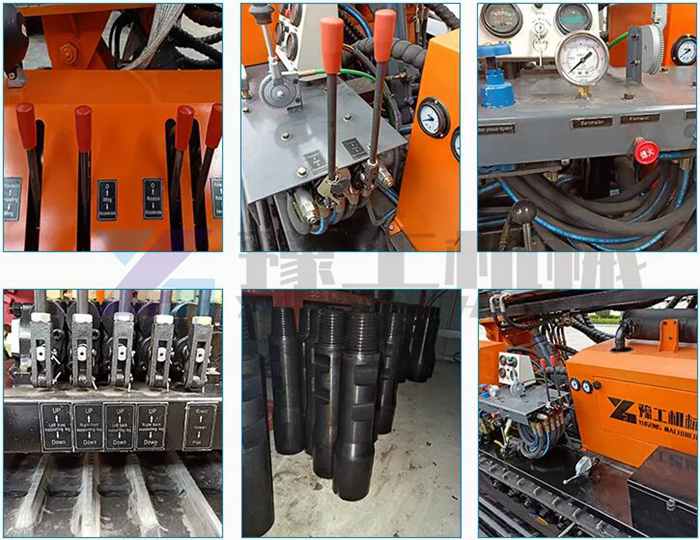 In conclusion
YG Machinery is a professional drilling rig manufacturer and supplier. Besides the drill rig machine, we provide also the drill bits, drill pipe, etc. If you are looking for drill rigs, please contact us with your requirements, like drill depth, hole diameter, and geological condition. Our sales manager will reply to you as soon as possible. WhatsApp/WeChat: +8613598866720. We are here to help!