YG Concrete Mixer Truck is a high-quality concrete conveying vehicle. It can handle various types of concrete delivery from a large amount of dumping operations to the DIY market small delivery.
Related post:
YG 3-5 cubic meter mobile Self Loader Mixer Truck
YG 3-5m3 Self-Loaded Concrete Mixer Truck is designed to deliver the ready-mixed concrete. With 3-5m3 wet concrete output, the equipment is a kind of concrete mixer suitable for small construction projects. In addition, a self-loading concrete mixer can even work as a field batching unit.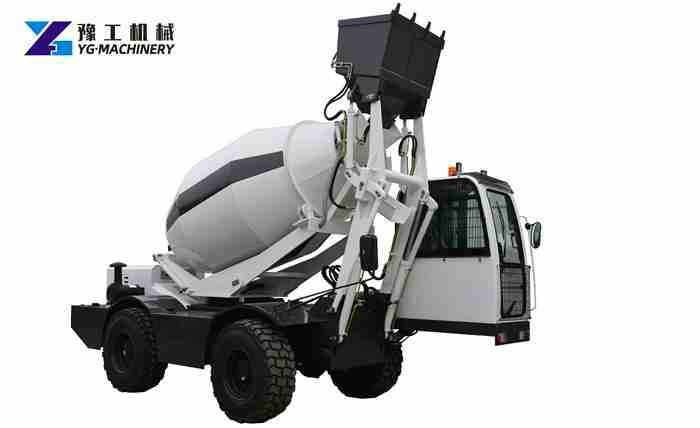 Self Loading Concrete Mixer Truck Technical Information:
| | |
| --- | --- |
| Equipment Model | YG-4C |
| Drum geometrical capacity | 6000L |
| Discharge Capacity | 4000L |
| Engine Model | YCD4J22G |
| Rated Power | 85kw |
| Gear box model | ZL-280 power shift transmission |
| Gear | 4 forward 4 back |
| Fuel tank | 230L |
| Total hydraulic system capacity | 170 liters |
| Oil tank | 16 liters |
| Reducer | KY07-5-J |
| Hydraulic Pump | Parker pump |
| Hydraulic Motor | HAA2FM56/61W-VTD527 |
| Water tank | 660L |
| Water supply | Time relay |
| Overall dimensions(L*W*H) | 7500*2850*3600 |
| Wheelbase (mm) | 2450 |
| Curb Weight (kg) | 8500 |
| Drive Form | Torque converter |
| Drum rotary | 290º |
| Drum Mixing Speed (r/min) | 17 |
| Max.Speed (km/h) | 35 |
| Maximum grade | 30º |
| Maximum turning radius (mm) | 4000 |
| Minimum ground clearance (mm) | 330 |
YG-4C self loaded concrete mixer truck is a piece of equipment to mix and deliver the concrete. It is equipped with batching equipment, automatic loading equipment, onboard water systems, and auxiliary engines. With the batching equipment, you can know the exact weight of the raw materials that are added into the drum and the exact discharge amount of the concrete. The driver's cab has an operating table so that all operations can be done inside. Remark: You can also install the equipment on cab-chassis or on the trailer.
Advantages of Self loader concrete mixer
Small investment and get returns as soon as possible.
High working efficiency.
Easy to operate and maintain: all the operations can be done in the driver's cab.
Convenient to feed material, discharge material soon
The self mixer truck has a reasonable layout and design
Applicable for mixing materials, such as concrete, sand, and gravel, mortar, fertilizer.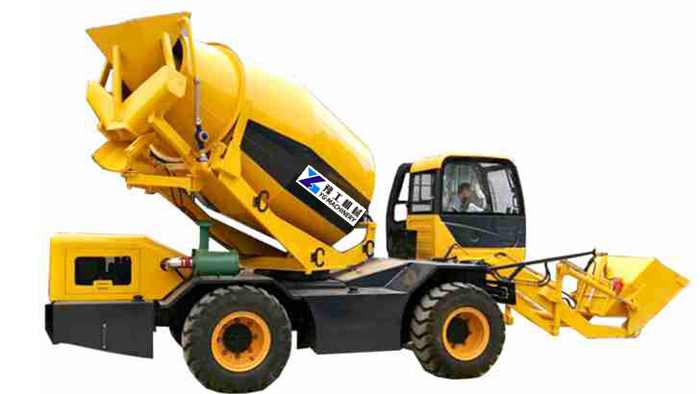 How does a self-loading concrete mixer truck works?
Self Loading concrete mixer is a truck used to make concrete from cement, water, and sand. The machine is known for the fast and high efficiency of producing concrete for small projects. Here is the process to produce concrete with a concrete mixer truck.
Loading the raw materials: Load the raw materials into a shovel that shovel is self-articulated and hydraulically controlled.
Mixing of concrete materials: The drum, fixed in one direction during the mixing, is used to mix the concrete materials in self loading concrete mixer. This high-speed rotation makes sure for homogenous mixing of materials in concrete.
Collecting the mixed concrete materials: A Self-loading concrete mixer truck can collect the mixed concrete in two ways: changing the direction of rotation of spiral blades fitted inside the drum to force the concrete out of the drum or lifting from the back with the use of hydraulic pumps to push the concrete out of the drum into the collector bin.
How to maintain the concrete truck?
After discharging concrete, the operator needs to clean the inlet hopper, discharge hopper, and discharge chute to clear up the sludge and concrete stick to all parts of the truck. During the returns to the concrete station, inject 100-200 L water to clean the concrete residue bonded to the wall and blades. Every day after work, the driver should inject water and let the drum roll up for 4-5 minutes then pull out the water to keep the drum inside clean.
Note: Avoid parts such as meters and joysticks and the distance between the spray gun and truck should be more than 40 cm.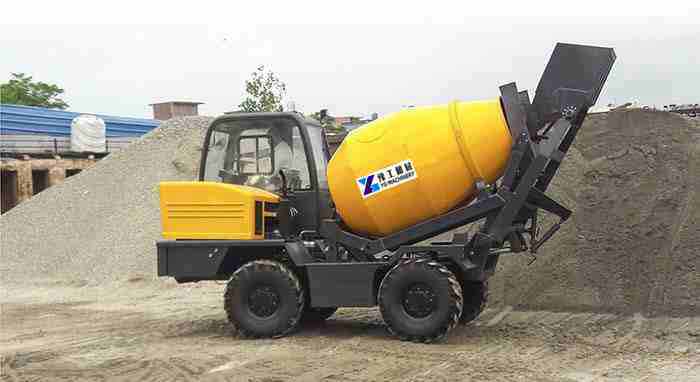 Self-Loading Concrete Mixer Manufacturer & Supplier – Why choose us?
YG Machinery has spent many years in the development of concrete machines. Besides the concrete mixer truck, we have also a concrete batching plant for sale, concrete spraying machines, concrete core drilling machines, concrete laser screed machines, concrete pile breakers, etc. As a professional machines manufacturer, YG Machinery has manufactured different models of concrete mixer, concrete mixer pumps, and so on. And we have more than 10 R&D staffs who all have many years of experience. Our products have been exported to many countries, such as South Africa, Pakistan, Indonesia, India, Kazakhstan, Iraq, Vietnam, Sri Lanka, etc.
So, if you have any questions about the self-loaded concrete mixer truck, please leave a message below.