The CNC Bending Machine adopts a CNC servo control system, which can automatically complete the steel bar straightening, sizing, hoop bending, cutting, and other processes. It can bend the steel bar with a maximum diameter of 16mm and continuously produce products of any plane shape. It is widely used in the construction industry and large steel bar processing plants. and other fields.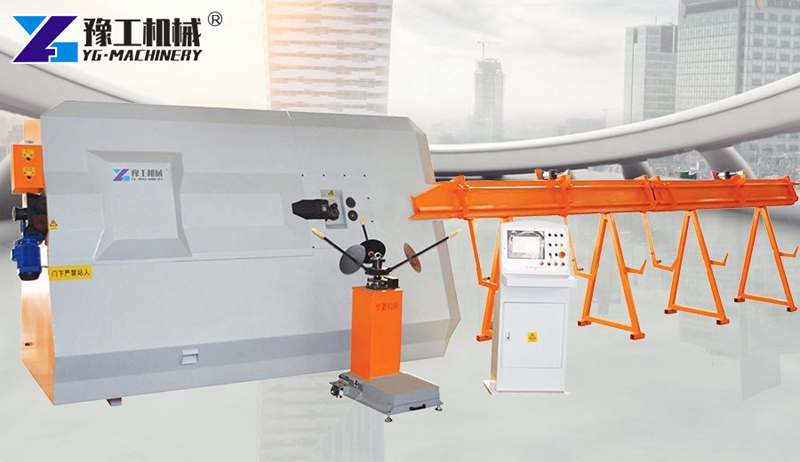 Parameters
Model
YG-1
YG-2
Single wire
Round steel 4-10mm
Deformed steel bar 4-8mm
Round steel 4-12mm
Deformed steel bar 4-10mm
Double wire
Round steel 4-6mm
Deformed steel bar 4-6mm
Round steel 4-8mm
Deformed steel bar4-8mm
Max bending angle
±180°
±180°
Center pin diameter
16、18、20
16、18、20
Maximum towing speed
60m/min
60m/min
Maximum bending speed
800°/sec
800°/sec
Machine size
2600*800*1700mm
3280*1000*1700mm
Pieces Processed
≤2
≤2
Air circuit system pressure
≥0.8mpa
≥0.8mpa
Total Power
14kw
20kw
Working temperature
-5°C~40°
-5°C~40°
Length accuracy
±1mm
±1mm
Angle accuracy
±1°
±1°
Average power
4.5KW/h
5KW/h
Total weight
1150KG
1350KG
Application
The CNC steel bar bending machine is mainly used in cold rolling and hot rolling of steel bars, construction of highways, roads and bridges, railways, subways, tunnels, prefabricated components, and other engineering stirrup processing.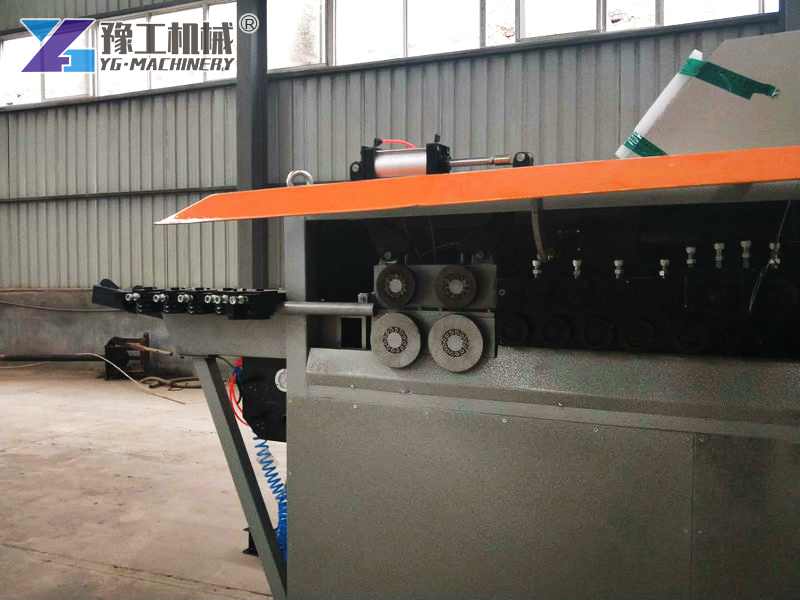 Check here a working case in Indonesia of the CNC Steel Bar Bending Machine.
Features of CNC Bending Machine
Friction feeding mechanism, no slipping, no rib damage.
The double-wire hoop wire feeding system greatly improves production efficiency and can ensure the synchronization of wire feeding during double rib processing, which is especially suitable for the processing of new three-stage coil snails.
The double-leaf bending die realizes the fast positive and negative bending of the steel bar and improves the bending quality.
Hydraulic shearing, strong shearing force, and high reliability.
It has a powerful database with hundreds of types of graphics stored in memory.
The hydraulic adjustment straightening mechanism saves time and effort, and the straightening effect is good.
The hydraulic motor drives the threading mechanism, which makes the threading fast and greatly reduces the thread changing time.
It can bend 6mm-12mm round or spiral steel bars.
Control system: Panasonic PLC, Panasonic touch screen, Inovance servo motor.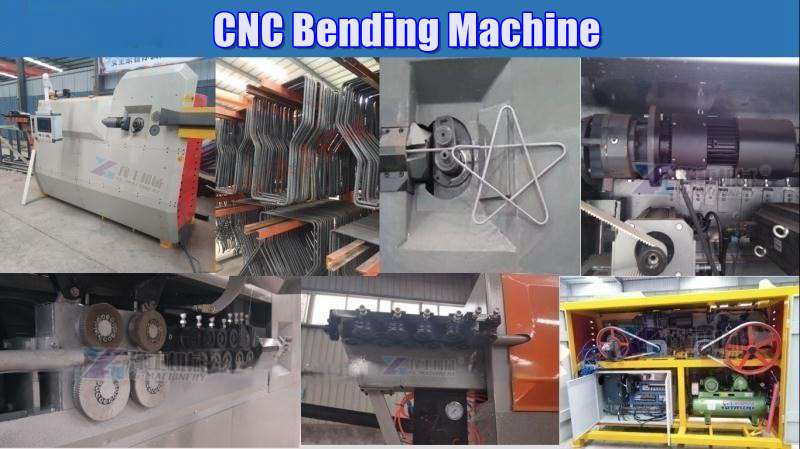 Rebar bending hoop shape display
It can design up to 60 corners of ancient and modern and contour graphics of any shape. Besides, the CNC Steel Bar Bending Machine can store thousands of different product shapes and has a storage graphics library for mass production of multiple varieties. Check below some rebar bending hoop shapes: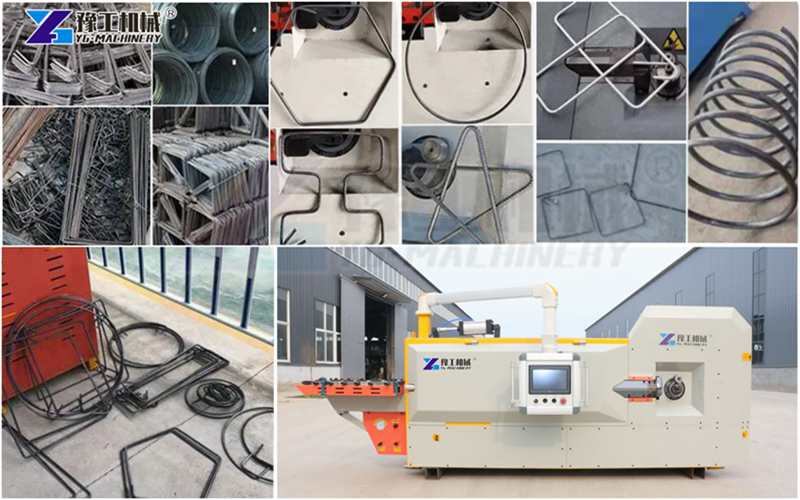 Why choose YG CNC Sheet Metal Bending Machine?
YG-12 Sheet Metal Bending Machine is mainly suitable for hooks and hoops of cold-rolled ribbed steel bars, hot-rolled tertiary steel bars, cold-rolled smooth round steel bars, and hot-rolled round steel bars for construction.
The automatic hoop bending machine has the characteristics of low equipment failure rate, fast bending steel bar, low energy consumption without damaging ribs, low noise, and light vibration;
It has the characteristics of high efficiency, applicable and reliable operation.
Two-person operation, light and flexible, the working efficiency is 3-5 times that of manual bending.
It can design multi-shaped ancient and modern and contour graphics within 60 corners and has a storage graphics library for mass production of various varieties.
It can continuously produce the shape of the stirrup. Without stopping halfway. Without requiring mechanical adjustment. And without interrupting the processing when correcting the bending angle.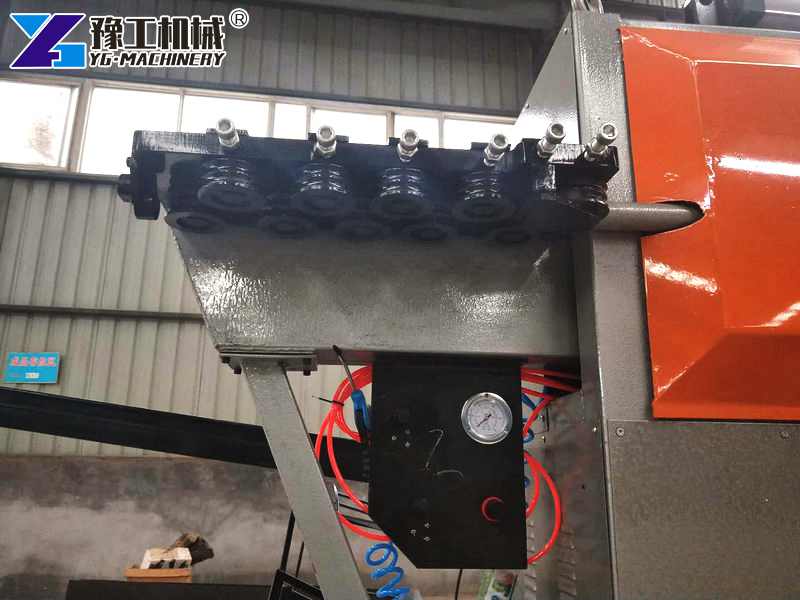 If you are looking for a CNC and hydraulic bending machine, please leave your name and email below. Our sales manager will contact you for services as soon as possible.