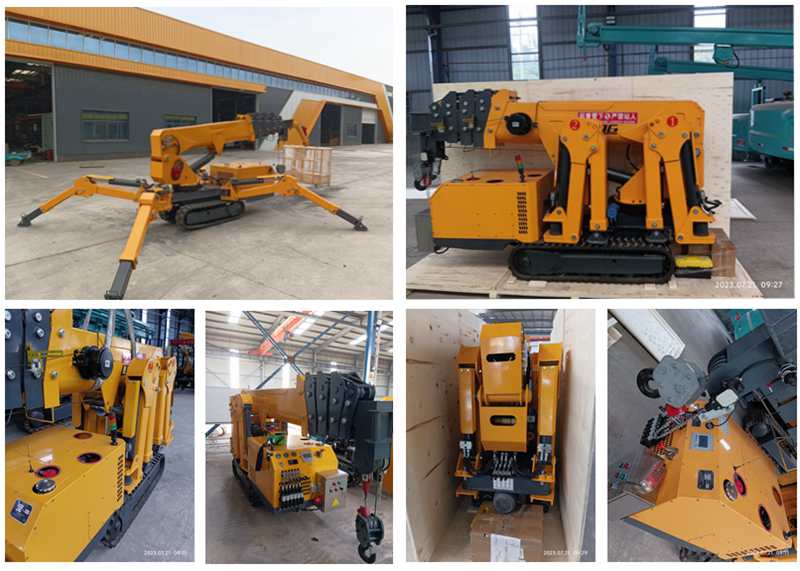 Our customer from the Netherlands purchased a 3 Ton Spider Crane. Check here the 3 ton spider crane for sale price.
Mini Spider Crane for Sale
The spider crane has a miniature design, small size, and strong lifting capacity.
Commonly used models: 3 tons, 5 tons, 8 tons.
We support device configuration and model customization.
Request quote>>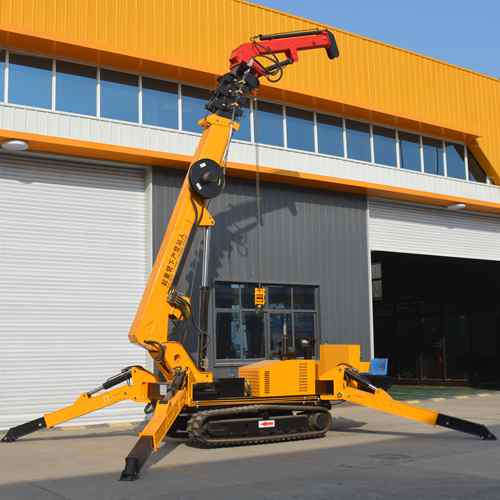 Parameters of 3 ton spider crane
Maximum working radius
8.83m×0.2t
The maximum ground height
9.2mX0.7t
Hoisting device
Hook lifting speed
0-8m/min (4 ropes)
Wire rope specification
Φ8mm×45m
Telescopic device
Boom form
5-section boom, U-shaped structure
Boom length/time
3.1m-9.2m/20sec
Heave device
Boom angle/time
0-78°/13sec
Rotary device
Rotation angle/speed
0-360° (continuous)/60sec
Outrigger
Action form of outrigger
Manual rotation + hydraulic automatic support (two-section leg)
Maximum extension (mm)
4530 (length) X4370 (rear) X3700 (front)
Traveling device
Traveling mode
Hydraulic motor drive, two speeds
Walking speed
0-2.5km/h
Climbing ability
25°(36%)
Motor voltage
AC380V
Engine
Manufacturer
Yanmar(EPA/Euro 5)
Operating system
Type of operation(boom/outrigger), manual walking
Manual operation, manual walking (remote control is optional)
Operating characteristics
Manual operation (optional remote control)
Standard configuration
Diesel engine and electric motor (dual power)
Dimension
Length, width, height length 2.98 meters width 0.8 meters height 1.5 meters
Weight
2700kg
Track
230 (width) 72 (pitch) 50 (section)
Optional optional
torque controller
We can customize the mini spider crane according to your requirements. Please do not hesitate to contact us.
Details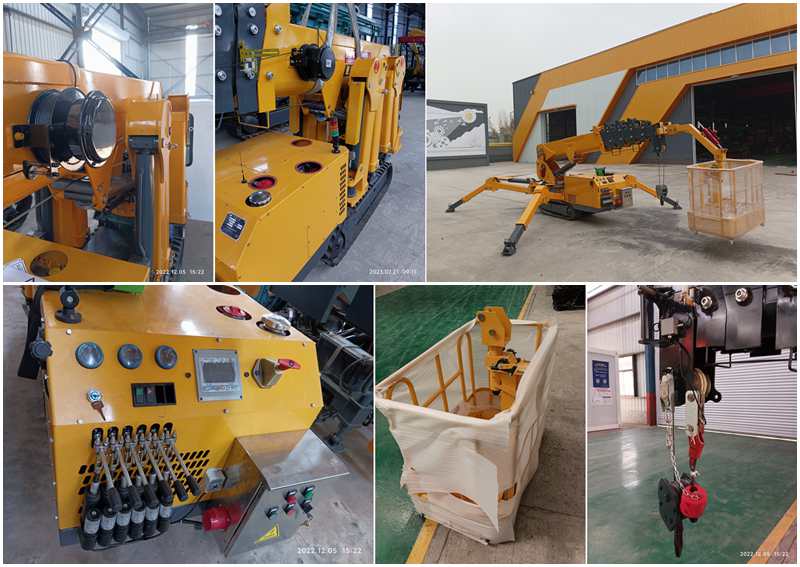 Features
The spider crane is small in size, powerful, and has a high level of safety.
The spider crane can complete the glass installation work more efficiently.
The small and compact body design of the spider crane means that it can work indoors or in areas with limited space. The compact body of the spider crane can easily enter the construction site and reduce the cost of use.
The spider crane is small in size and easy to transport. It has a wide range of curtain wall construction. It can be used for vertical transportation and hoisting. The lifting capacity is generally 3 tons to 8 tons, which can meet most of the hoisting needs of the construction site.
In some places, ordinary cranes cannot enter, and ordinary cranes cannot operate on the roof, indoors, shopping malls or densely populated places, but the micro spider crane can easily complete the work.
Spider cranes are used for hoisting construction materials at airports, railway stations, dam construction sites, etc. With their flexibility and convenience in narrow spaces, you can use spider cranes in many municipal construction operations. The spider crane has helped construction workers solve a lot of troubles.
Mini crawler crane for sale-Multipurpose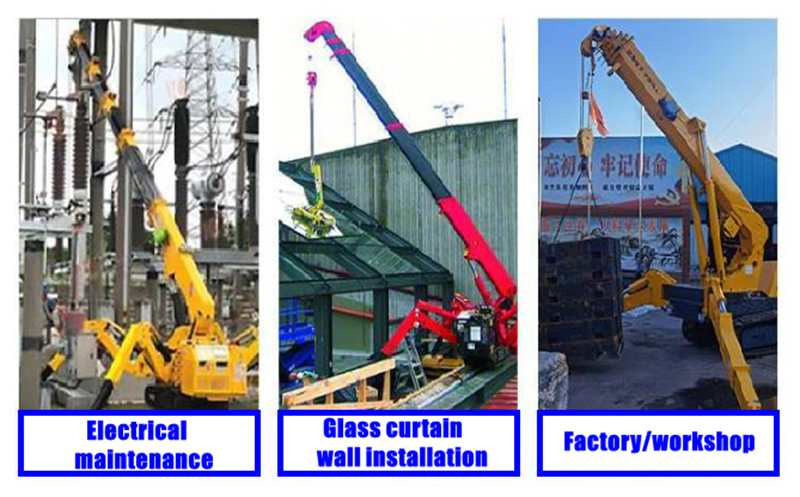 Working on site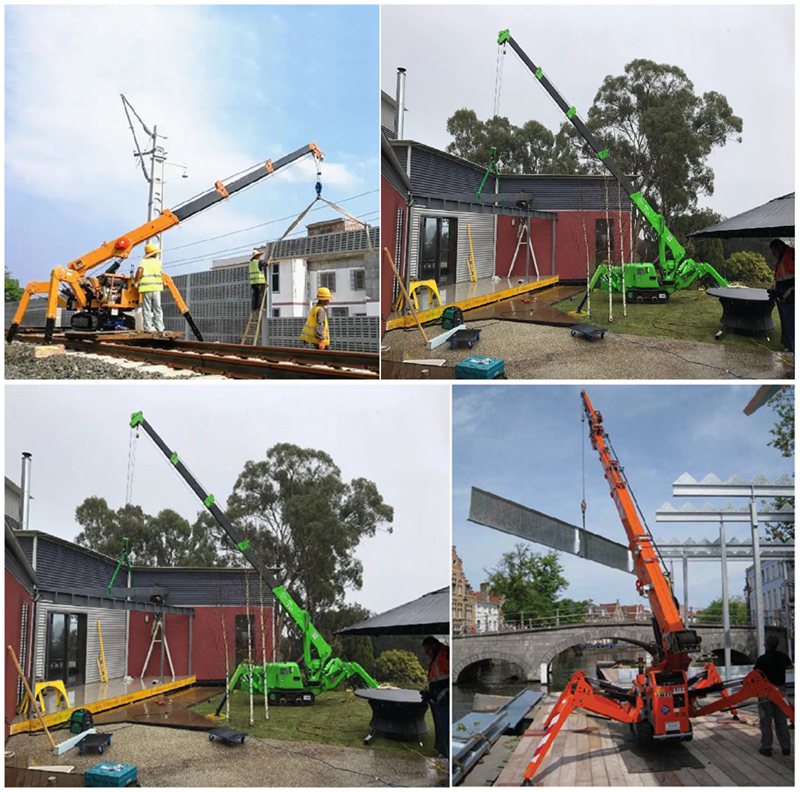 Our factory
Henan Yugong Machinery focuses on the design, development, and sales of various specifications of crawler transport vehicles, Hydraulic lifting equipment, different types of scaffolding, ship cranes, spider cranes, truck-mounted cranes, flatbed cranes, wood grabbers, high-altitude vehicles, crawler chassis assemblies, and other engineering machinery.
Our machines have been exported to many countries and regions. Such as the Netherlands, Italy, Germany, Russia, Belarus, Outer Mongolia, Tajikistan, Kazakhstan, etc.
Do not hesitate to contact us. Request a free quote here. Our sales manager will contact you as soon as possible.