What is a Reinforced cage winding machine? Find details about the steel cage winding machine for the concrete pipe industry in this article.
People also ask:
All about Reinforced cage winding machine
Composed of three parts (Trolley part, power cabinet, and transmission structure), YG Machinery Reinforced Cage Winding Machine is used to process single ribs, suitable for bending processing of main skeleton steel bars in large-scale engineering concrete structures such as high-rise buildings, highways, high-speed railways, and large bridges. If you need to buy a high-quality multifunctional rebar cage making machine automatically for concrete pipe, you can contact us here.
Read on to learn more about the techniques parameters and advantages of the machine.
Techniques Parameters of Reinforcement Wire Cage winding machine
| | |
| --- | --- |
| Model | YG3000 |
| Winding speed | 0-15.4m/min |
| Cot motor | 5.5KW |
| Cage Length | Length up to 30m(can be customized on demand) |
| Cage Diameter | Φ600-Φ3000mm |
| Trolley Speed | 0-1.38m/min |
| Trolley motor | 4KW |
| Rebar for processing | Φ6mm, Φ10mm, Φ12mm, Φ14mm |
| Whole machine quality | 4500kg |
| Main Machine Dimensions | 13*1.8*0.8m |
| Overall Dimensions Of Trolley | 15*1.3*1.5m |
Features of Pile cage making machine
1. High quality and stable: Mechanized operation, the machine can not be affected by human factors and it can work for a long time, which does not affect the quality of the rebar cage.
2. The diameter of the steel cage is controlled by a template of the same diameter, and a project usually requires 2-7 templates
3. Fast and efficient: The machine can produce 10-20 sections of rebar cages with 3-6 labor within one day.
4. Easy to transport: With the design, the machine can be transported easily, you do not need to worry about that. In addition, you can install the machine effortlessly.
5. The spacing of the main ribs is determined by the same number of casing spacings as the number of main ribs laid out in your class beforehand;
6. You need to replace manually the template and rearrange the casing for about one hour when the diameter of the steel cage and the number of main ribs change.
Working Principle
The steel cage winding machine is a useful tool that combines orderly steel straightening, bending forming, and seam welding forming. It makes the processing of the steel cage basically mechanized and automated, reducing the processing time and coordination deviation between each link, and greatly improving the quality and efficiency of the steel cage making. The machine can be designed according to your needs. For the price of this machine, you can leave a message here.
Read also: Hydraulic pile driver for sale in Philippines | Working case
Applications
High quality and multifunctions steel cage making machine application: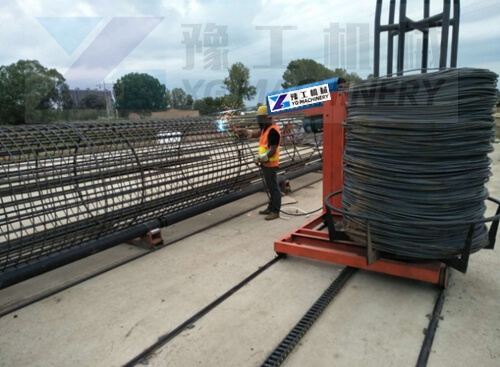 YG Pile Cage Making Machine has the best price and is easy to use. You can use this concrete pile rebar cage making machine easily, with high efficiency. This equipment is widely used in large-scale high-rise buildings for national defense and municipal administration, high-speed railways, highways, and large-scale infrastructure such as sinking piles of sea-crossing bridges, etc. Steel Pile Reinforcement Cages, also known as pile cages, rebar pads, or columns. Prefabricated cages were prefabricated with welded spiral steel rods. Contact us to get the pile cage machine price.
Conclusion
So, YG Machinery is a professional manufacturer and supplier of rebar machinery. We provide all kinds of rebar machinery: Rebar straightening and cutting machine, Thread rolling machine, Rebar upsetting machine, Rebar cutting machine, Rebar bending machine, etc. Besides this equipment, we have also concrete pile cutter for sale. If you need the quotation, please feel free to leave a message below.