Brick making machine or brick machine is used to produce bricks, for example, concrete bricks, fly ash bricks, etc. And according to the raw material of brick, there are many types of automatic brick machines:
Automatic concrete bricks machine
Fly ash brick making machine
Automatic clay brick making machine
Cement bricks machine
Automatic paver block machine
Hollow blocks machine
Click the button below to get the latest block making machine price here.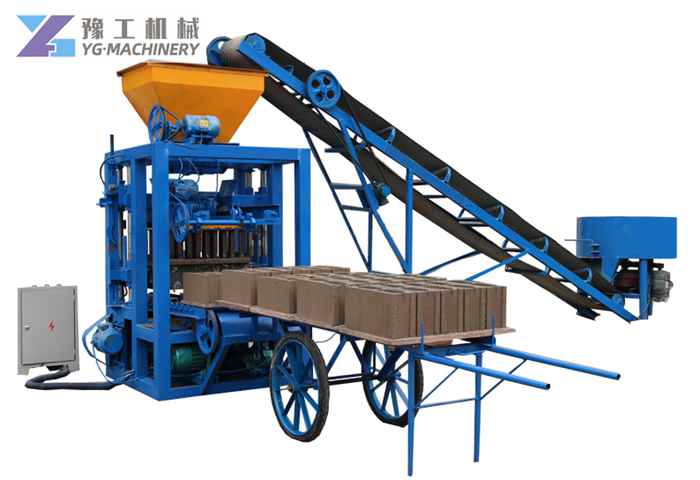 If you are looking for a metal roofing tile making machine, click here!
Brick making machine: parameters, features, advantages, and price
Brick machines are divided into two categories: vacuum brick machines and non-burning brick machines. The former is to make bricks made of soil, which requires a lot of soil to make. So vacuum brick machines are not a good choice due to waste of resources. The latter is to use waste coal gangue, shale, and stone powder, fly ash, slag, gravel, sand, etc. to make bricks. As a result, it is more environmentally friendly and saves resources without going through the firing process, and has been vigorously promoted by the state.
Parameters
Electric Automatic Brick Making Machine
Brick type
Dimension(mm)
Pcs/mold
Molding cycle
Pcs/h
Hollow block
390*150*190
6
25s
864
Porous block
240*115*53
12
25s
1,728
Paver block
200*100*60
20
25s
2,880
Solid block
240*114*60
12
25s
1,728
Clay Automatic Brick Making Machine for sale
Brick type
Dimension(mm)
Pcs/mold
Molding cycle
Pcs/h
Interlocking
230*180*115
4
7s
2,040
Standard
300*150*100
4
7s
2,040
Porous
250*125*60
4
7s
2,040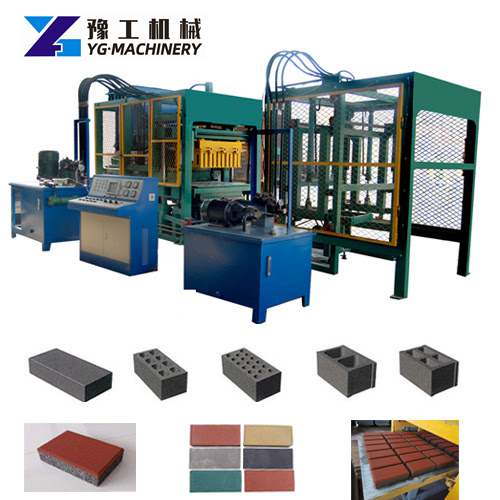 Concrete brick making machine
Concrete bricks machine uses cement concrete as raw material to produce bricks.
The overall structure of the concrete brick machine equipment is compact. And the equipment is reasonable. The rotating part adopts a mechanized device, which is accurate and reliable. The concrete bricks machine is multi-purpose, and it can be equipped with different molds to produce block products of different shapes and specifications. The mechanical structure of each part is easy to observe, simple to operate, convenient to maintain, and not prone to failure to ensure normal production and operation.
Fly ash brick making machine
The Fly ash bricks machine for sale is the main equipment for producing fly ash autoclaved bricks. Fly ash autoclaved bricks are made of fly ash or other slag or ash sand as raw materials, added with lime, gypsum, and aggregates, and are prepared by blanks, Compression molding, high-efficiency steam curing, and other processes. If you want to start a fly ash brick plant, you can contact us to get the fly ash machine price.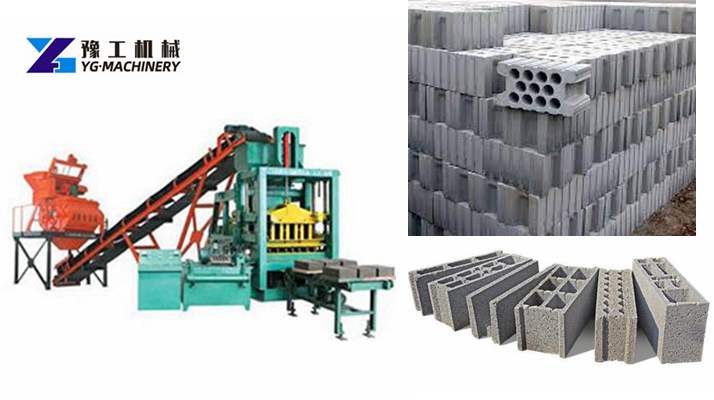 Clay brick making machine
Clay brick machines can customize non-standard molds according to the specifications and models required by users to meet the needs of different users. According to the current popular design, the brick machine cannot adapt to the relevant complex soil. This machine can fully adapt to all kinds of acid, alkali and cohesive soil, and it is more adaptable to weathered stone and shale soil.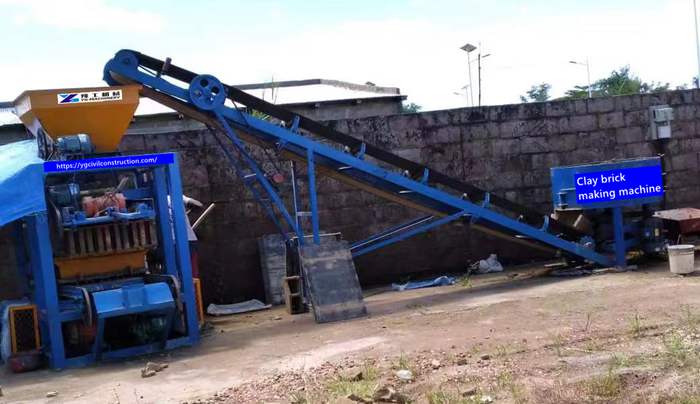 Cement bricks machine
The cement bricks machine uses stone powder, sand, stones, slag, slag, fly ash, cement, etc. as raw materials for brick making. After scientific proportioning, cement bricks, hollow blocks, colored bricks, Brick machine equipment for tiles.
Features
An automatic brick machine is a piece of modern equipment that is used for producing bricks.
Hydraulic system: It adopts advanced hydraulic dual-proportional control technology, which can conveniently control the pressure and oil volume of any branch of the hydraulic system so that different raw materials can be used to produce the same high-quality products.
Electronic control system: PLC intelligent control of the whole process, equipped with data input and output devices, to realize the ideal man-machine dialogue. The control system also includes advanced safety logic control and fault diagnosis system. Optional remote control.
Distributing system: The unique forced distributing mechanism and the special arching rod adapted to the changes of different mold cavities have the effect of forced arch breaking and secondary mixing, which can ensure the uniform distribution of large-volume fly ash to a large extent Unanimous.
Vibration system: Adopt special technology to optimize the layout of the vibration axis, so that the vibration is evenly distributed across the entire table, thereby greatly improving the consistency and stability of the product performance, and making higher quality products with the same ratio. , While effectively reducing noise. The unique design of the fixed table can improve the molding speed of the product and the accuracy of the product size.
The mold is formed by precision casting at one time. Through carburizing treatment, each group of molds can be replaced separately during use; this type of mold can be refurbished, which greatly reduces the cost of mold use.
Advantages
The non-burning brick machine has the advantages of reasonable structure, high production efficiency, good mixing quality, beautiful appearance, and convenient movement. It is a more advanced model.
YG Machinery is one of the top 10 brick manufacturing machine companies in China. We can provide a clay brick making machine, non-burning brick machine, automatic non-burning brick machine, cement bricks machine, color road tile machine. With more than 20 years of experience, our brick machine has the advantages of high quality, low cost, technical support, full guide for installation, PLC control, certification by customers, etc. Besides this equipment, YG Machinery provides also concrete mixer pump, trailer type concrete pump, self loader concrete mixer truck, and road machines, etc.
Brick making machine price
There are many models of machines to produce bricks. The fully automatic bricks machine price is more expensive than that of the semi-automatic brick machine. According to the different configurations, the price of an automatic block manufacturing machine is also different. For instance, the fully automatic concrete block making machine costs more with its high configuration. Contact us to get the price of the bricks machine for sale.
How to choose a bricks machine?
First, the machine manufacturer and supplier. Of course, it is better to choose a formal, professional, and well-known manufacturer. So that not only the performance and quality of the equipment can be better, but also a complete after-sales service can be obtained.
Second, the output, the capacity, the performance of the machine. The choice of the machine model is very important. So you need to make sure that the machine is suitable for your project. And each model has different advantages and characteristics. Some can produce solid bricks, hollow bricks, and multi-row bricks. Others can produce many different types of bricks. Also, the operating methods and steps are certainly different.
Third, the price. It is absolutely the most issue that you are concerned about. But I would like to remind all investors to remember not to buy the brick machine without any certification, although the price is relatively low. But it is prone to frequent failures during the later operation process, requires more maintenance costs, and it will delay the production schedule and construction progress.
In a word, it is recommended that you choose according to your actual needs. You can master your daily output requirements and product specifications as much as possible so that the manufacturer can provide you with certain reference data.
Conclusion
I hope this guide is helpful to you. After reading this, we are sure you can confidently choose the best automatic bricks machine and the best manufacturer to get yours.
If you have any further questions or concerns, please let me know. I am here to help. You can always contact us, and we will be glad to be of help. You can call us anytime. We are available 24/7. WhatsApp +8613598866720.