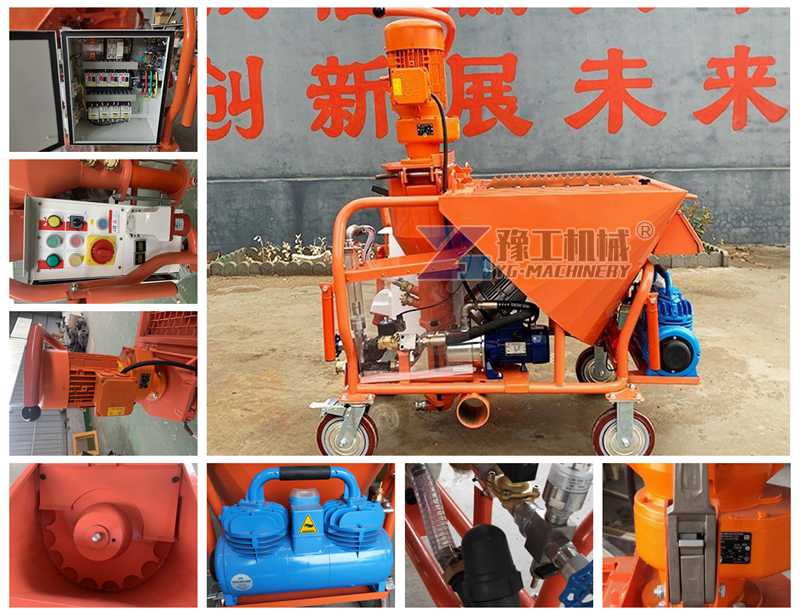 Gypsum is a versatile industrial and construction material. It can be used in cement retarders, gypsum building products, model making, medical food additives, sulfuric acid production, paper filler, paint filler, etc. The gypsum has a microporous structure and heating dehydration. This makes it have excellent sound insulation, heat insulation, and fireproof performance. As a result, gypsum is the best building material for the interior. The Gypsum plastering machine can help to spray the gypsum in the construction of buildings such as schools, hospitals, workplaces, offices, factories. Contact us to get the gypsum spray plaster machine price.
What is a Gypsum plastering machine?
Gypsum plastering machine is a machine used for plastering using materials such as gypsum and cement. One machine with multiple functions: dry-mixed mortar, thermal insulation mortar, perlite, fireproof material, ordinary cement mortar, coating material, soluble material spraying, grouting, and self-advection. In addition, the service life of this machine is more extensive, and the service life can be as long as more than 10 years. It is a professional machine that brings us more help.
| | |
| --- | --- |
| Model | Gypsum Plastering Sprayer Machine |
| Horizontal conveying distance | 60m |
| Vertical conveying distance | 115l |
| power | 5.5Kw |
| Hopper volume | 115L |
| Air compressor power | 1000w |
| Voltage | 380v |
| particle size | 5mm |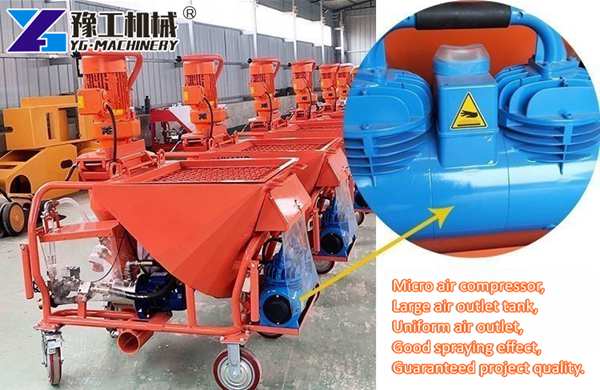 Features of Automatic Gypsum Spraying Machine:
Reasonable design, integrated pump, and compressor, easy to move.
Continuous feeding, no pulse phenomenon, uniform spraying, and strong adhesion.
One-button start, automatic water filling, dry powder mixing, and uniform pulping.
There is basically no floor ash, saving water and materials, which can reduce the cost by more than 20%.
The nozzle and the nozzle are universally connected, and the yin and yang corners and the top plate can be sprayed freely, which is convenient to use.
Wide applicability, one machine with multiple functions, can spray plaster, putty, mortar, fireproof coating, refractory materials, etc., and is not affected by the area and environmental conditions and the shape of the sprayed surface. Save time and labor.
Applicable to all ready-mixed dry-mixed mortars that can be pumped, such as lime-based, gypsum-based, and cement-based mortars, masonry mortars, thermal insulation mortars, repair and bonding mortars, self-leveling mortars, etc.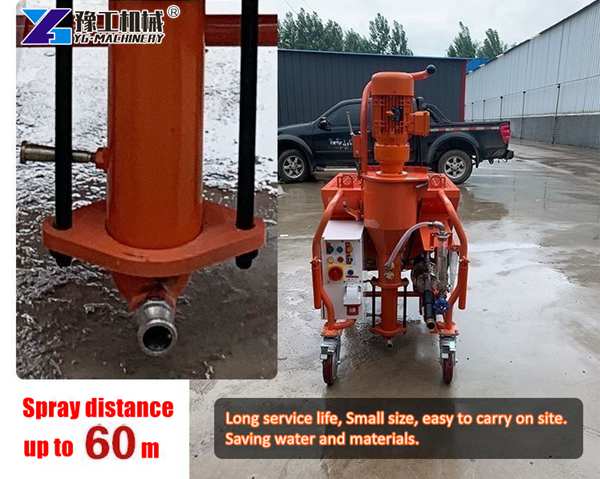 Automatic Gypsum Plaster Applications
The multi-functional automatic gypsum spraying machine is suitable for various construction occasions, mainly suitable for spraying and grouting projects of gypsum mortar, fireproof mortar, and anti-corrosion coating for medium and large residential buildings, commercial and industrial buildings.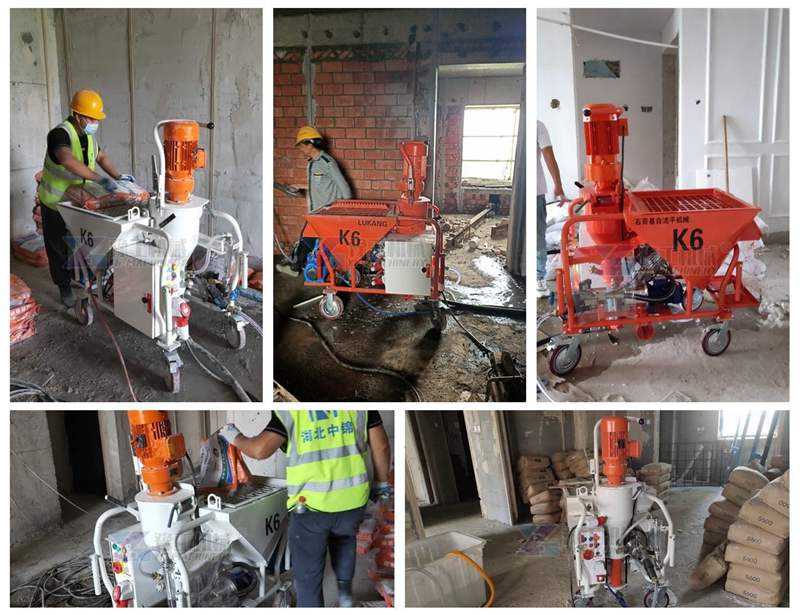 Why I should use an Automatic Gypsum Spraying Machine?
The spraying method of the exterior wall mortar spraying machine has many advantages. For example: saving materials, being portable, easy to use, easy to master, strong sensitivity, and strong adaptability to material varieties. You can use the plaster machine for spraying ordinary mortar, cement, putty, waterproof and fireproof, and non-volatile materials.
The specific effect of the gypsum spraying machine is remarkable, especially in reducing the difficulty factor of construction. There are many disadvantages in the construction of hand-made powder walls, such as slow feeders, the need to build shelves, large labor allocation, etc. Many defects often puzzle most painting workers. With the automatic granule gypsum spraying machine, all become easy and fast. It replaces manual production in many aspects. The wall plastering machine has the function of speed regulation. You can choose different speeds, displacements and pressures at will. It has the functions of underwater concrete, bonding, and painting coordination. The steps of transporting materials, etc. are simplified. All processes can be completed in one step according to the air pipe and nozzle, which greatly reduces the difficulty of construction.
Automatic Wall Plastering Machine Price
Henan YuGong Machinery Co., Ltd. is a reliable gypsum spraying machine manufacturer in China. We provide kinds of spraying machines for building plaster. Our main products: Concrete Sprayer Machine, Screwd Cement Grouting Pump, Putty spray machine, Hydraulic Mortar Pump, etc. YG Plastering machine for sale is convenient and fast to move and only needs one person to operate. The painting speed is faster than other equipment. The quality of the equipment is solid, and the service life is twice that of other equipment. 1-Year Guarantee. The industrial coatings sprayed with this equipment not only have a higher adhesion, but also are relatively strong in terms of firmness. And most of them are not prone to wall cracks or the level of maintenance.
If you want to buy a gypsum spraying machine, please contact us to get the price. WhatsApp/Phone 008613598866720.