12 units of 1.6 tons small excavators were exported to Greece. The customer ordered also some attachments for this mini excavator for other uses. He is very satisfied with the performance of the YG Mini Excavator for sale. Contact us to get the mini excavator's price now.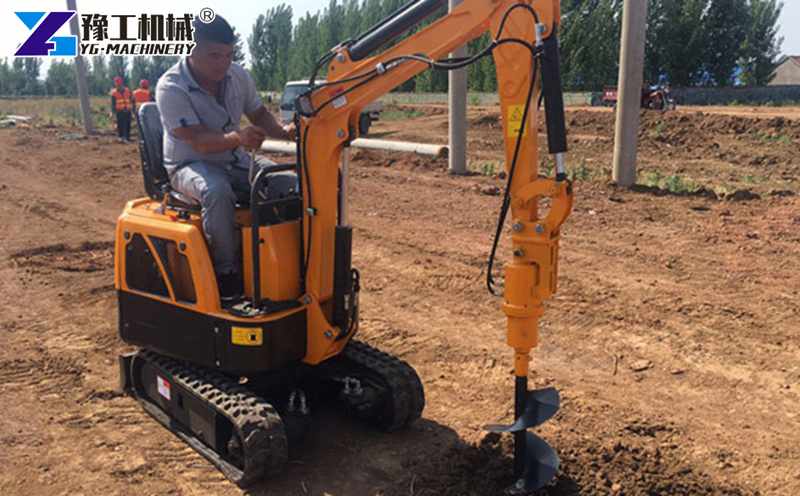 Working case
Alexander from Greece has an olive garden of 46600 square meters. He needed some small excavators for his farm. After receiving his inquiry and confirming his requirements, our sales manager offered this 1.6-ton mini excavator for sale. And we recommended that he could buy some auger drill attachments for this model. Alexander said the offer is very nice. One week after, we received the transfer from Alexander. He ordered 12 units of mini excavators and 5 auger drills from us.
YG Mini Excavator for Sale
With the severe manpower consumption and shortage of manpower in the agricultural market in recent years, YG Machinery has developed a small excavator that allows farmers to complete fieldwork quickly. An excavator is mainly composed of engine power, hydraulic equipment, structural parts, etc., of which the cost of the engine and hydraulic equipment accounts for about 60%; the cost of structural parts accounts for about 20%. Excavator is the most widely applicable variety of construction machinery, also known as "the jewel in the crown of construction machinery".
Parameters
| | |
| --- | --- |
| Model | YG 1.6t Mini Excavator |
| Power | 25HP/20HP |
| Max. Digging radius | 3470mm |
| Max. Digging height | 3270mm |
| Digging depth | 2150mm |
| Max. Unloading height | 2310mm |
| Climbing angle | 30° |
| Machine weight | 1700KG |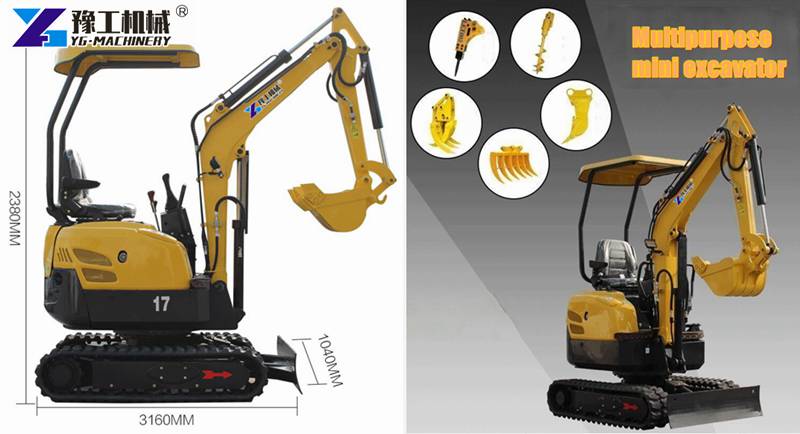 Features
YG Mini Crawler Hydraulic Excavator with continuous 360° rotation operation. High-performance engine (electric start). Large-capacity hydraulic oil tank. Fully open design provides convenient daily maintenance and maximizes uptime. The standard bucket width is 40cm, and 20cm is optional. Trench buckets or 60cm grading buckets are suitable for shuttle work in narrow spaces.
It is cost-effective and can go to various small spaces.
It is easy to operate and can be quickly learned to operate.
The overall appearance is beautiful, the workforce is strong, fuel-saving, and labor-saving.
The standard configuration bulldozer can level the site, backfill the earthwork, and increase the stability of the whole machine.
It can work in a small field, especially suitable for orchards such as kiwifruit, vineyards, oranges, navel orange planting, trench digging, fertilization, weeding, etc.
Guaranteed after-sales service, high quality, and low price!
Why should we buy a mini excavator?
The design principle of the small excavator is to ensure that the equipment can carry out efficient construction in narrow and complicated areas, that is, areas that large excavators cannot enter. For example, digging along the corner of the wall is impossible for ordinary excavators, but it can be said to be easy for small excavators. The targeted customer groups are often those construction units that serve public utilities, governments, and some specific working environments. These construction units often work in cities, residential areas, and specific narrow areas. Their requirements for equipment are compact, efficient, and easy to transport. The transportation of small excavators is different from medium and large equipment. Transportation does not require a large trailer, and light transportation equipment in the city is enough.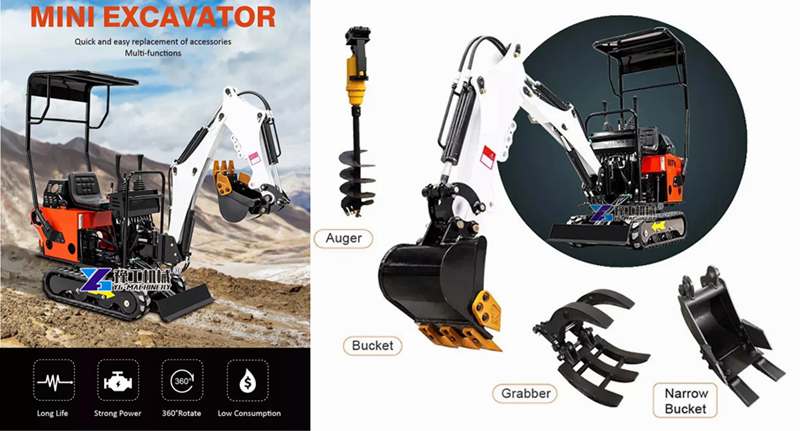 Henan YG Machinery
Henan YG Machinery Co., Ltd. is a modern enterprise integrating professional R&D, production, and sales of small excavators, mini excavators, ultra-small excavators, agricultural excavators and new energy excavators. The company is located in Zhengzhou, Henan Province. We have thousands of square meters of modern production workshops and R&D technology center with international advanced levels. At present, the company has more than 200 employees, including 30 professional engineers and technicians, 2 senior engineers, and 33 senior technicians. If you are looking for excavators and attachments for excavators, please feel free to contact us to get a free quote. 24/7 online services. High quality. Low price. WhatsApp/Phone 008613598866720.