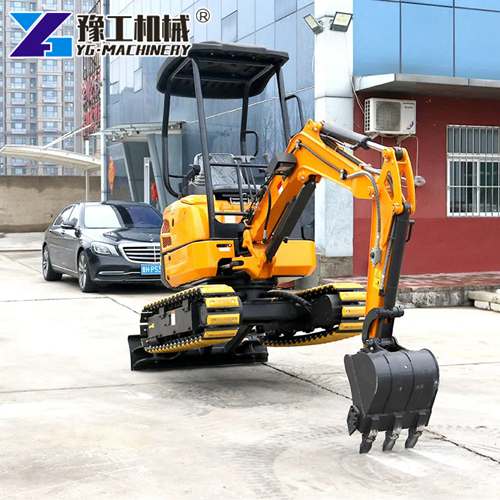 The mini excavator machine for sale made by YG Machinery. Contact us to get the mini excavator price.
Small Digger for Sale
The development of small excavators mainly depends on the development of urban construction. Due to a large number of urban reconstructions and construction, it requires that the construction time is short, the construction machinery has little impact on the surrounding environment, safety, has low pollution, small radius of gyration, easy transportation, and has the characteristics of the Coordinated exterior with cityscapes and more.
1.2 ton Mini Excavator Parameters
| | |
| --- | --- |
| Model | YG-LD25 |
| Engine model | Yanmar 3TNV70 |
| Power | 13kW |
| Bucket capacity | 0.048m3 |
| Radius of gyration | 1580mm |
| Chassis width | 990~1250mm |
| Crawler width | 230mm |
| Maximum excavation height | 3275mm |
| Maximum excavation depth | 2150mm |
| Max loading height | 2310mm |
| Bulldozer lift height | 275mm |
| Maximum ground excavation radius | 3610mm |
| The total length of the track | 1590mm |
| Vertical excavation height | 1740mm |
| Track height | 320mm |
| Dimension | 3600*1250*2380mm |
| Weight | 1200Kg |
Mini Excavator Machine Component
The excavator is mainly composed of an engine, transmission system, driving system, braking system, working device, hydraulic system, electrical system, etc.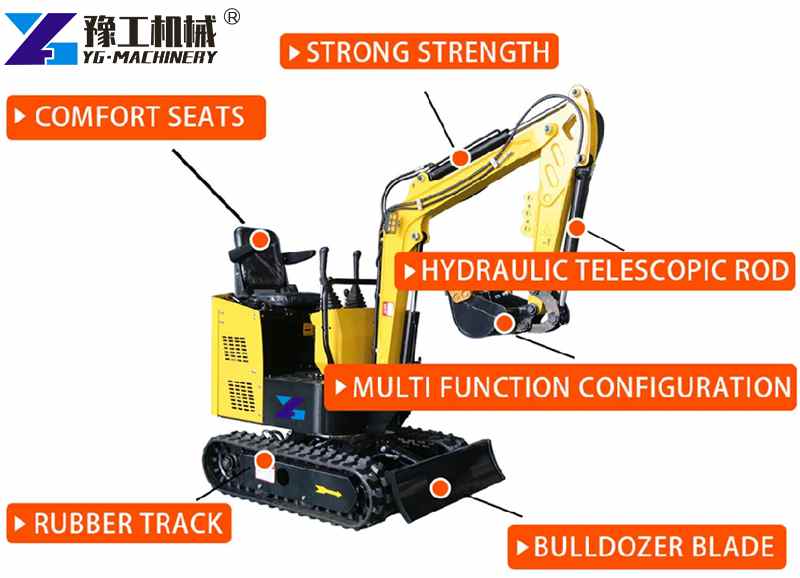 Working principle
The chemical energy of diesel is converted into mechanical energy through the diesel engine. And the mechanical energy is converted into hydraulic energy by the hydraulic plunger pump. The hydraulic energy is distributed to each actuator (hydraulic cylinder, rotary motor + reducer, travel motor + reducer) through the hydraulic system, and the hydraulic energy is converted into mechanical energy by each actuator to realize the movement of the working device and the rotation of the rotary platform Movement, walking movement of the whole machine.
Working video
How to choose a mini digger machine?
How to choose a small excavator correctly is determined by many factors, such as the nature of the construction task, scale, technology, economy, matching equipment in the construction project, and construction time requirements.
The following factors are very important:
Good mechanical performance
Reliability and durability
Short payback period
Comfort and safety.
In addition, good after-sales service can reduce user downtime and improve economic benefits. Of course, the supply of accessories and the price are important factors that must be considered when purchasing equipment.
Read also: 2 ton excavator for sale
What is the price of a Mini Excavator Machine?
Are you looking for a small excavator for your garden or farm? Please leave your requirements, such as the tonnage, excavator depth, engine requirements, cockpit, boom side swing, chassis telescopic, etc. Our sales manager will contact you and recommend a suitable model for you.